It's been an exciting couple of weeks of nonfiction news, including the publication of Bob Woodward's book on the Trump White House, welcome recognition for Anthony Bourdain, and the announcement of the longlists for the National Book Award. Add in even more great September new releases, and we've got a full newsletter this week!
---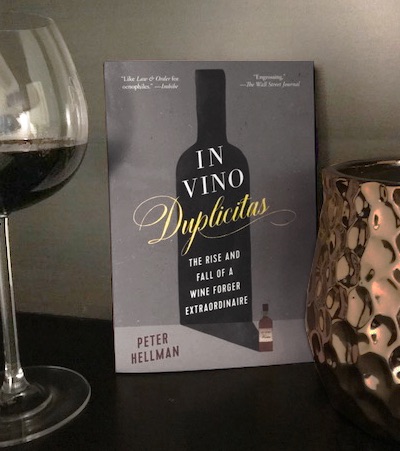 Sponsored by In Vino Duplicitas: The Rise and Fall of a Wine Forger Extraordinaire by Peter Hellman
Now in paperback: the intoxicating story of the biggest con in wine history In 2002, Rudy Kurniawan, an unknown twentysomething, burst into the world of ultrafine wines. Blessed with a virtuoso palate, and a seemingly limitless supply of bottles, Kurniawan became the leading purveyor of rare wines. But in April 2008, dozens of Kurniawan's trophy bottles were abruptly pulled from auction. Journalist Peter Hellman was there, and he began to investigate: Were the bottles fake? Were there others? Was Kurniawan a dupe . . . or had he ensnared the world's top winemakers, sellers, and drinkers in a web of deceit?
---
Fear breaks sales records all over the place
This week, publisher Simon & Schuster announced that Bob Woodward's Fear: Trump in the White House broke the company's first week sales record, selling more than 1.1 million copies. The book is now in it's 10th printing, bringing the total number of hardcover copies printed to more than 1.2 million.
This is the second sales record for the book – the sale of 750,000 copies on the first day of release was also a milestone for the publisher. Barnes & Noble also announced the the book was the fastest-selling adult title since Go Set a Watchman by Harper Lee went on sale in 2015.
My favorite detail, reported in the Washington Post, was this one about independent books stores:
This being Washington, some buyers bought multiple copies. "The largest bulk purchases went to foreign embassies," (Politics & Prose co-owner Bradley) Graham said. "One embassy paid for 13. Another bought four."
Anthony Bourdain wins six posthumous Emmys
At last week's Creative Arts Emmys, author, chef, and television host Anthony Bourdain was awarded six posthumous awards for his CNN travel series Anthony Bourdain: Parts Unknown. According to Variety, the series took home awards for "best informational series or special, writing for non-fiction program, picture editing for a non-fiction program, sound editing for a non-fiction program and sound mixing for a non-fiction program."
Bourdain earned an additional Emmy for "best short-form non-fiction or reality" for the series Anthony Bourdain: Explore Parts Unknown. The article linked above has some lovely quotes from the acceptance speeches from his co-workers that I urge you to go read.
National Book Award longlists announced
The National Book Award is coming! This award, given by the National Book Foundation, is always an interesting one to watch. Last year I complained that the nonfiction list was too serious, a critique I think one could level at this year's list too – it's clear that politics is still on everyone's mind.
Still, there are a lot great titles that absolutely deserve to be recognized – One Person, No Vote by Carol Anderson, Brothers of the Gun by Marwan Hisham and Molly Crabapple, and The Tangled Tree by David Quammen, just to name a few. The finalists will be announced on October 10, with the winners unveiled on November 14. More to come!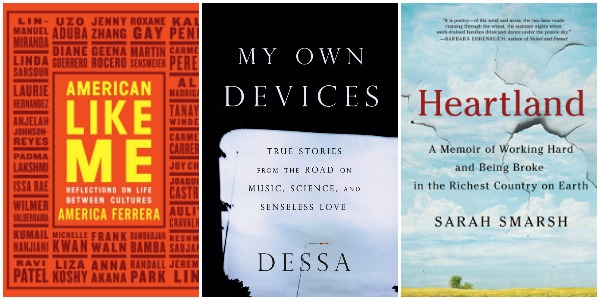 New books, ahoy!
And finally, three new books to keep your eyes open for this week:
American Like Me: Reflections on Life Between Cultures by America Ferrera – In this book, actress and activist America Ferrera invites 31 friends, peers, and heroes to "share their stories about life between cultures." The powerhouse contributor list for this book includes Lin-Manuel Miranda, Michelle Kwan, Kal Penn, Roxane Gay, and more. So good.
My Own Devices: True Stories from the Road on Music, Science, and Senseless Love by Dessa – I'm a little biased about this one because Dessa, a rapper, songwriter, and all around cool person, had some ties to Minnesota where I'm from too. This debut essay collection fuses science, music, literature and more. I can't wait to start my copy.
Heartland by Sarah Smarsh – Sarah Smarsh grew up in Kansas in the 1980s and 1990s in a family categorized as the working poor. In the book, Smarsh shares her story, explores class divides, and examines "the myths about people thought to be less because they earn less." This one is on the National Book Award longlist, so you know it's gotta be good.
Happy reading, fellow true story fiends. You can find me on Twitter @kimthedork, and co-hosting the For Real podcast here at Book Riot with questions and comments!