Happy Tuesday, vampires and Vulcans! Today we're talking about a new Spock, a novel adaptation of a song, an Asimov TV show, two exciting book releases, Bannerless by Carrie Vaughn, and more.
---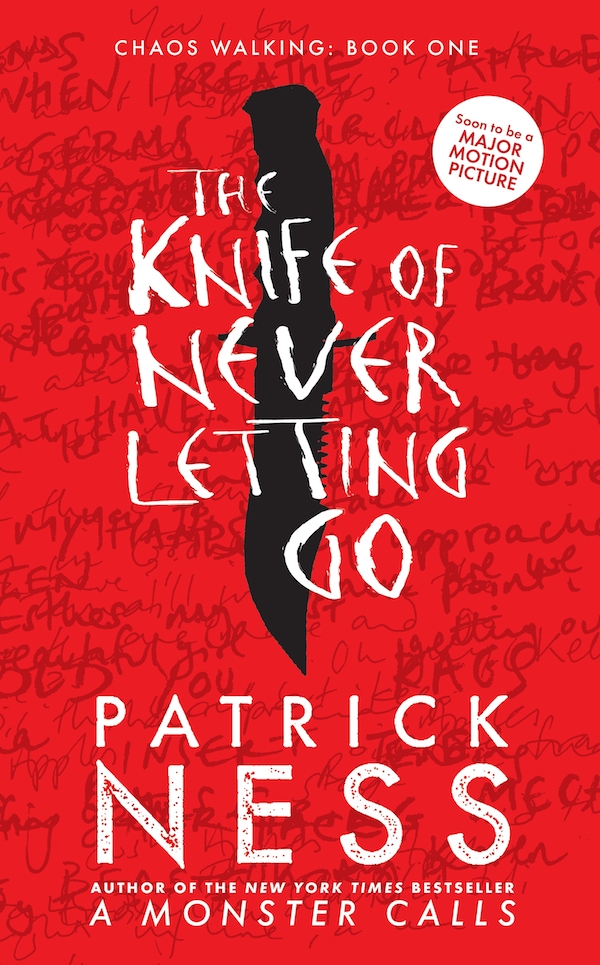 This newsletter is sponsored by The 10th Anniversary edition of The Knife of Never Letting Go by Patrick Ness.
A decade after its release, the astonishing opener to Patrick Ness's Chaos Walking trilogy still resonates. Celebrate ten years of this groundbreaking book with a beautiful anniversary hardcover edition.
Pre-order this new 10th anniversary edition and receive an exclusive Chaos Walking T-shirt and pin!
Offer lasts until September 10th or while supplies last. U.S. only. Visit http://bit.ly/ChaosWalkingPreOrder for details.
---
In recent adaptation news:
Y'all, I am both excited and terrified by the number of Ursula Le Guin adaptations in the works. Also, how is it possible that I've never read Nine Lives?! TO THE LIBRARY.
Meet the newest Spock! Ethan Peck has joined the cast of Star Trek: Discovery to play our favorite half-Vulcan, and I would just like to say that the casting director did an excellent job matching Zachary Quinto's jaw structure.
Hugo-nominated song "The Deep" (from the rap group Clipping, which includes Hamilton's Daveed Diggs [!!]) is going to become a novel written by Rivers Solomon (!!!). I have finally listened to the song and I could not be more on board with this plan.
Apple is developing a tv series based on Isaac Asimov's Foundation books. I don't quite know how to feel about this, since the source material is not my favorite, except that having Josh Friedman (who has worked on Terminator: The Sarah Connor Chronicles and Emerald City) attached means it should at least be interesting.
In the teaseriest of teases, the Wheel of Time showrunner shared a snippet of script. My brain instantly cast Toby Stephens as Tam al'Thor.
Book news and new releases:
The GORGEOUS cover for N.K. Jemisin's forthcoming collection How Long 'Til Black Future Month? has been revealed!
Rick Riordan's imprint is producing an amazing list of fiction (Yoon Ha Lee has one coming in Spring 2019!!!) and they're adding a book about La Llorona to that list.
2020 cannot come soon enough, I need this sentient cybernetic dragon novel immediately.
In exciting "out this week" news:
Magic Triumphs by Ilona Andrews, the last book in the Kate Daniels, series, IS OUT TODAAAAAAYYYYY :extremely muppet-arms:. I'll be reviewing it in full on Friday, but spoiler: I loved it.
The Fall of Gondolin is also out today, for the Tolkien completists.
Today's review looks at another vision of our potentially bleak future, except this one also gave me some warm fuzzies.
Bannerless by Carrie Vaughn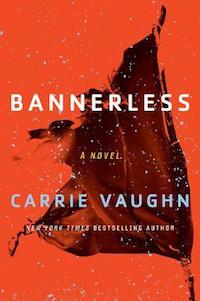 For a murder whodunnit post-apocalyptic novel that's about population control, this book is refreshingly free of melodrama. It's also the closest thing I've read to a "cozy" post-apocalypse, by which I mean that if you read for characters more than plot and/or prefer interpersonal arcs in speculative scenarios (think Becky Chambers or Ann Leckie) to plot pyrotechnics, you're gonna love this one.
Bannerless is set in a future United States post-collapse, both economic and environmental. The surviving civilization along the Coast Road has tried to learn from humanity's mistakes, and tightly regulates procreation. Upon reaching puberty, inhabitants of the settlements receive a birth control implant; to have children, they have to have formed a household of four adults and prove that they can support a child. Then and only then, they're issued a single banner — basically a pass allowing for one child.
The story follows Enid, the closest thing to law enforcement this society has. Her job as Investigator is to, well, investigate and mediate, from disputes to missing persons to bannerless pregnancies to very rare cases of murder. A community requests an investigation into a suspicious death, and Enid and her partner head out to do their jobs. The book also gives us flashbacks to Enid's youth, her first love, and her path to becoming an Investigator.
It's a murder mystery; it's a coming-of-age novel; it's a look at how a ravaged society might try to solve the problems of the past; and it does all of these things without ever once feeling overblown or crowded. Enid is a clear-eyed, heartfelt narrator, and both the current and past plots have enough momentum to keep you turning the pages. It's also one of the only post-apocalypse novels about population control and pregnancy I've read that includes queer people on the page, which highlights a real problem within the genre. And the ending in particular felt like a hug for both myself and the character, which we could all use from our fiction from time to time.
Both the sequel, The Wild Dead, and the prequel Where Would You Be Now? are available, and I've already put in my library request.
And that's a wrap! You can find all of the books recommended in this newsletter on a handy Goodreads shelf. If you're interested in more science fiction and fantasy talk, you can catch me and my co-host Sharifah on the SFF Yeah! podcast. For many many more book recommendations you can find me on the Get Booked podcast with the inimitable Amanda.
May the wind be ever at your back,
Jenn