Hi Kid Lit friends!
I wanted to share with you a really cool thing that the New York Times does with children's illustrators on Facebook. Every couple of weeks, they have live videos featuring illustrators and authors with live drawing demonstrations. It's generally a thirty-minute conversation, demo, and sometimes studio tour with the children's book creator and Maria Russo, the New York Times children's book editor. I love watching the creative process, and viewers are invited to type in questions for the creators to answer on the show.
---
Sponsored by Graphix, an imprint of Scholastic.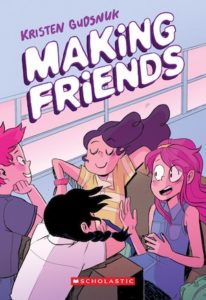 Sometimes making (or creating) a friend is a lot easier than keeping one!
Sixth grade was SO much easier for Danny. Now that she's in seventh grade, she's in a new middle school, her friends are in different classes and new cliques, and she is totally lost. What Danny really needs is a new best friend! So when she inherits a magic sketchbook in which anything she sketches in it comes to life, she draws Madison, the perfect best friend ever. But even when you create a best friend, there's no guarantee they'll always be your best friend.
---
Here are some of my favorite videos:
Michael Ian Black and Debbie Ridpath Ohi talk about their picture books, I'm Sad and I'm Bored. I particularly enjoyed hearing Debbie talk about how she came up with her illustration of the potato. Also, Michael Ian reveals the two other titles of his upcoming book collaborations with Debbie. Here is the link to the video, or you can click the image below.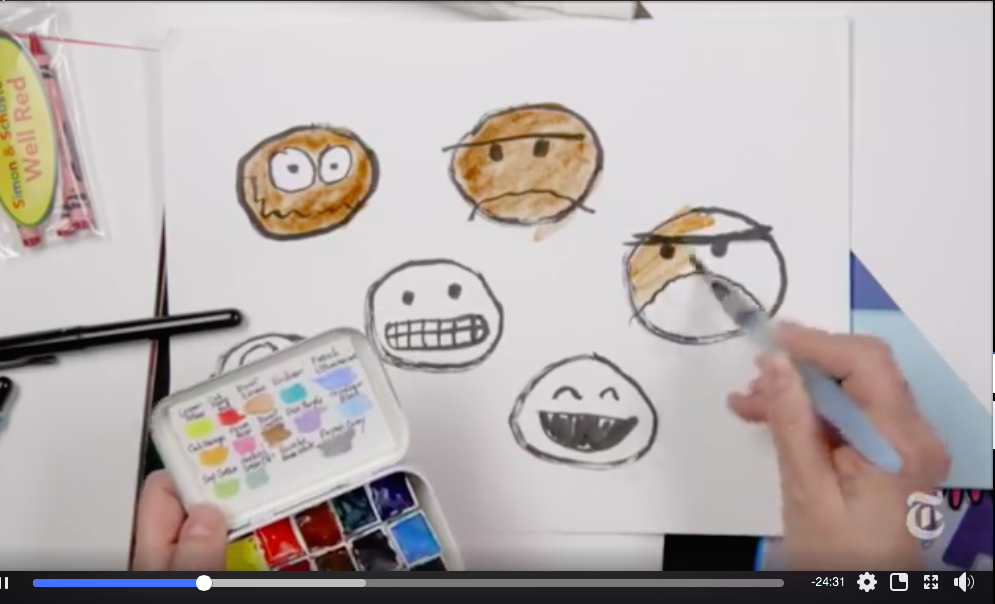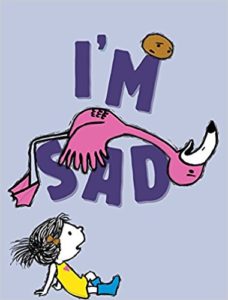 Everyone feels sad sometimes—even flamingos. Sigh. When Flamingo announces he's feeling down, the little girl and Potato try to cheer him up, but nothing seems to work. Not even dirt! (Which usually works for Potato.) Flamingo learns that he will not always feel this way. And his friends learn that sometimes being a friend means you don't have to cheer someone up. You just have to stick by your pal no matter how they feel. Even if they're a potato.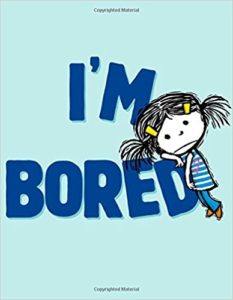 Just when a little girl thinks she couldn't possibly be more bored, she stumbles upon a potato who turns the tables on her by declaring that children are boring. But this girl isn't going to let a vegetable tell her what's what, so she sets out to show the unimpressed potato all the amazing things kids can do. Too bad the potato is anything but interested….
Yuyi Morales talks about her upcoming picture book, Dreamers (Neal Porter Books, 9/4). Yuyi talks about how she did not begin drawing until she was an adult, and she demonstrates the ways she uses multimedia in her illustrations. Here is the link to the video, or you can click the image below.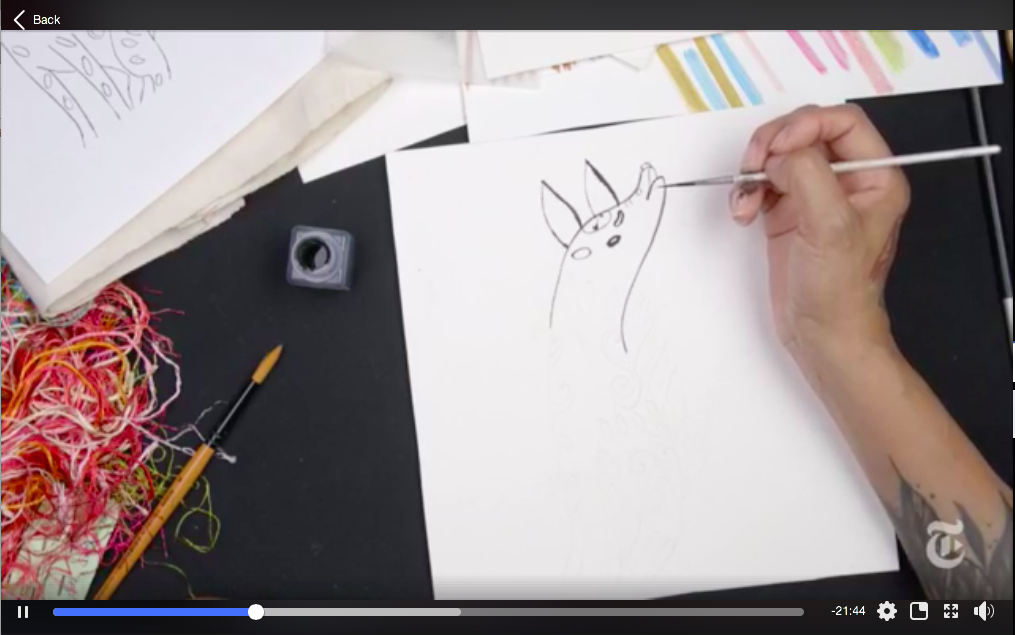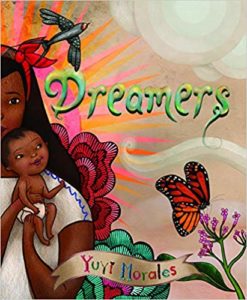 In 1994, Yuyi Morales left her home in Xalapa, Mexico and came to the US with her infant son. She left behind nearly everything she owned, but she didn't come empty-handed. She brought her strength, her work, her passion, her hopes and dreams…and her stories. Caldecott Honor artist and five-time Pura Belpré winner Yuyi Morales's gorgeous new picture book Dreamers is about making a home in a new place. Yuyi and her son Kelly's passage was not easy, and Yuyi spoke no English whatsoever at the time. But together, they found an unexpected, unbelievable place: the public library. There, book by book, they untangled the language of this strange new land, and learned to make their home within it.
Victoria Jamieson talks about All's Faire in Middle School, a middle grade graphic novel set at at Renaissance Faire.  I loved hearing about how Victoria found her drawing style in art school and how she transitioned from writing and illustrating picture books to graphic novels. Check out the video to hear about all the different types of strange jobs Victoria had. Here is the link to the video, or you can click the image below.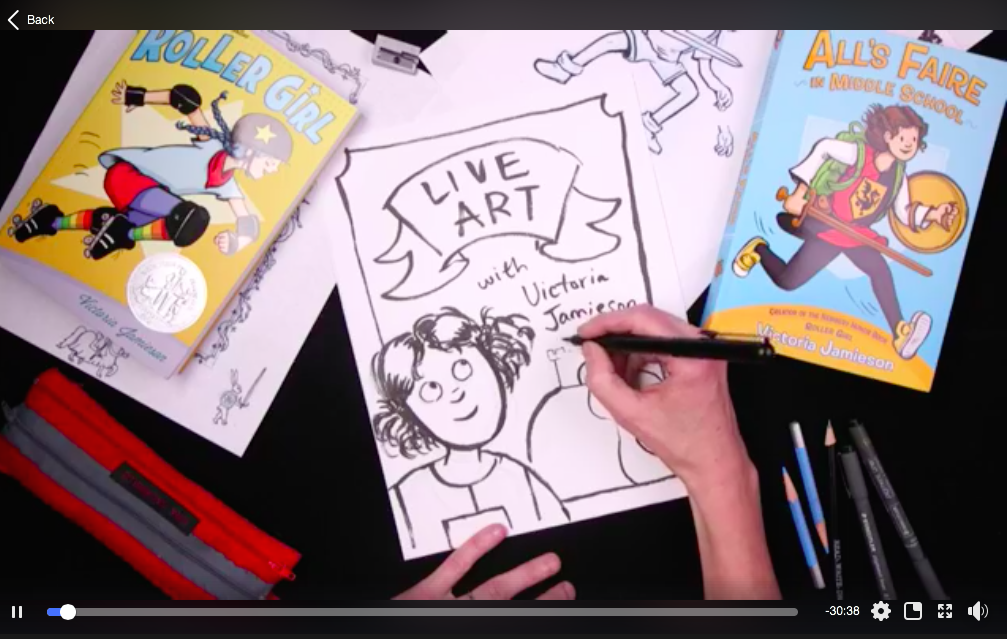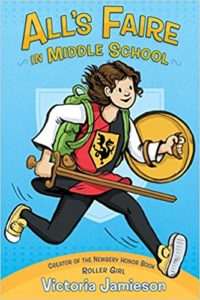 Eleven-year-old Imogene (Impy) has grown up with two parents working at the Renaissance Faire, and she's eager to begin her own training as a squire. First, though, she'll need to prove her bravery. Luckily Impy has just the quest in mind—she'll go to public school after a life of being homeschooled! But it's not easy to act like a noble knight-in-training in middle school. Impy falls in with a group of girls who seem really nice (until they don't) and starts to be embarrassed of her thrift shop apparel, her family's unusual lifestyle, and their small, messy apartment. Impy has always thought of herself as a heroic knight, but when she does something really mean in order to fit in, she begins to wonder whether she might be more of a dragon after all.
Brian Pinkney talks about illustrating two picture books, In Your Hands written by Carole Boston Weatherford, and Martin Rising: A Requiem for a King written by Andrea Davis Pinkney. I loved hearing how he was inspired to illustrate In Your Hands. Here is the link to the video, or you can click the image below.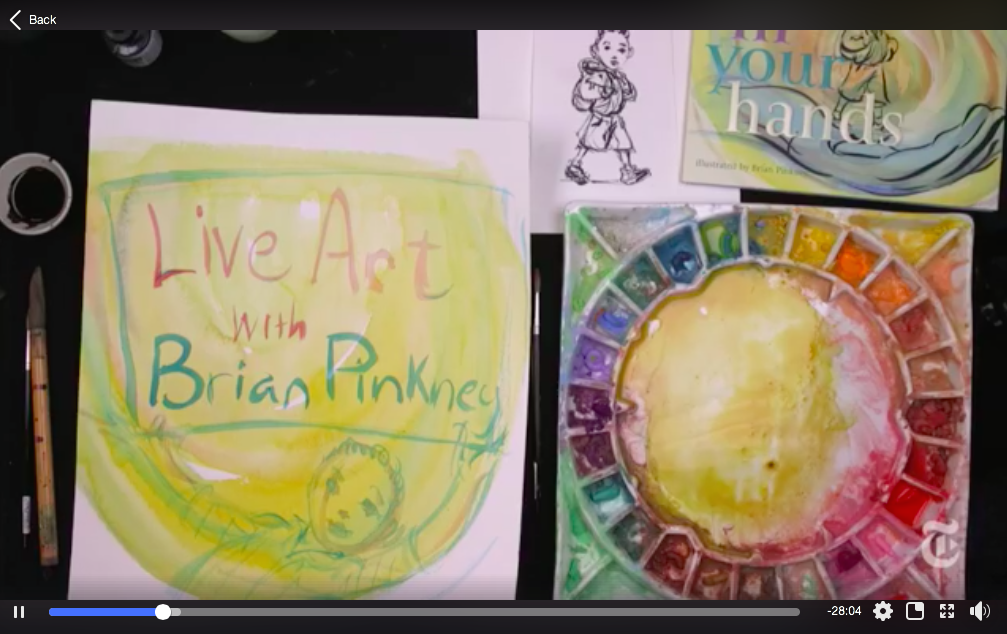 A black mother expresses the many hopes and dreams she has for her child in this powerful picture book masterpiece that's perfect for gift-giving.
When you are a newborn,
I hold your hand and study your face.
I cradle you as you drift to sleep.
But I know that I will not always
hold your hand;
not the older you get.
Then, I will hold you in my heart
And hope that God holds you in his hands.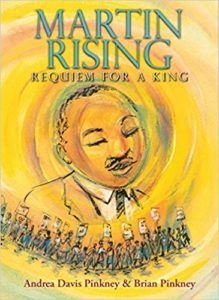 In a rich embroidery of visions, musical cadence, and deep emotion, Andrea and Brian Pinkney convey the final months of Martin Luther King's life — and of his assassination — through metaphor, spirituality, and multilayers of meaning. Andrea's stunning poetic requiem, illustrated with Brian's lyrical and colorful artwork, brings a fresh perspective to Martin Luther King, the Gandhi-like, peace-loving activist whose dream of equality — and whose courage to make it happen — changed the course of American history. And even in his death, he continues to transform and inspire all of us who share his dream.
Brian Selznick talks about Baby Monkey, Private Eye, a new young reader. I particularly loved hearing about how Brian made a rubber Baby Monkey as well as a model of the detective agency room so he could move the elements inside the agency around. He also gives a tour of his studio, which is also fascinating. Here is the link to the video, or you can click the image below.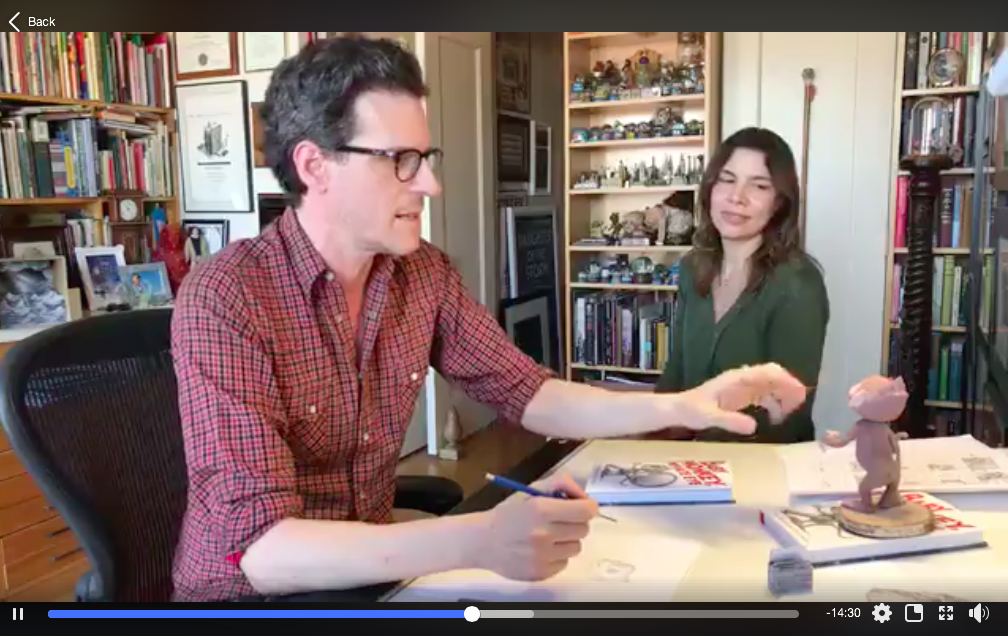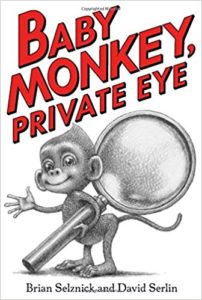 He is a baby.
He is a monkey.
He has a job.
He is Baby Monkey, Private Eye!
Lost jewels?
Missing pizza?
Stolen spaceship?
Baby Monkey can help…
if he can put on his pants!
Baby Monkey's adventures come to life in an exciting blend of picture book, beginning reader, and graphic novel. Hooray for Baby Monkey!
There are so many videos up on the New York Times Book Facebook page, including talks with illustrators like Vashti Harrison, Corinna Luyken, Tim Miller, Bryan Collier, and many, many more! Check them out and let me know what you think.
The next live session is on Monday, August 27 at 3:30 pm EST. David Ezra Stein will be talking about his new book, Interrupting Chicken. Tune in and ask him a question!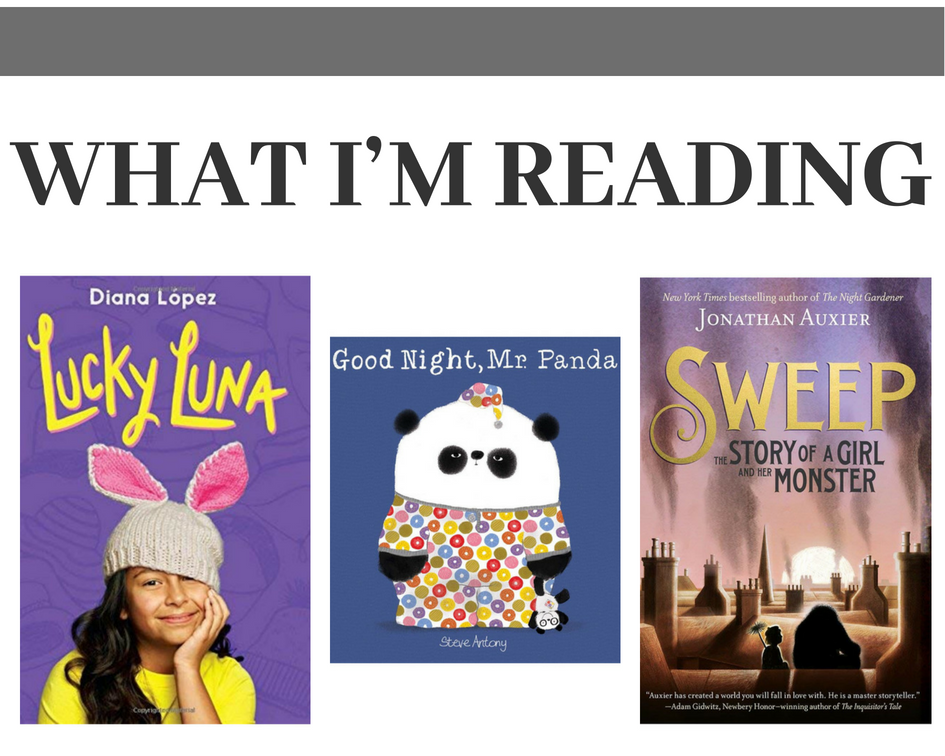 Lucky Luna
 by Diana López (Scholastic, 8/28) is a middle grade book about mischievous Luna who gets in trouble when she locks her know-it-all cousin in the bathroom at her cousin's quinceanera. This is a sweet, funny book about family and friendship.
I adored Good Night, Mr. Panda by Steve Antony (Scholastic, 9/28), a super sweet bedtime story about a panda and his friends. The sparse text and adorable illustrations really made this a winner of a picture book for me.
Sweep: The Story of a Girl and Her Monster by Jonathan Auxier (Amulet Books, 9/25) is about eleven-year-old Nan Sparrow, the best climber in all of London. She was taught by her father how to clean chimneys until he mysteriously disappeared and she had to find work with a notorious chimney sweep. This is a beautifully written middle grade novel with both mystery and magic.
New Giveaway Alert!
Hey, we have a new giveaway for August! Get 16 awesome books featured on the Recommended podcast. Enter here by August 31!
I'd love to know what you are reading this week! Find me on Twitter at @KarinaYanGlaser, on Instagram at @KarinaIsReadingAndWriting, or email me at karina@bookriot.com.
Until next time!
Karina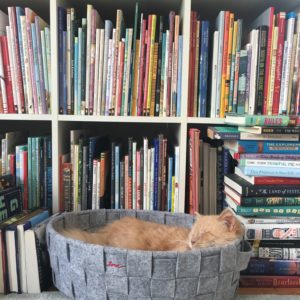 Perfect nap spot!
*If this e-mail was forwarded to you, follow this link to subscribe to "The Kids Are All Right" newsletter and other fabulous Book Riot newsletters for your own customized e-mail delivery. Thank you!*