Hi Kid Lit friends,
It's August, and here in New York City it is so humid that it feels as if you have to swim through the air. So pleasant! Anyways, weather like this makes me yearn for the sea, so I thought I would compile some of my favorite books set by the ocean. All descriptions are from Goodreads.
---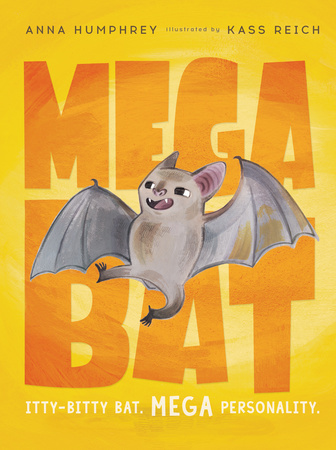 Sponsored by Megabat by Anna Humphrey, illustrated by Kass Reich
Daniel Misumi thinks his new house might be haunted. But when he goes to investigate he doesn't find any ghosts, only a talking bat! Daniel and Megabat become friends, bonding over jelly rolls and Darth Vader. Emerging readers will fall in love with Megabat's sunny outlook on life and giggle at his inventive use of language. Perfect for fans of Dory Fantasmagory and Narwhal & Jelly, this mega-cute chapter book series is destined to find a mega-audience. For ages 7-10.
---
Picture Books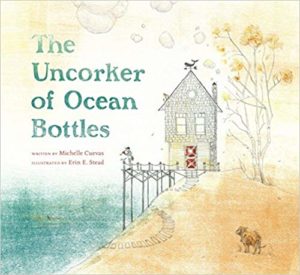 The Uncorker of Ocean Bottles by Michelle Cuevas, illustrated by Erin Stead
The Uncorker of Ocean Bottles, who lives alone atop a hill, has a job of the utmost importance. It is his task to open any bottles found at sea and make sure that the messages are delivered. He loves his job, though he has always wished that, someday, one of the letters would be addressed to him. One day he opens a party invitation—but there's no name attached. As he devotes himself to the mystery of the intended recipient, he ends up finding something even more special: the possibility of new friends.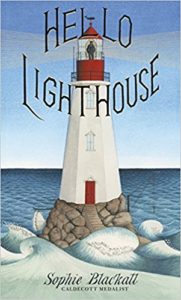 Hello Lighthouse by Sophie Blackall
Watch the days and seasons pass as the wind blows, the fog rolls in, and icebergs drift by. Outside, there is water all around. Inside, the daily life of a lighthouse keeper and his family unfolds as the keeper boils water for tea, lights the lamp's wick, and writes every detail in his logbook.
Ashley Bryan's Puppets: Making Something from Everything by Ashley Bryan
Little Cranberry Island. It's a small island, with fewer than a hundred inhabitants, but it's got more than its share of treasures—including the magnificent Ashley Bryan himself, a world-renowned storyteller and author of such classics as All Night, All Day and Beautiful Blackbird. Daily, for decades, Ashley has walked up and down the beach, stopping to pick up sea glass, weathered bones, a tangle of fishing net, an empty bottle, a doorknob. Treasure. And then, with glue and thread and paint and a sprinkling of African folklore, Ashley breathes new life into these materials. Others might consider it beach junk, but Ashley sees worlds of possibilities.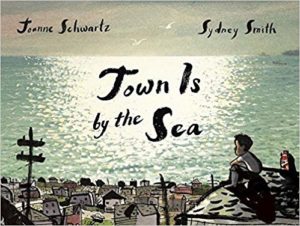 Town Is By the Sea by Joanne Schwartz, illustrated by Sydney Smith
A young boy wakes up to the sound of the sea, visits his grandfather's grave after lunch and comes home to a simple family dinner, but all the while his mind strays to his father digging for coal deep down under the sea. Stunning illustrations by Sydney Smith, the award-winning illustrator of Sidewalk Flowers, show the striking contrast between a sparkling seaside day and the darkness underground where the miners dig.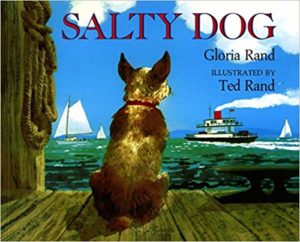 Salty Dog by Gloria Rand, illustrated by Ted Rand
A charming story of a plucky Salty Dog, a story inspired by a real dog who frequently traveled alone on a ferry across Puget Sound to visit his master at work in a boatyard.
Middle Grade Books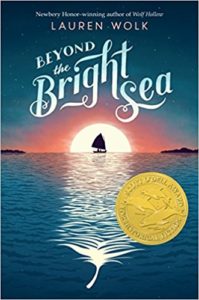 Beyond the Bright Sea by Lauren Wolk
Twelve-year-old Crow has lived her entire life on a tiny, isolated piece of the starkly beautiful Elizabeth Islands in Massachusetts. Abandoned and set adrift in a small boat when she was just hours old, Crow's only companions are Osh, the man who rescued and raised her, and Miss Maggie, their fierce and affectionate neighbor across the sandbar. Crow has always been curious about the world around her, but it isn't until the night a mysterious fire appears across the water that the unspoken question of her own history forms in her heart. Soon, an unstoppable chain of events is triggered, leading Crow down a path of discovery and danger.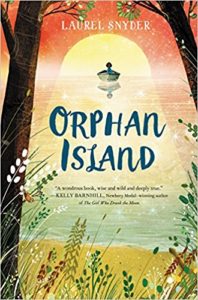 Orphan Island by Laurel Snyder
On the island, everything is perfect. The sun rises in a sky filled with dancing shapes; the wind, water, and trees shelter and protect those who live there; when the nine children go to sleep in their cabins, it is with full stomachs and joy in their hearts. And only one thing ever changes: on that day, each year, when a boat appears from the mist upon the ocean carrying one young child to join them—and taking the eldest one away, never to be seen again. Today's Changing is no different. The boat arrives, taking away Jinny's best friend, Deen, replacing him with a new little girl named Ess, and leaving Jinny as the new Elder. Jinny knows her responsibility now—to teach Ess everything she needs to know about the island, to keep things as they've always been. But will she be ready for the inevitable day when the boat will come back—and take her away forever from the only home she's known?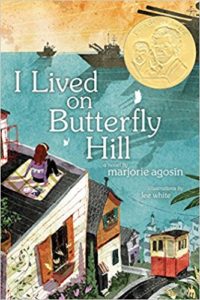 I Lived on Butterfly Hill by Marjorie Agosín
Celeste Marconi is a dreamer. She lives peacefully among friends and neighbors and family in the idyllic town of Valparaiso, Chile—until one day when warships are spotted in the harbor and schoolmates start disappearing from class without a word. Celeste doesn't quite know what is happening, but one thing is clear: no one is safe, not anymore. The country has been taken over by a government that declares artists, protestors, and anyone who helps the needy to be considered "subversive" and dangerous to Chile's future. So Celeste's parents—her educated, generous, kind parents—must go into hiding before they, too, "disappear." Before they do, however, they send Celeste to America to protect her. As Celeste adapts to her new life in Maine, she never stops dreaming of Chile. But even after democracy is restored to her home country, questions remain: Will her parents reemerge from hiding? Will she ever be truly safe again?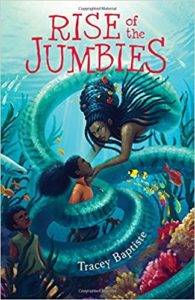 Rise of the Jumbies by Tracey Baptiste
Corinne LaMer defeated the wicked jumbie Severine months ago, but things haven't exactly gone back to normal in her Caribbean island home. Everyone knows Corinne is half-jumbie, and many of her neighbors treat her with mistrust. When local children begin to go missing, snatched from the beach and vanishing into wells, suspicious eyes turn to Corinne. To rescue the missing children and clear her own name, Corinne goes deep into the ocean to find Mama D'Leau, the dangerous jumbie who rules the sea. But Mama D'Leau's help comes with a price. Corinne and her friends Dru, Bouki, and Malik must travel with mermaids across the ocean to fetch a powerful object for Mama D'Leau. The only thing more perilous than Corinne's adventures across the sea is the jumbie that waits for her back home.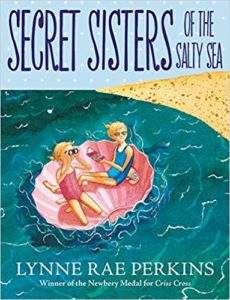 Secret Sisters of the Salty Sea by Lynne Rae Perkins
Alix and her sister, Jools, have never seen the ocean. When their parents pack them up for a week at the shore, Alix is nervous about leaving home, but excited, too. At the beach, the girls make friends, go exploring, and have adventures both big and small. They pick periwinkles, spot crabs, and discover that the beach is full of endless possibilities. As the week comes to an end, Alix is surprised to find she doesn't want to leave!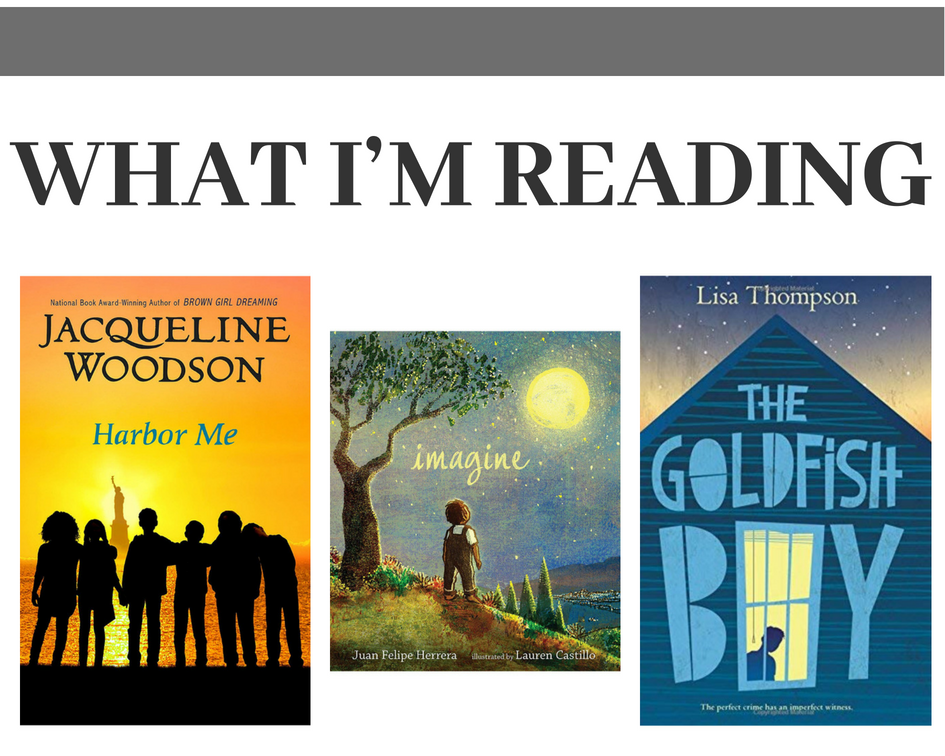 Jacqueline Woodson's newest middle grade book is Harbor Me (Nancy Paulsen Books, 8/28). It is a beautiful story about six kids who meet for a weekly talk at school with no adults around. The room is dubbed the ARTT (A Room To Talk), and as time goes by the kids share deeper thoughts and experiences which bonds them together in unimaginable ways.
Imagine by Juan Felipe Herrera, illustrated by Lauren Castillo (Candlewick, 10/2) is a gorgeous picture book autobiography. When he was very young, Juan Felipe Herrera picked chamomile flowers in windy fields and let tadpoles swim across his hands in a creek and fetched water in a bucket in the next town over. As an adult, he became the poet laureate of the United States. Stunning illustrations by Lauren Castillo accompany this inspiring story.
The Goldfish Boy by Lisa Thompson is a book I have been hearing about for a long time, and I am glad I had the chance to finally pick it up. It is about Matthew Corbin, who suffers from severe obsessive-compulsive disorder. He stays mostly in his room and the office and keeps a watchful eye on the street below. When he is the last one to see a toddler next door, he comes the center of an investigation.
Around the web…
Why You Should Read Children's Stories by Sarah Mackenzie, via Publisher's Weekly
Losing My Son to Reading by Viet Thanh Nguyen, via The New York Times
Board Books With A Plot, via Book Riot
Four Questions for Mary Pope Osborne, via Publisher's Weekly
New Giveaway Alert!
Hey, we have a new giveaway for August! Get 16 awesome books featured on the Recommended podcast. Enter here by August 31!
I'd love to know what you are reading this week! Find me on Twitter at @KarinaYanGlaser, on Instagram at @KarinaIsReadingAndWriting, or email me at karina@bookriot.com.
Until next time!
Karina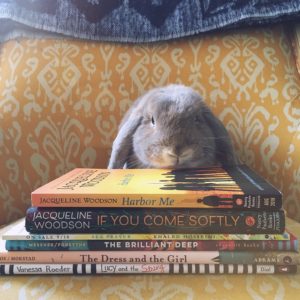 Izzy showing off some books we have read and loved recently!
*If this e-mail was forwarded to you, follow this link to subscribe to "The Kids Are All Right" newsletter and other fabulous Book Riot newsletters for your own customized e-mail delivery. Thank you!*