Happy Friday, sirens and scriers! Today I'm reviewing The Descent of Monsters by J.Y. Yang and The Tethered Mage by Melissa Caruso, plus looking at the new Terminator, the witches of Discworld, under-hyped SFF, and more.
---
Sponsored by Suicide Club by Rachel Heng. A novel about living. Published by Henry Holt & Co.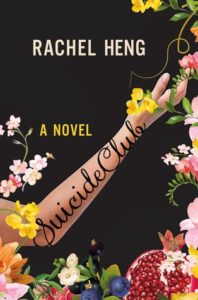 Lea Kirino is a "Lifer," which means that a roll of the genetic dice has given her the potential to live forever—if she does everything right. After the return of her estranged father, Lea is drawn into the mysterious world of the Suicide Club, a network of powerful, rebellious individuals who reject society's pursuit of immortality and choose to live—and die—on their own terms. Lea is forced to choose between a sanitized immortal existence and a short, bittersweet time with a man she has never really known but who is the only family she has left.
---
As per last week's review, the third Wayfarers book by Becky Chambers, Record of a Spaceborn Few, is out — and Tor.com is giving away the series so far! You should enter.
Speaking of giveaways! You should definitely enter our Recommended giveaway, which includes 16 books!
Linda Hamilton is back with a vengeance in these new photos from the new Terminator film, and I don't know what to do with myself, I am SO EXCITED. *Inarticulate flailings ensue.*
You might not have these on your radar, but here are three upcoming books BR contributor Leah believes you should get excited about. I am very happy to cosign Rosewater by Tade Thompson, especially for the VanderMeer/Mieville/Beukes fans out there.
Did you learn life lessons from the witches of Discworld? Alice did, and this post makes me want to finally pick up these books. (I know, I know. Some day!)
Novellas have been around forever but they're definitely getting more press these days, including in this piece from Wired. When novellas are available both digitally from my library and in physical form, I read way more of them — I can only hope that novella publishers continue to add to their distribution game, since the market is clearly here!
Your hoard, ahem, personal library probably needs some dragon bookends.
Today in reviews, we've got a monstrous investigation and an empire under attack.
The Descent of Monsters (Tensorate #3) by J.Y. Yang
In this dark third installment, the Tensorate series picks up where we left The Red Threads of Fortune, with the slaughter at the Rewar Teng Institute of Experimental Methods. The enormous beast may have been vanquished, but nothing has been resolved. What was going on at the Institute? Will Rider ever find who they've been looking for? And who is trying to cover this all up?
Descent of Monsters introduces a new player, Investigator Chuwan. She does her job, she does it by the book, and she does it well. The capture and interrogation of Sanao Akeha and Rider only adds more questions to the mix, and Chuwan must choose between finding the truth and doing what her superiors are telling her to do. Her decision leads her down a strange and winding path, in which even the answers she finds just lead to more questions.
Chuwan is a tart, prickly narrator (which I loved), and the switches in structure include letters and reports (which I also loved). After spending the first two books so closely tied to Sanao and Mokoya, it was fascinating to see them through a neutral pair of eyes. While I don' think you can pick this up if you haven't read the first two, I highly recommend doing just that. Yang continues to expand her world in exciting ways, playing with science, fantasy, and human nature, and I can't wait to see where she takes us next.
The Tethered Mage by Melissa Caruso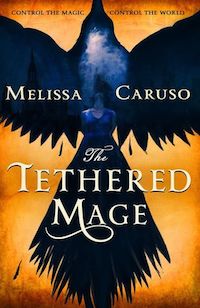 I first heard about Melissa Caruso thanks to her excellent thread about sword-fighting in ballgowns. While I confess that I was a little disappointed that there weren't duelling princesses in The Tethered Mage (although perhaps future installments?), there's plenty to enjoy in this fantasy novel.
Set in European-esque cities (it read a bit like a mash-up of the Roman empire with Renaissance Italy to me), the story follows Amalia Cornaro, heir to a powerful countess. She's bookish, a bit absent-minded, very well-meaning, and a little naive, none of which serves her well when she helps stop an out-of-control street urchin with fire magic and ends up bonded to the young woman, Zaira. Being a Falconer (i.e. the controller of a person with mage powers) puts her directly in the service of the Doge, which is a conflict of interest given her mother's position at court, and definitely is going to interfere with her studies.
Amalia, Zaira, and the very swoon-worthy Lieutenant Marcello find themselves at the heart of a sinister plot to tear apart the empire. Amalia, due to her privileged upbringing, genuinely believes that it and the Falcon system are a good thing, which more than once made me shake my head and say "Oh, sweet summer child!" to the book in my hands. Her rose-tinted glasses get knocked a bit askew thanks to some zingers from the rightfully cynical Zaira, although there's clearly plenty more room for her to grow and learn. In the meantime, there's action aplenty. Kidnappings! Poisoning! Double crosses! Triple crosses! Evil princes! And of course, magic!
If you're looking for an escapist fantasy with a love story, court intrigue, magical hijinks, and strong female representation, pop this into your day-bag and enjoy.
And that's a wrap! You can find all of the books recommended in this newsletter on a handy Goodreads shelf. If you're interested in more science fiction and fantasy talk, you can catch me and my co-host Sharifah on the SFF Yeah! podcast. For many many more book recommendations you can find me on the Get Booked podcast with the inimitable Amanda.
Your fellow booknerd,
Jenn