Today's The Stack is sponsored by Graphix, an imprint of Scholastic.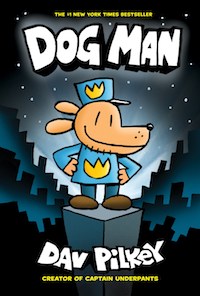 There's a new breed of justice in town, and he's ready to sniff out criminals — as soon as he stops chasing his own tail!
From the creator of Captain Underpants, it's Dog Man, the #1 New York Times bestselling, crime-biting canine who is part dog, part man, and ALL HERO!
George and Harold have created a new hero who digs into deception, claws after crooks, and rolls over robbers. This heroic hound has a real nose for justice, but can he resist the call of the wild to answer the call of duty?