Michael Lewis – author of The Big Short, The Blind Side, and many other books – is one of several authors experimenting with a new format, the Audible original.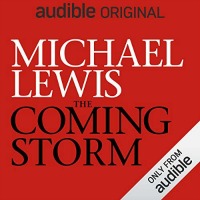 In June, the New York Times reported that Lewis had left his magazine home, Vanity Fair, and signed a multi-year contract with Audible to write and produce four audio-first pieces for the service. His first piece, "The Coming Storm," came out on Tuesday. As an FYI, it's available free for Audible members through August 14, as well as available for purchase by non-members.
---
We're giving away 16 of the books featured on Recommended! Click here, or on the image below to enter:
---
"The Coming Storm" based on reporting from a series of essays Lewis originally wrote for Vanity Fair, and is a "timely story exploring the future of data, power, the weather, and the Trump Administration." It's pretty signature Michael Lewis – profiles of interesting people, connections between current events and historical trends, and sharp observations about people and their failures. I'm utterly fascinated learning about the role the Department of Commerce plays in the federal government – turns out, very little to do with business.
It's an interesting approach. It feels a bit like taking the popularity of investigative podcasts like Serial or In the Dark and bringing it to a platform that has the potential to draw in revenue beyond just sponsorships or subscribers. I'm not sure "The Coming Storm" took full advantage of the audio format – there aren't any recorded interviews or other editing effects that are common in podcasts – but it's still been a good listen. I'll be curious to see how many sales the piece gets outside of current Audible subscribers as a way to judge whether the existing audience of audiobook listeners or podcast subscribers will enjoy this format too.
It's also a new way publicize an upcoming book ahead of time, potentially reaching an audience beyond traditional print readers. Lewis will be returning to the themes of "The Coming Storm" in his next big nonfiction anthology, The Fifth Risk, which is coming out in October. I'm certainly more interested in that book now that I've gotten a taste of it in this piece.
Bob Woodward is Writing about Trump
I didn't think that there was a way to make me want to actually read a full book about what life is like inside the Trump Administration, but then Bob Woodward (one of the journalists who broke the Watergate story) announced his newest book, Fear: Trump in the White House. The book is scheduled for release on September 11, and according to the publisher, "reveals in unprecedented detail the harrowing life inside President Donald Trump's White House and precisely how he makes decisions on major foreign and domestic policies." I don't think there will be a way to fault the reporting on this one, which makes me extremely interested in what it actually says. And according to Politico… "everyone talked to Woodward." Yikes,
New Books!
This week's new books are all interesting memoirs by interesting women, basically the bread and butter of my reading right now.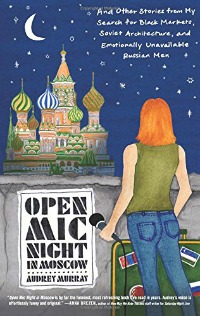 Open Mic Night in Moscow by Audrey Murray – This book is a "raucous and surprisingly poignant story of a young, Russia-obsessed American writer and comedian who embarked on a solo tour of the former Soviet Republics" of Kazakhstan, Belarus, and Sibera. I think a travel and coming-of-age memoir in those places, written by a comedian, seems like a great end-of-summer book to dive into.
Jell-O Girls by Allie Rowbottom – A feminist history of Jell-O? Why yes, that sounds amazing. Allie Rowbottom's great-great-great-uncle purchased the patent for Jell-O in 1899, a business decision that would benefit his family for generations. This book explores the history of Jell-O, the marketing of the product, and the "Jell-O curse" that seems to have haunted the women of the family, in particular. I love a good family portrait and a good microhistory, so this book is high on my list.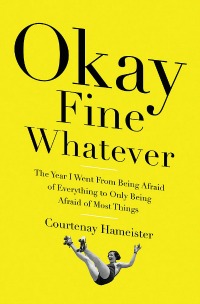 Okay Fine Whatever by Courtenay Hameister – On the most recent episode of For Real, I talked about my love of a good stunt memoir. In this book, a woman decides to conquer her near-constant dread and anxiety by speaking a year doing little things that scare her, which the book jacket describes as "things that the average person might consider doing for a half second before deciding: 'nope.'" This one sounds really funny, which is something I think we all need right now.
And finally, it wouldn't be the end of a newsletter if I didn't get to point you to an awesome Book Riot giveaway. Enter to win 16 awesome books featured on the Recommended podcast, open through August 31. You can find me on Twitter @kimthedork, and co-hosting the For Real podcast here at Book Riot. Happy reading!