Sponsored by Baby Teeth by Zoje Stage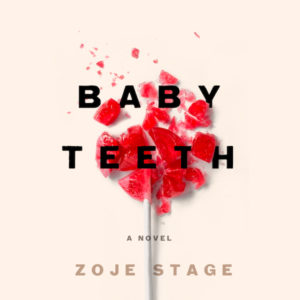 A battle of wills between mother and daughter reveals the frailty and falsehood of familial bonds in award-winning playwright and filmmaker Zoje Stage's tense novel of psychological suspense, Baby Teeth, read by Gabra Zackman.
---
Hey there audiobook lovers,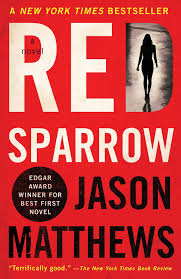 I just finished listening to the first novel in the Red Sparrow Trilogy, which I picked up because both my parents raved about the book. Aside from the fact that I'm slightly weirded out by the fact that my parents won't stop talking to me about how much they enjoyed this Very Sexy Spy novel, I have to say I mostly agree with them. It's a really entertaining thriller, and was definitely a trip to be listening to when the news about Maria Butina broke.
What are y'all listening to? Loving? Hating? Let me know either via twitter at msmacb and/or email at katie@riotnewmedia.com.
Notable Audiobook News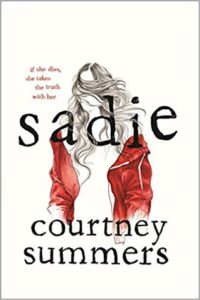 The folks at St. Martin's Press and Macmillan Audio are blending a podcast and a novel. They've created The Girls, a Young Adult fiction thriller podcast based on Courtney Summers' forthcoming YA novel, Sadie.
"Alternating between narrative and podcast script, Sadie dives into the dark side of teen lives, following the story of a young girl on a mission to bring her sister's killer justice. The Girls podcast brings Sadie to life, following the journey of West McCray (a radio personality captivated by Sadie's story) as he follows in her steps, determined to track her down before she becomes the killer's next victim."
The publishers are hoping to get audiences hooked on the story before the book's release in September. They say, "What's so unique about this series is that the podcast and book complement each other and drive audience back and forth. The podcast stands alone–and you don't need to read the book to understand it. But if you listen to the podcast first, you'll want to read the book to get Sadie's unique perspective in her narrated chapters. If you read the book first, you'll want to listen to hear the (30+!) voices scripted into the podcast chapter and how the characters come alive in audio."
Yes, this is in part a really good way to drum up hype for the September release of Summers' book. But Summers' also writes excellent books and this is a really interesting idea. I'm looking forward to see how it turns out.
Over at BoingBoing, the great Cory Doctorow is celebrating Google's commitment to DRM-free audiobooks. As he (rightly) states:
"Audible controls more than 90% of the audiobook market, making it the last bastion of DRM in audiobooks — competitors like Downpour and Libro.fm sell all the same books without DRM, and the audiobooks you get at your local library have been DRM-free for years…Once you control 90% of a market, you are more likely to lose users than gain them, and so anything you can do to lock those users in to your platform helps you more than it hurts. It's a signature Big Tech move, the kind of thing that monopolies use to shore up their dominance for the long term."
But never fear, Doctorow continues, "Google has just launched a DRM-free audiobook store that duplicates nearly the entire catalog at Audible. When you buy your audiobooks from Google Play you can download them to any device, play it on any device, convert them, archive them, back them up. If you decide you don't want to use Google products in the future, you won't lose your audiobooks. It's fucking amazing."
Read the whole article here.
I may have written about these folks before, but I'm kind of an accessibility nut so I think it's worth mentioning their good work again:
WE4U is a volunteer organization working in Odisha, Delhi, Bangalore and West Bengal for eight years providing audio textbooks to visually challenged students. At a press conference one of the organization's members, Abhaya Mohanta, said, "Audiobooks are the only way to study for visually impaired students apart from Braille textbooks. There are 30 million blind students all over India but only 19 Braille Presses across India. We are converting all textbooks into audio format so that school and college students can listen to it and study. We are covering entire Odisha and some other states. Around 500 books have converted into audiobooks so far." Read the full article here.
Audible is investing in the audiobook talent of the future:
Drama school LAMDA has announced a three-year partnership with Audible aimed at developing the "next generation" of acting talent."
"Audible will give the school £150,000 to the school "to develop acting talent through scholarships and training opportunities in audio entertainment. As part of the collaboration, LAMDA students will develop original audio plays in collaboration with Audible.
The audiobook seller will also fund a scholarship to support an undergraduate student on LAMDA's BA Professional Acting course, covering the full three years of tuition fees. The scholarship will be provided to a student who requires financial assistance and has an interest in audio recording.
LAMDA and Audible will provide audio skills training workshops at Audible's studios, which will include classes on microphone technique, creating voice reels and career advice. Audible will also fund new technology to be installed at LAMDA's training facilities."
Listen, Audible may be a behemoth and one of Corporate Overloads but you're (probably) never going to hear me complain about a corporation giving a school a bunch of money. Read the full article here.
I always feel a bit weird when so many of the news links involve one specific company (in this case, and in most cases, Audible/Amazon) but there's no getting around the fact that Audible has largely cornered the audiobook market (though perhaps that will change if Google continues to step up; see above).
While Amazon's "Prime Day" is over, a significantly discounted Audible membership is available through the end of July. Getchyer discount while the getting is good and then take a look at this list of 2018 books you may want to buy with those brand new Audible credits (or your Google audiobooks credit, or download from your local public library!) No joke, every single one of the books on this list is a book I am hoping to read (and in some cases, already have lined up in my queue.
Prime Day: 12 Great Audiobooks You Should Listen To Right Now
That's all your audiobook news for the week!
Until next week,
~Katie