Happy Tuesday, Kid Lit friends!
Lots of picture books releasing today, which makes me so happy! The book descriptions are from Goodreads, but I'll add a
if I particularly loved a title.
---
We're giving away $500 of the year's best YA! Click here, or on the image below to enter:
---
Picture Book New Releases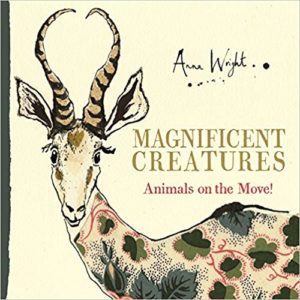 Magnificent Creatures: Animals on the Move by Anna Wright
Not your average animal book – this book depicts animals that don't feature in other children's books, including: sea turtle, springbok, jellyfish, crab, zebra, starling, monarch butterfly, bumblebee, snow goose, herring, Southern Carmine bee-eater, and firefly. The selection of magnificent creatures will delight adults and children alike.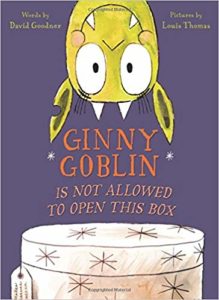 Ginny Goblin Is Not Allowed to Open This Box by David Goodner, illustrated by Louis Thomas
Ginny Goblin has one simple rule to follow: She is not allowed to open this box. Not until dinnertime. But Ginny Goblin doesn't like to follow the rules, so nothing will stop her from trying to open this box. Not a tall tower, not a misty mountain, not a frightful forest, and certainly not a murky moat filled with scaly, scary serpents . . . But wait! What is in the box? You'll have to open this book to find out! (Don't worry, you're allowed.)
Five Silly Ghosts by HMH, illustrated by Hilli Kushnir
Five silly ghosts floating by a gate. The first one said, "Oh my, it's getting late."
This board book features a classic rhyming read-aloud text with the five silly glittery ghosts in Halloween costumes as they peer through a die-cut cover. Each page turn provides a playfully ghoulish reveal. Join five silly ghosts in this fun counting caper!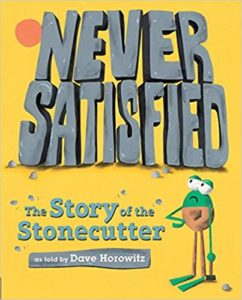 Never Satisfied: The Story of the Stonecutter by Dave Horowitz
Have you ever wished you were someone else? Stanley the stonecutter has, because cutting stones is hard work for a frog! So Stanley wishes he could have it easy like the tea-drinking businessman . . . and, boom, he's transformed. Then he decides he'd be better off as the majestic king. But even that isn't good enough when he sees the radiant sun. Why, if he were the sun, everyone would look up to him, right? Hmm, will Stanley ever be satisfied?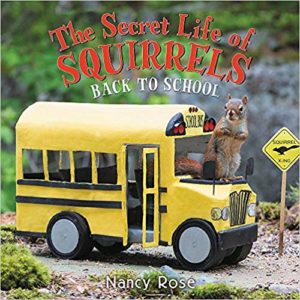 The Secret Life of Squirrels: Back to School! by Nancy Rose
Mr. Peanuts' teacher friend Rosie needs help preparing for the first day of school! The two squirrels go shopping for school supplies, set up the library and music corners, bring all the sports equipment out to the blacktop, and decorate the classroom. Mr. Peanuts even practices driving the school bus! But it's not easy to be a teacher getting ready for a whole classroom of new faces. Will Mr. Peanuts and Rosie be able to pull together the room before the end of summer?
Middle Grade New Releases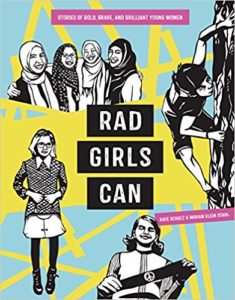 Rad Girls Can: Stories of Bold, Brave, and Brilliant Young Women by Kate Schatz, illustrated by Miriam Klein Stahl
In Rad Girls Can, you'll learn about a diverse group of young women who are living rad lives, whether excelling in male-dominated sports like boxing, rock climbing, or skateboarding; speaking out against injustice and discrimination; expressing themselves through dance, writing, and music; or advocating for girls around the world. Each profile is paired with the dynamic paper-cut art that made the authors' first two books New York Times best sellers. Featuring both contemporary and historical figures, Rad Girls Can offers hope, inspiration, and motivation to readers of all ages and genders.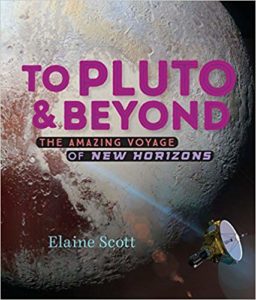 To Pluto and Beyond by Elaine Scott
Elaine Scott tells the exciting story of everyone's favorite planet, from Pluto's discovery through the frustrating attempts to study such a distant object, the creation of the New Horizons project, scientists' hopes and expectations for the mission, and what is being discovered. Her clear, engaging prose does more than narrate the events. By showing how scientists operate, their hypotheses, hopes, and disappointments, and how they make use of them, she gives readers an inspiring portrait of the scientific method itself.
Backlist Book Recommendations!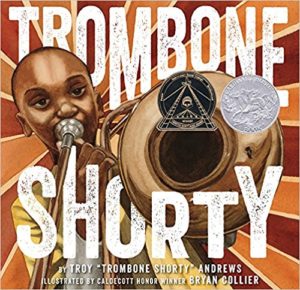 Picture Book Recommendation: Trombone Shorty by Troy "Trombone Shorty" Andrews, illustrated by Bryan Collier
Hailing from the Tremé neighborhood in New Orleans, Troy "Trombone Shorty" Andrews got his nickname by wielding a trombone twice as long as he was high. A prodigy, he was leading his own band by age six, and today this Grammy-nominated artist headlines the legendary New Orleans Jazz Fest. Along with esteemed illustrator Bryan Collier, Andrews has created a lively picture book autobiography about how he followed his dream of becoming a musician, despite the odds, until he reached international stardom. Trombone Shorty is a celebration of the rich cultural history of New Orleans and the power of music.
Note from Karina: I love the liveliness of this book, and after reading it I promptly looked up all of Trombone Shorty's music on Spotify. Check out the companion picture book, The Five O'Clock Band!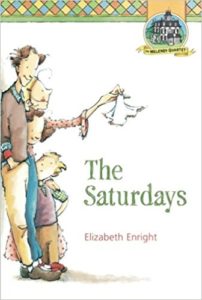 Middle Grade Recommendation: The Saturdays by Elizabeth Enright
Meet the Melendys! The four Melendy children live with their father and Cuffy, their beloved housekeeper, in a worn but comfortable brownstone in New York City. Tired of wasting Saturdays doing nothing but wishing for larger allowances, the four Melendys jump at Randy's idea to start the Independent Saturday Afternoon Adventure Club (I.S.A.A.C.). If they pool their resources and take turns spending the whole amount, they can each have at least one memorable Saturday afternoon of their own. Before long, I.S.A.A.C. is in operation and every Saturday is definitely one to remember.
Note from Karina: I adore this book so much! I love reading about big families in New York City, and this book has so much charm and great family dynamics. There are four books in this series, and all of them are excellent.
I'd love to know what you are reading this week! Find me on Twitter at @KarinaYanGlaser, on Instagram at @KarinaIsReadingAndWriting, or email me at karina@bookriot.com.
Until next week!
Karina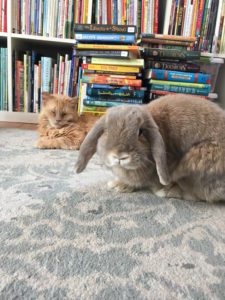 *If this e-mail was forwarded to you, follow this link to subscribe to "The Kids Are All Right" newsletter and other fabulous Book Riot newsletters for your own customized e-mail delivery. Thank you!*