Hello mystery fans! This week, I have for you a fantastic audiobook, Megan Abbott's new novel (It's finally here!), and a fictional serial killer.
---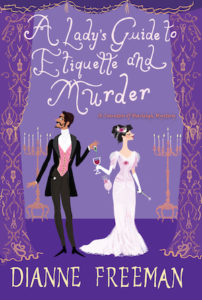 Sponsored by A Lady's Guide to Etiquette and Murder by Dianne Freeman
In A Lady's Guide to Etiquette and Murder, the Victorian version of Aurora Teagarden investigates murder in the aristocratic world of Edith Wharton, introducing readers to Countess Frances Wynn and her society cohorts.  With some romantic undertones, this historical mystery hits all the high notes: elites behaving badly, historical intrigue, and female independence. Perfect for fans of Miss Fisher's Murder Mysteries and Jane Austen alike.
---
Fantastic Audiobook! (TW: domestic abuse/ child death/ pedophilia/ rape/ suicidal thought mentioned)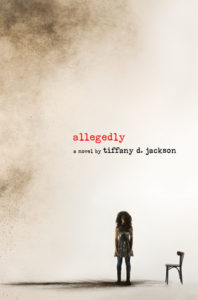 Allegedly by Tiffany D. Jackson: I will listen to anything narrated by Bahni Turpin, she is one of the best audiobook narrators. Period. So, happiest of reading experiences to me to have an excellent crime book narrated by a top-fave of mine. The book follows Mary, now in a group home, after being in jail as a child for having murdered a baby her mother was babysitting. The thing is, Mary has refused to discuss the events of the night since before her trial and even during her sentence. We follow her now as a teenager who is trying to survive living in a group home and figuring out how to one day have a life when you're labeled the baby killer and the system isn't really setup for any kind of rehabilitation. Except things once again change quickly for Mary, and now she's forced to defend herself and her pregnancy and she just may be ready to finally say what happened that night… If like me you hadn't gotten around to this one yet, change that immediately!–Not to tell you what to do or anything but it's a really good book that had me thinking about Mary whenever I wasn't listening to it.
IT'S FINALLY HERE! (TW: suicide)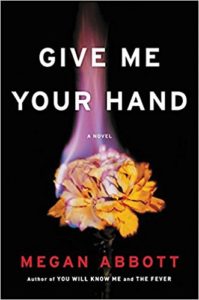 Give Me Your Hand by Megan Abbott: Megan Abbott is one of my favorite crime writers. Her writing is not only always smart and tapped in to the frenzy channel of girls/women, but she writes in a way that has a constant low wattage current that just burrows under my skin. And she has once again delivered a fantastic read while also managing to top her previous excellent work. Abbott explores not only secrets, but what happens when you're handed someone else's, in a "then" and "now" format with a research lab looking into PMDD (premenstrual dysphoric disorder) setting–she's a genius I tell you! This is a slow burn that expertly explores complex women, and sits high on this year's best releases list.
Fictional Serial Killer For Fans of Mindhunter!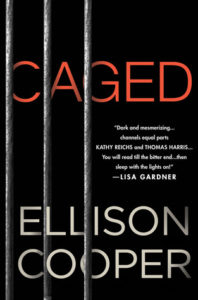 Caged by Ellison Cooper: This was a good, dark-ish serial killer novel that's great for fans of procedurals. Especially if you like when they get into forensics and science, including social sciences. Sayer Altair is an FBI agent, but she's also a neuroscientist currently working on studying the most violent killers' brains when she's taken away from her study to help find a serial killer. The case is bizarre, and there are tons of twists. It also focused much more on the FBI and victims and stayed away from glorifying/obsessing over the serial killer, which was a nice change. If this is the start of a series I'm definitely in since I really liked Altair (smart, driven, cares, is aware of her shortcomings) and would like to see more of her and her grandmother who raised her.
Recently Released
Baby Teeth by Zoje Stage (Just started: Told in alternating chapters–so far–between mother and five-year-old daughter who appears to be out to torture her mother.)
Blood & Ivy: The 1849 Murder That Scandalized Harvard by Paul Collins (Currently reading: True Crime set in mid 1800s Harvard Medical School.)
The Other Woman (Gabriel Allon #18) by Daniel Silva (TBR)
Bad Girls by Alex de Campi, Víctor Santos (Review) (TW: domestic violence/ rape)
Origin by Dan Brown (Paperback)
And we're giving away $500 of the year's best YA fiction and nonfiction so far. (Excellent list, including a few mysteries!)
Browse all the books recommended in Unusual Suspects previous newsletters on this shelf. And here's an Unusual Suspects Pinterest board.
Until next time, keep investigating! And in the meantime come talk books with me on Twitter, Instagram, and Litsy–you can find me under Jamie Canaves.
If a mystery fan forwarded this newsletter to you and you'd like your very own you can sign up here.