Hi Kid Lit friends!
It's a big day today, because we are doing our very first cover reveal in this newsletter! It's a new book by Ame Dyckman (author of You Don't Want a Unicorn!, Wolfie the Bunny, Horrible Bear!, Read the Book, Lemmings!) and illustrated by Charles Santoso (illustrator of The Snurtch and I Don't Like Koala.
---
Sponsored by, Disney Publishing Worldwide.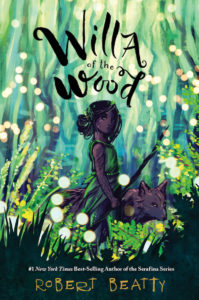 From #1 New York Times bestselling author of the Serafina series, Robert Beatty comes a thrilling new series set in the world of Serafina. Move without a sound. Steal without a trace. Willa, a young nightspirit of the Great Smoky Mountains, is her clan's best thief. She creeps into the homes of day-folk in the cover of darkness and takes what they won't miss. It's dangerous work—the day-folk kill whatever they do not understand. But when Willa's curiosity leaves her hurt and stranded in a day-folk man's home, everything she thought she knew about her people—and their greatest enemy—is forever changed.
---
Ready to hear about their new book, Dandy? Here goes:
When Daddy spots a solitary weed in his lawn, he's appalled (along with all of his neighborhood friends). But his daughter Sweetie has fallen in love with the beautiful flower, even going so far as to name it Charlotte. Racing against time and the mockery of his friends, Daddy has to decide if getting rid of the errant dandelion is worth breaking his little girl's heart.
I had the opportunity to ask author Ame Dyckman a few questions, and I'm pretty sure you're going to want to read this book when you read her responses.
I've been told your old neighborhood inspired the story. Tell us more about that.
Yes! Dandy was inspired by our old neighborhood, a quiet New Jersey suburb where all the daddies (including my husband!) took their lawn care VERY seriously. If even ONE dandelion appeared, there was huge peer pressure on the lawn's owner to "take care of" the dandelion before it spread to other lawns—or "THE UNIVERSE!"
Things got interesting when the neighborhood kids (including our kid!) decided they LOVED dandelions!
What did you think when you saw Charles Santoso's illustrations for this story?
I'm a huge fan of Charles's work—he can draw ANYTHING with great humor and heart—and he truly outdid himself with our book! His illustrations (especially Daddy Lion and the neighborhood daddies) are absolutely HILARIOUS, while the parent/child interactions are sweet. They're a "HA-HA-HA!" and "AWWW!" roller coaster, and it's SUCH a fun ride!
You've written picture books featuring lemmings, bears, unicorns, and a wolf in a bunny suit. What led you to choose to feature lions for Dandy?
Our neighborhood daddies are all different animals, but I requested Daddy (and daughter Sweetie) as lions because "ANIMAL vs. dandelion" was funnier with a big, strong animal. And I liked the "King of the Jungle" and suburban jungle comparison. Finally, the Dandy/lion/DANDELION play on words was just too good of a dad joke to pass up! HA!
Dandy will be released on April 2, 2019. You can preorder Dandy here.
If you want some books featuring dandelions while waiting for Dandy to come out, check these out: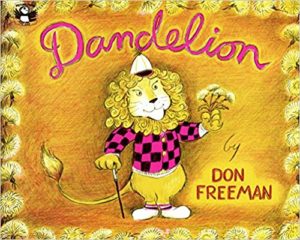 Dandelion by Don Freeman
When Dandelion gets an invitation to a party, he's excited. The invitation is extra fancy, so Dandelion decides to get himself all dressed up. But when he gets to the party, no one recognizes him! Fortunately, it all works out in the end, and Dandelion learns an important lesson about being true to who you are.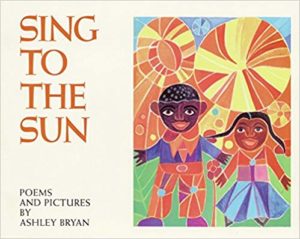 Sing to the Sun by Ashley Bryan
"Sing to the sun
It will listen
And warm your words."
In this beautiful collection of art and poetry, Ashley bryan celebrates all aspects of life–from a rainshower at the seashore to a beloved grandmother gathering fruit.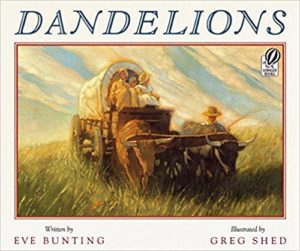 Dandelions by Eve Bunting, illustrated by Greg Shed
Embarking on a new life, Zoe and her family journey west to the Nebraska Territory in the 1800s.
When Zoe and her family arrive at their claim, nothing distinguishes it from the miles and miles of surrounding prairie. Even after they build their soddie, the home can't be seen from any distance. Zoe has never seen Papa so happy or Mama so sad. But when she takes a trip to the small prairie town with Papa, Zoe sees something that might make a difference to their new soddie, and to Mama's life, too.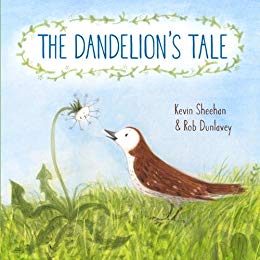 The Dandelion's Tale by Kevin Sheehan and Rob Dunlavey
In this poignant story about the friendship between a dandelion and a sparrow, young readers are given a reassuring, yet emotionally powerful introduction to the natural cycle of life. One fine summer day, when Sparrow meets a dandelion with only 10 seed pods left, he asks how he can help. Dandelion laments that a short while ago, she was the brightest yellow, but now a strong wind could blow away her remaining pods and no one will remember her. Together, they decide to write Dandelion's story in the dirt, and so Dandelion tells Sparrow all the things she has seen and loved. Later that night, a storm changes everything. . . . But the tale of Dandelion lives on.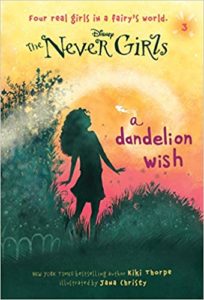 The Never Girls #3: The Dandelion Wish by Kiki Thorpe, illustrated by Jana Christy
Kate, Mia, Lainey, and Gabby are special girls. They know how to travel between their hometown and Never Land—through a broken slat in a backyard fence. But what happens when the fence is repaired . . . with one of the girls stuck on the Never Land side?
So… what do you think about cover reveals in this newsletter? Take this one question survey to let me know!
Giveaway Alert! Win $500 of the year's best YA fiction and nonfiction so far. Link to enter here. Contest ends on July 31st.
I'd love to know what you are reading this week! Find me on Twitter at @KarinaYanGlaser, on Instagram at @KarinaIsReadingAndWriting, or email me at karina@bookriot.com.
Until next week!
Karina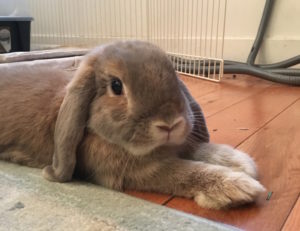 Izzy hopes you're having a wonderful day!
*If this e-mail was forwarded to you, follow this link to subscribe to "The Kids Are All Right" newsletter and other fabulous Book Riot newsletters for your own customized e-mail delivery. Thank you!*