Hi Kid Lit friends,
I was going through my usual weekend ritual of pulling out all upcoming releases from my galley bookcase, and I was struck by how many amazing books are releasing this Tuesday. I thought I'd pick out my favorite twenty and tell you why I love them.
---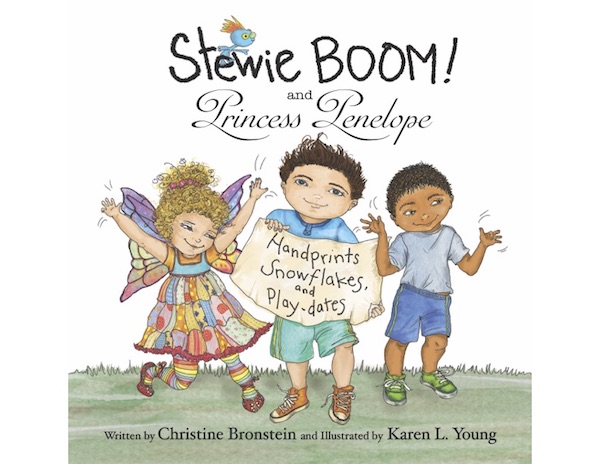 Sponsored by Nothing But The Truth Publishing
Stewie BOOM! and Princess Penelope get ready to have a fabulous play-date with Eric, their awesome friend with autism. This book delves into many ways families can embrace neuro-diversity.
---
Board Books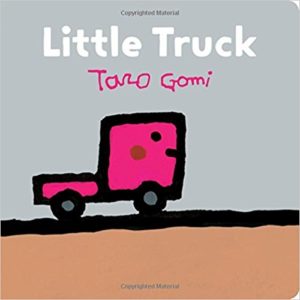 Little Truck by Taro Gomi (Chronicle)
There are not enough truck books in the world to appease all the toddlers who are obsessed with truck books, and I'm so happy this new one is about to come on the scene. Little Truck is setting out to explore! He's going fast, climbing hills, and braving tunnels, being just the right amount of careful along the way. But no matter how far he goes, his caring parent is never far behind. Filled with adorable, bright illustrations, Little Truck is sure to please the youngest truck lovers (and their parents).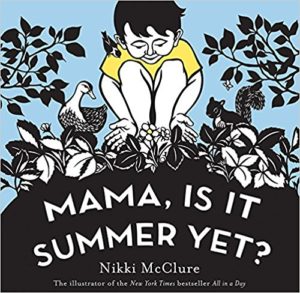 Mama, Is It Summer Yet? by Nikki McClure (Abrams Appleseed)
No, seriously. Is it summer yet? Personally, I'm tired of the snowstorms that keep blowing through New York City and am looking forward to long summer days. In this charming book, one little boy can't wait for summer to arrive. He keeps asking, "Mama, is it summer yet?" Mama responds saying, "Not yet," but there are plenty of signs that indicate spring is changing into summer: The earth is soft and there are seeds to plant, birds singing, ducklings in the pond, and pink blossoms blooming. The young boy even wears his bathing suit and carries a beach pail in preparation, but will it ever be summer?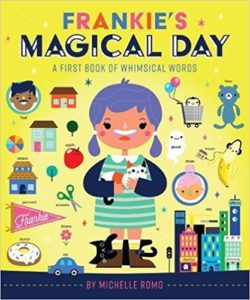 Frankie's Magical Day: A First Book of Whimsical Words by Michelle Romo (Abrams Appleseed)
I love the playfulness of this book of first words by Michelle Romo. It introduces a mix of the unconventional and everyday terms with fun, bright pictures. Featuring everything from a post office and a castle to a bunny bandit and a unicorn, this fun-filled book contains hundreds of objects and places clearly labeled to help little readers expand their growing vocabularies.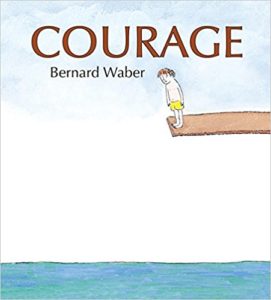 Courage by Bernard Waber (HMH Books for Young Readers)
There are many kinds of courage. Big acts of courage and the everyday kinds that normal, ordinary people exhibit all the time, like "being the first to make up after an argument" or "going to bed without a night-light." Bernard Waber explores the many varied kinds of courage and celebrates the moments, big and small, that bring out the hero in each of us. This was first released in 2002, but this sturdy board book format comes out this Tuesday.
Picture Books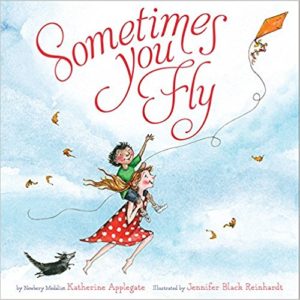 Sometimes You Fly by Katherine Applegate (HMH Books for Young Readers)
I love everything about this book, but as a writer I think my favorite part is the author's biography where Katharine Applegate writes, "Before Sometimes You Fly became the book you are holding in your hands, it was rewritten hundreds of times." Ah, revision! Even Katherine Applegate needs to do it. A beautiful book sure to become a favorite for those who love Oh, The Places You'll Go by Dr. Seuss.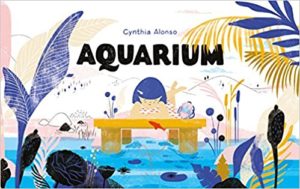 Aquarium by Cynthia Alonso (Chronicle)
This beautifully illustrated wordless book is filled with magical ocean scenes. A girl ventures to the water's edge, dreaming of a new friend. And, just like that, a beguiling red fish leaps into her life. But is friendship a sea these two can navigate together? I loved every spread and look forward to taking more time with each illustration.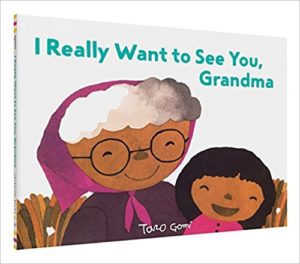 I Really Want to See You, Grandma by Taro Gomi (Chronicle)
I truly love Taro Gomi's bright, bold illustrations, and this story is so charming and sweet I could not get enough of it! Yumi and her grandmother have the same great idea: They want to see each other. So they each head out to do just that, only to completely miss each other along the way! No problem—they'll just head back home and wait for the other to return. The trouble is that they have the same great idea—again—resulting in the ultimate missed connection! Will this duo ever find each other?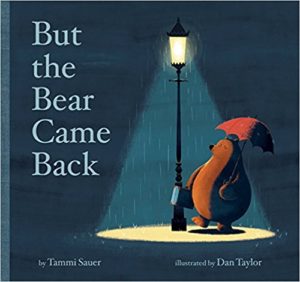 But The Bear Came Back by Tammi Sauer, illustrated by Dan Taylor (Sterling Children's Books)
This is another picture book with missed connections. When a bear ends up knocking on a little kid's door, the bear gets turned away (obviously). The bear is persistent, but so is the kid! Finally, after many attempts, the bear stops knocking. Only then does the boy realize how much he cares about the bear . . . and misses him. Can he find his friend again?
I Got It! by David Wiesner (HMH Books for Young Readers)
There is something so tender about this story of an outfielder waiting for a ball to be hit in his direction. After the hit, there's plenty of time to envision the increasingly fantastic and funny situations that might interfere with making the catch. Summoning determination and courage, he overcomes the imaginary obstacles and turns them into a springboard for success. I Got It! reveals the extraordinary within the ordinary, taking readers on an amazing journey in a few seconds on a baseball field.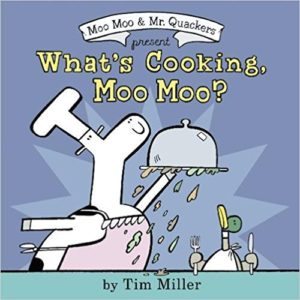 What's Cooking, Moo Moo? by Tim Miller (Balzer + Bray)
Moo Moo serves up another half-baked scheme—and loyal Mr. Quackers goes along for the ride—in this madcap follow-up to Moo Moo in a Tutu. Yes, for real! The hilarious cow-and-duck duo are opening their own five-star restaurant. You'll want to see what udderly ridiculous antics they get up to in their new adventure.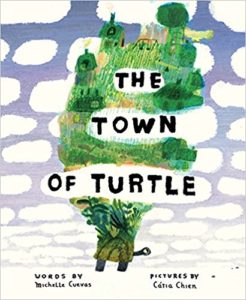 The Town of Turtle by Michelle Cuevas, illustrated by Cátia Chien (HMH Books for Young Readers)
When a solitary turtle decides to make some renovations to his shell, he doesn't have a blueprint, only a dream for a better life. He starts by building a deck—though he figures the deck could use a fireplace. And a fireplace needs wood, so naturally, he plants a garden. But it isn't really a garden without a pond . . . Soon, Turtle can barely recognize his own shadow. Finally satisfied with the intricate world upon his back, word begins to spread of the magical "Town of Turtle," attracting newcomers from far and wide. All are welcome in Turtle's town, where life is a little less lonely, if only you come out of your shell.
Chapter Books (1)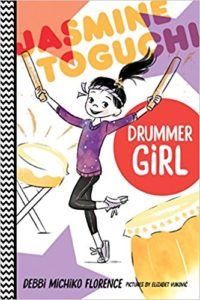 Jasmine Toguchi, Drummer Girl by Debbi Michiko Florence (Farrar, Strauss, & Giroux)
You knew this was coming, right? Of course this book had to be on this best new releases list, because it's so awesome! It's talent show time at school, and eight-year-old Jasmine Toguchi is excited to show her stuff. But as she thinks about her strengths―tree-climbing, mochi making, collage―none of them feel quite right to perform on-stage. Jasmine's friends already have a talent: Tommy yo-yo's, Daisy dances, and Linnie plays piano. Plus, Maggie Milsap (aka Miss Perfect) is saying she'll have the best talent. When Jasmine's mom introduces her to the taiko, a traditional Japanese drum, Jasmine finally finds an activity that feels just right. But will she be good enough at taiko in time to beat Maggie Milsap?
Middle Grade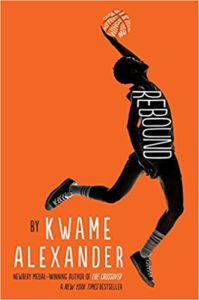 Rebound by Kwame Alexander (HMH Books for Young Readers)
Before Josh and Jordan Bell were streaking up and down the court, their father was learning his own moves. In this prequel to Newbery Medal winner The Crossover, Chuck Bell takes center stage, as readers get a glimpse of his childhood and how he became the jazz music worshiping, basketball star his sons look up to. Honestly, I didn't think Kwame Alexander could pull off a book as great as The Crossover, but he did with Rebound!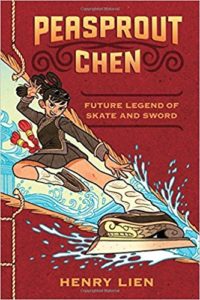 Peasprout Chen: Future Legend of Skate and Sword by Henry Lien (Henry Holt and Company Books for Young Readers)
My ten year old loved this story; she could not put it down! Peasprout and her little brother Cricket are the first students from the rural country of Shin to attend Pearl Famous Academy of Skate and Sword. They soon find themselves in a heated competition for top ranking. Tensions rise when the dazzling pearl buildings of the Academy are vandalized and outsider Peasprout is blamed for the attacks by her rivals … and even some friends. Now, she must uncover the true vandal to ensure peace between Shin and Pearl – all while becoming a champion.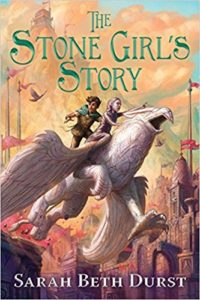 The Stone Girl's Story by Sarah Beth Durst (HMH Books for Young Readers)
I was sucked into this fantasy story from the first few pages. Mayka and her stone family were brought to life by the stories etched into their bodies. Now time is eroding these vital marks, and Mayka must find a stonemason to recarve them. But the search is more complex than she had imagined, and Mayka uncovers a scheme endangering all stone creatures. Only someone who casts stories into stone can help—but whom can Mayka trust? Where is the stonemason who will save them?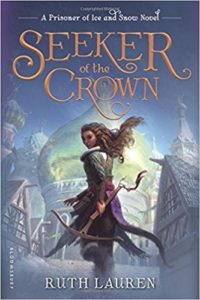 Seeker of the Crown by Ruth Lauren (Bloomsbury)
One month has passed since Valor broke her twin sister Sasha out of jail. But the girl responsible for her imprisonment, Princess Anastasia, has gone missing, and Valor still longs for justice. So when the queen, desperate to find her daughter, asks Valor and Sasha to track Anastasia down, they don't hesitate to accept the perilous assignment. This sequel to the awesome Prisoner of Ice and Snow does not disappoint!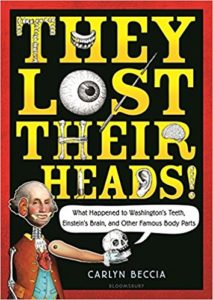 They Lost Their Heads! What Happened to Washington's Teeth, Einstein's Brain, and Other Famous Body Parts by Carlyn Beccia (Bloomsbury)
This book has some pretty disgusting true stories about famous people's body parts, which of course made it an absolute hit with my kids. From the kidnapping of Einstein's brain to the horrifying end of Louis XIV's heart, the mysteries surrounding some of history's most famous body parts range from medical to macabre. Carlyn Beccia explores the misadventures of noteworthy body parts through history and springboards to exploring STEM topics such as forensics, DNA testing, brain science, organ donation, and cloning. The engaging tone, wonderfully creepy subject matter, and delightfully detailed art are sure to capture even the most reluctant readers.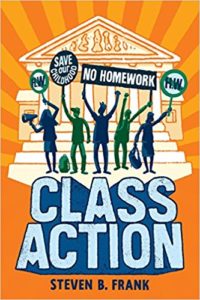 Class Action by Steven B. Frank (HMH Books for Young Readers)
I loved Steven's debut middle grade book, Armstrong and Charlie, and his sophomore book is just as hilarious, important, and touching as his first. Sixth grader Sam Warren is fed up with doing endless homework from the time he gets home to the time he goes to sleep. Suspended for his protest to not do any more homework, Sam decides to fight back. He recruits his elderly neighbor/retired attorney Mr. Kalman to help him file a class action lawsuit on behalf of all students in Los Angeles. Their argument? Homework is unconstitutional. With a ragtag team—aspiring masterchef Alistair, numbers gal Catalina, sports whiz Jaesang, rebel big sister Sadie and her tech-savvy boyfriend Sean—Sam takes his case to federal court. He learns about the justice system, kids' rights, and constitutional law. And he learns that no matter how many times you get knocked down, there's always an appeal…until the nine justices have the last say.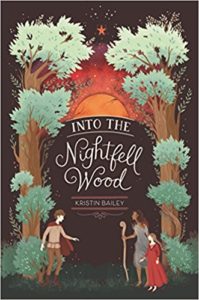 Into the Nightfell Wood by Kristin Bailey (Katharine Tegen Books)
Wynn and Elric may now be safe, but adjusting to life in the Between is not without complications. Their adoptive mother, the benevolent Fairy Queen, is haunted by the memory of her child who was kidnapped long ago—and she won't risk letting the same thing happen to Wynn and Elric. But that same grief has been weakening the queen's powers for years, and the protective shield around their kingdom is deteriorating. Wynn is coerced into the Nightfell Wood by a creature sent to do the Grendel's bidding, Elric knows he must go after her to save her life. What they discover there—about fear, prejudice, and the true nature of evil—will change the fairy kingdom forever.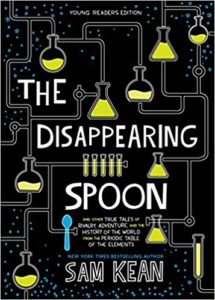 The Disappearing Spoon: And Other True Tales of Rivalry, Adventure, and the History of the World from the Periodic Table of the Elements (Young Readers Edition) by Sam Kean
I picked up this book a few days ago when I was going through my stack of April 3rd releases, planning only to skim the first few pages. I was immediately hooked. This book is a fascinating look at the periodic table, following elements on the table as they play out their parts in human history, finance, mythology, conflict, the arts, medicine, and the lives of the (frequently) mad scientists who discovered them. Adapted for a middle grade audience, the young readers edition of The Disappearing Spoon offers the material in a simple, easy-to-follow format, with approximately 20 line drawings and sidebars throughout. Students, teachers, and burgeoning science buffs will love learning about the history behind the chemistry.
Around the web…
Jacqueline Woodson Wins Astrid Lindgren Memorial Award (via Publisher's Weekly)
Rabbits, run: Two books about Mike Pence's bunny Marlon Bundo top bestseller lists (via the Los Angeles Times)
Kid Lit Marches for Kids (via Publisher's Weekly)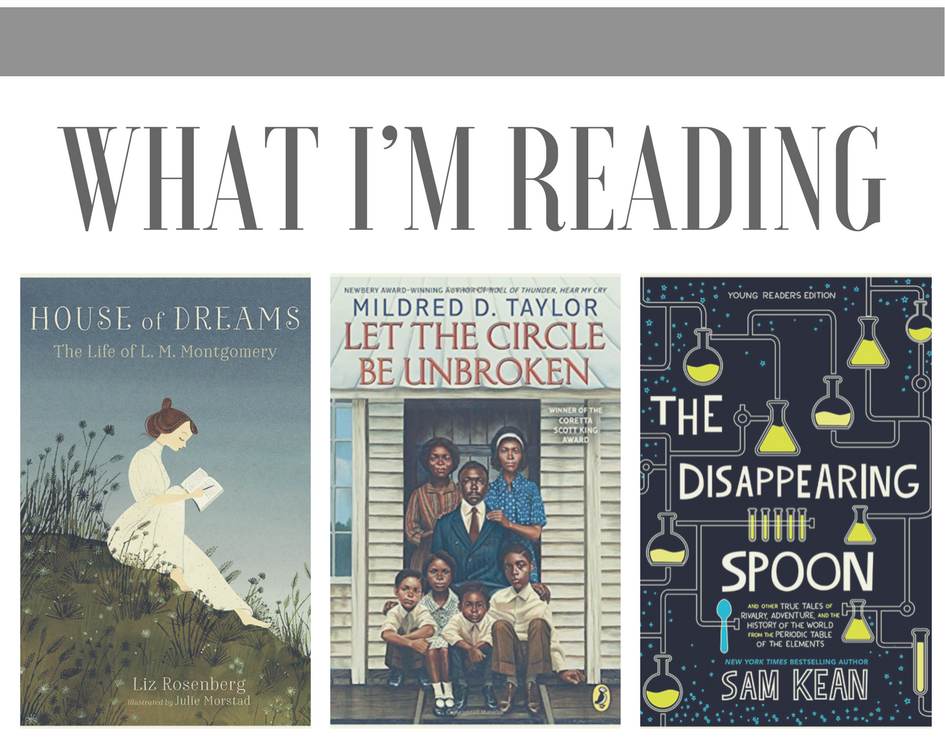 I adore biographies about writers, and House of Dreams: The Life of L. M. Montgomery (by Liz Rosenberg is a lovely one about the author of Anne of Green Gables. Geared for middle grade readers and beyond, this book is a thorough exploration of her life and various influences to her writing.
Let the Circle Be Unbroken is the next Mildred D. Taylor book on my list. This story continues right after Roll of Thunder, Hear My Cry. And that cover, right?!?
I already talked about The Disappearing Spoon by Sam Kean and how much I'm enjoying it, so I won't rehash that again.
I'd love to know what you are reading this week! Find me on Twitter at @KarinaYanGlaser, on Instagram at @KarinaIsReadingAndWriting, or email me at karina@bookriot.com.
Until next week!
Karina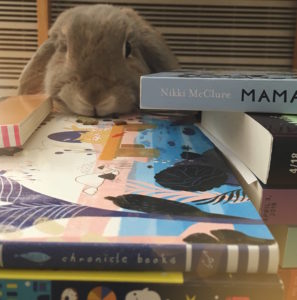 Izzy is not very good at hide-and-go-seek.
*If this e-mail was forwarded to you, follow this link to subscribe to "The Kids Are All Right" newsletter and other fabulous BookRiot newsletters for your own customized e-mail delivery. Thank you!*