Welcome to Book Riot's Events Newsletter, hosted by me, María Cristina. We're looking at the end of March, but mostly the beginning of April. April already! Can you believe it? Clear your calendars on the following dates, my reading friends.
---
Sponsored by Penguin Teen, publisher of If You Come Softly by Jacqueline Woodson.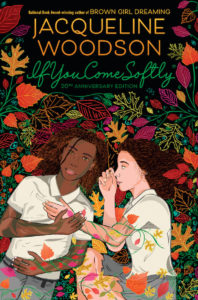 A lyrical story of star-crossed love perfect for readers of The Hate U Give, by National Ambassador for Children's Literature Jacqueline Woodson
Jeremiah feels good inside his own skin. That is, when he's in his own Brooklyn neighborhood. But now he's going to be attending a fancy prep school in Manhattan, and black teenage boys don't exactly fit in there. So it's a surprise when he meets Ellie the first week of school. In one frozen moment their eyes lock, and after that they know they fit together–even though she's Jewish and he's black. Their worlds are so different, but to them that's not what matters. Too bad the rest of the world has to get in their way.
Jacqueline Woodson's work has been called "moving and resonant" (Wall Street Journal) and "gorgeous" (Vanity Fair). If You Come Softly is a powerful story of interracial love that leaves readers wondering "why" and "if only . . ."
---
IRL GATHERINGS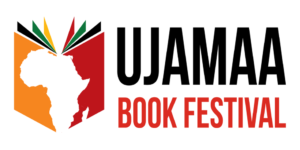 Ujamaa Book Festival: March 31 in Alexandria, VA
Harambee Books and Artworks hosts this annual festival featuring local and national writers of African descent ("harambee" is Swahili for "working together"). This year Chimamanda Ngozi Adichie is a featured author and speaker, so if you liked Americanah or We Should All Be Feminists, take advantage of this free event open to the public (authors must register as exhibitors).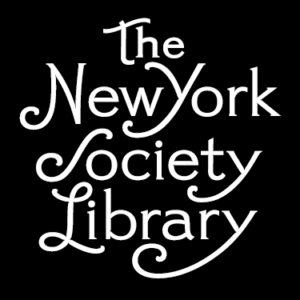 Poets and New York: Miguel Algarin, Alfred Corn, Toi Derricotte: April 7 in New York, NY
This is a members-only library on the Upper East Side, and this reading/discussion takes place in the Members' Room. But! The event is free and open to the public (as long as you rsvp). Basically, you can take a peek behind closed doors under cover of National Poetry Month.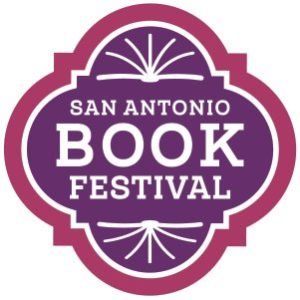 San Antonio Book Festival: April 7 in San Antonio, TX
The festival, in its sixth year, boasts an event listed on the schedule as "Beloved Icon Sandra Cisneros" and yeah, that is accurate. The kid in me who treasured The House on Mango Street is fangirling from here in New York. If you're able to make it to San Antonio, please give Sandra a "Yay!" in person on my behalf.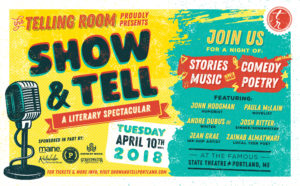 The Telling Room Presents Show & Tell: A Literary Spectacular: April 10 in Portland, ME
John Hodgman and Jean Grae emcee this all-ages literary cabaret. It sounds like it's going to be a magical time, but the coolest part? The price of admission goes towards supporting free creative writing programs for kids 6 to 18.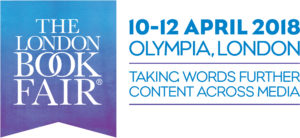 The London Book Fair: April 10-12 in London, England
This is more of a publishing industry event than a readers' event, but as an industry person who is also a reader, I thought you'd want to know about it. Also, London!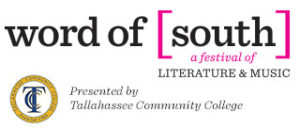 Word of South Festival of Literature and Music: April 13 in Tallahassee, FL
I smell a conspiracy to get my attention. First of all, there's the punny name. Then there's the interdisciplinary focus, as guests are "authors who write about music, musicians who also are authors, authors and musicians appearing together, and everything in between." If the food trucks have gluten-free options, there's the María Cristina trifecta right there. And I just have to point out again: Word of SOUTH. You see what they did there? My people.
AUTHORS ON TOUR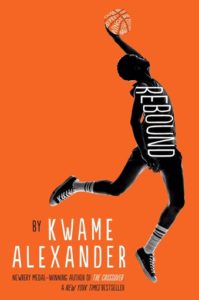 Stops include: April 2 (Plainville, MA), 3 (Maplewood, NJ), 4 (Haverford, PA), 5 (Reston, VA), 7 (South Bend, IN), 9 (Milwaukee, WI), 10 (Downers Grove, IL), and 11 (Columbus, OH)
Rebound is the prequel to Alexander's The Crossover. I am more excited about this middle grade basketball book release than I ever was about my little brother's middle school basketball games. Low bar to clear, but for real, these novels are some of my favorite sports books.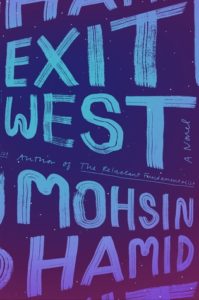 Mohsin Hamid
Stops include: March 27 (Windsor, CT), 28 (Richmond, VA), 29 (Washington, DC), April 2 (Los Angeles, CA), 3 (Albuquerque, NM), 4 (Seattle, WA), 5 (Portland, OR), 6 (San Francisco, CA), 9 (Nashville, TN), 10 (Houston, TX), 11 (Austin, TX), and 12 (Denver, CO)
You may be a bit confused right now. It's 2018, and wasn't Exit West a huge 2017 book? Wasn't it a finalist for almost every award ever and on dozens of best-of-2017 lists? Yes, all true. And now it's out in paperback!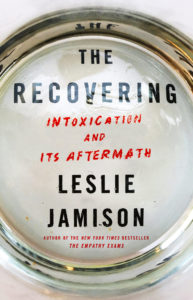 Leslie Jamison
Stops include: April 3 (Brooklyn, NY), 4 (Washington, DC), 5 (Cambridge, MA), 6 (New Haven, CT), 9 (Portland, OR), 10 (Seattle, WA), 11 (Menlo Park, CA), and 12 (San Francisco, CA)
Jamison's The Recovering defies genre. It's memoir, it's journalism, it's history, it's social science, it's psychology, it's myth. Something for everybody, even if your life has been (improbably) untouched by addiction and recovery.
THERE YA GO!
If you end up participating in any of the above, tell us about it on social media.
And if there are any bookish events that should be on my radar, tweet me @meowycristina or email me at mariacristina@bookriot.com.
Hope to see you Riot readers in the wild!
-MC
PS: I've heard that some of you are willing and able to travel for bookish events if given enough notice. Our roughly-two-week window for the newsletter is optimal for event hosts who may not have everything set in stone any earlier, and attendees who forget something is happening a month from now. But there are a few events for which I can at least advise you to be in a certain state in a certain week. If the addition of a bare-bones save-the-date shortlist in these newsletters is appealing to you, shoot me a message to let me know. Make sure to tell me what "advance notice" means to you. Events a month from now? Two months? Three? I'm here for you, readers!