Hi mystery fans! I have some exciting news to share: starting next week I'll be bringing you all things mystery twice a week! Basically I'll just have more room to actually tell you about recent releases and reviews in one newsletter and then at the end of the week I'll share news, adaptations, Little Q&As, deals, and my week in reading. So here's to more mysteries!
---
Sponsored by Enigma by Catherine Coulter.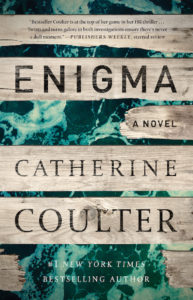 The highly anticipated twenty-first FBI thriller by #1 New York Times bestselling author Catherine Coulter presents Agents Savich and Sherlock with two baffling mysteries. Working with Agent Cam Wittier (Insidious) and New York-based former Special Forces agent Jack Cabot, they must race against the clock to catch an international criminal and solve the enigma of the man called John Doe.
---
I LOVE Japanese Crime Novels! (TW: child death/ suicide/ ableism)
The Master Key by Masako Togawa, Simon N.C. Grove (Translator): Two incidents begin the novel: a child being buried; a man dressed in women's clothing is in an accident. From there the story moves to a Tokyo apartment building that houses single women in the 1950s which is about to be physically moved for road expansion. While most residents are focused on the actual building being moved others are on edge over the master key–which opens every apartment–having disappeared… Something that I love in Japanese crime novels is that it will easily morph between genres. In this case the novel starts by presenting two mysteries– which the reader doesn't know why these events have happened nor fully what the events are–then it becomes a mix of lit fic and crime novel which follows random characters, and finally it ends with a wrap up the way many mysteries end.
Over on Book Riot:
Rincey and Katie talk news, recent reads, AND an upcoming mystery that pairs Obama and Biden together–which I've marked as a must-read–on Read or Dead.
Speaking of podcasts: there's a new one hosted by Rioters Kim and Alice called For Real which is fantastic–I swear I don't have to say that, it is! I knew Kim was a true crime reader so I listened in hoping they'd talk about true crime reads sometimes and they did–in the first two episodes!
8 Great Reads with Unusual Detectives (This should be a subgenre because I would read the hell out of this subgenre.)
Teen Girl Sleuths (Another of my favorites!)
News:
J.K. Rowling announced on Twitter that she finished writing Lethal White, the fourth book in her Cormoran Strike PI series.
Laura Dern posted first look images from the set of Big Little Lies 2.
Dirk Gently's Holistic Detective Agency, adapted from Douglas Adams series, will not have a season 3 after BBC America didn't renew and the producers have been unable to find another network to pick it up.
A CIA Analyst In a Nightmare Scenario!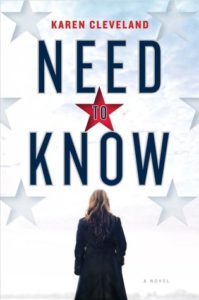 Need to Know by Karen Cleveland: The summary for this one doesn't give anything away so neither will I! Vivian Miller is a CIA analyst and while combing through the computer of a possible Russian agent she comes across something that literally changes her entire life and everything she thought she knew. With a husband and four kids, one with a serious heart condition, she has no idea what to do with the information she's discovered because no matter what direction she takes her world is sure to implode. This is a roller coaster thriller in that there are super fast paced chunks of the novel and moments I was yelling "ohmygod hurry up you're going to get caught!" but at the same time it is very much inside Miller's head as she tries to not only rationalize what to do next but also she's looking back over her life trying to assess how this happened. It isn't Annie Walker from Covert Affairs (I miss that show!) but it's a page-turner thriller for those who like getting into the minds of the main character.
Slow-burn Suspense with a Hell of a Payoff (TW: suicide)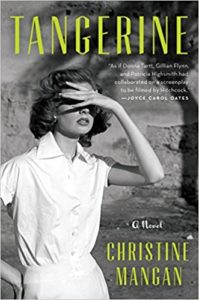 Tangerine by Christine Mangan: There are so many things I want to say about this novel but I can't because I would never deny you the experience of how this unfolds–if you like lit fic and suspense I'd read this without knowing anything about it. But here's what I will tell you: Alice and Lucy were roommates at school, bonded over being orphans, and then didn't see each other again for years. In 1956 Alice is living in Tangier, Morocco with her husband when Lucy surprise visits. Except Lucy doesn't find Alice exactly as she'd remembered her. Instead, Alice is hesitant to leave the apartment, doesn't seem that thrilled to see Lucy, and there's a strain in Alice's marriage. This starts like a literary novel and weaves suspense throughout in a way that by the end I felt itchy by what was happening/needing to see how it would finish. An excellent read where the backdrop of the turmoil of Morocco fighting for Independence perfectly compliments the unfolding plot.
Kindle Deal: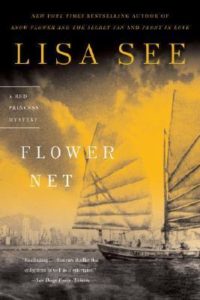 Flower Net (Red Princess, #1) by Lisa See is $1.99 (The first book in this trilogy that pairs an American lawyer with a Chinese lawyer who met while studying in the U.S.)
Fractured by Catherine McKenzie is $1.99 (Review)
Browse all the books recommended in Unusual Suspects previous newsletters on this shelf. And here's an Unusual Suspects Pinterest board.
Until next time, keep investigating! And in the meantime come talk books with me on Twitter, Instagram, and Litsy–you can find me under Jamie Canaves.
If a mystery fan forwarded this newsletter to you and you'd like your very own you can sign up here.