Hello friends!
National Pig Day (yes, that is a real day!) was this past Thursday, and what better way to celebrate than with a list of awesome pig books?
You know I had no choice but to begin this list with Charlotte's Web by E.B. White, pictures by Garth Williams. Who doesn't love Wilbur? Charlotte's Web was one of the first chapter books I read to my kids when they were young, and my daughter could recite the whole first chapter by heart at age five because she listened to the audiobook every night before bed for months. I adore this story of friendship, love, and sacrifice.
---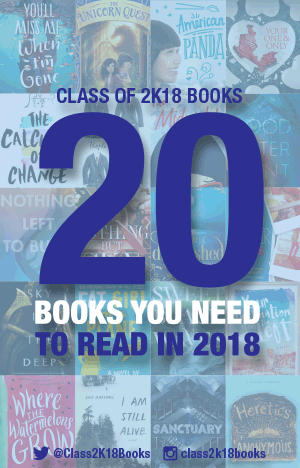 Sponsored by Class of 2K18 Books
Building your 2018 reading list? Class of 2K18 Books are 20 debuts you need to read in 2018! From titles starred by Booklist and Kirkus, to an ABA Indies Introduce Pick, our Middle Grade and Young Adult books have one thing in common—they're fearless. Representing an array of genres, including fantasies, contemporaries, mysteries and thrillers, Class of 2K18 Books will inspire readers to face their fears and become fearless themselves. Visit our website to learn more about our titles and fill your reading list with fearless fiction!
---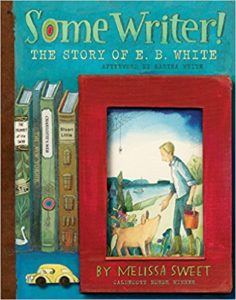 If you love Charlotte's Web, you have to read Some Writer! The Story of E.B. White. It is a gorgeously written and illustrated book by Newbery Honor winner Melissa Sweet. (Take a peek into her studio here!). Sweet takes you through the life of one of the most well known and enduring authors in children's literature, including his inspiration for Charlotte's Web and his other children's books. Beautiful collages, maps, and mementos display his life in a brilliant way.
For those of you who are looking for a more modern pig hero, you must meet Esther the Wonder Pig! She is a media sensation and has collected millions on followers on Instagram, Twitter, YouTube, and Facebook. A new picture book comes out this Tuesday, called The True Adventures of Esther the Wonder Pig by Steve Jenkins, Derek Walter, and Caprice Crane, illustrated by Cori Doerrfeld. Check out this YouTube video that her owners, Steve Jenkins and Derek Walter, created for this newsletter: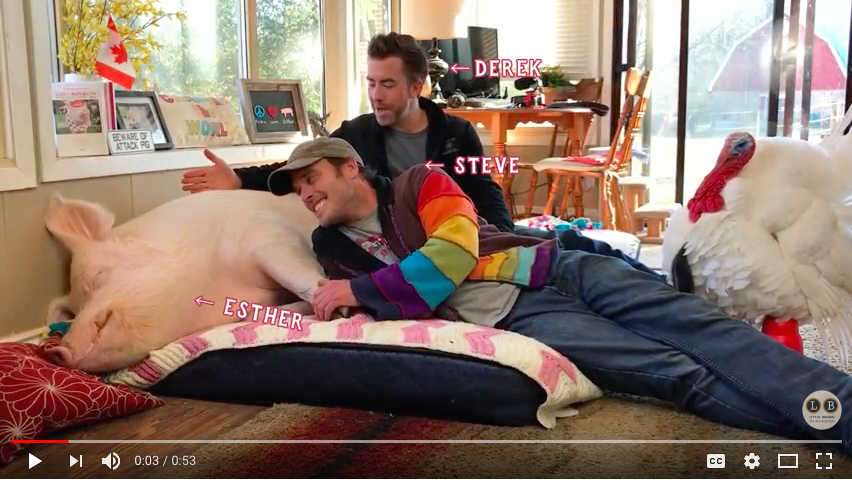 Want to know more about The True Adventures of Esther the Wonder Pig? Of course you do! Here's the synopsis: When Steve Jenkins and Derek Walter adopted what they thought was a mini pig named Esther, they had no idea that she would turn out to be not-so-mini after all. When her new family saw just how big and wonderful Esther really was, they fell in love—and their lives changed forever. The whole family moved from a small apartment to a big farm, where Esther and her animal friends could live happily (and get into a little less mischief). Eventually, that farm would become the Happily Esther After animal sanctuary, home to rescued animals of all kinds.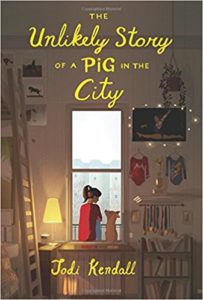 Speaking of rescued pigs, The Unlikely Story of a Pig in the City by Jodi Kendall is a sweet middle grade story about a rescued piglet who joins the very crowded Shilling family in their small city apartment. The minute Josie holds Hamlet, she feels an instant connection. But there's no room for Hamlet in the crowded Shilling household. And whoever heard of keeping a pig in the city? So it's up to Josie to find her a forever home.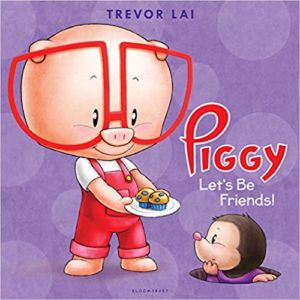 And finally, a picture book. Piggy: Let's Be Friends by Trevor Lai is a cute story about a bespectacled pig who loves reading books, having tea parties, and most of all, making new friends! One day he sees a little mole across his garden. Before Piggy can get to know him, the mole hides underground. Miles the mole loves reading books and baking cakes, and he would love to have a friend! But the world above makes him so nervous . . . Can Piggy find a way to help Miles out of his shell?
New Releases!
All of these books release this Tuesday! The book descriptions are from Goodreads, but for some books I am going to add some commentary in italics and a 
 if I particularly loved a title.
Picture Book New Releases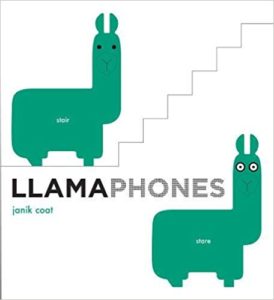 Llamaphones by Janik Coat (Abrams Appleseed)
Janik Coat's much-anticipated follow-up to Hippopposites and Rhymoceros, features witty words that sound the same but are spelled differently—and have different meanings. Like the other books in the series, this one features surprising novelties, including a touch-and-feel element, making homophones an easy and fun concept to learn.
Note from Karina: I loved this board book so much! Who knew llamas could look so adorable while teaching homophones?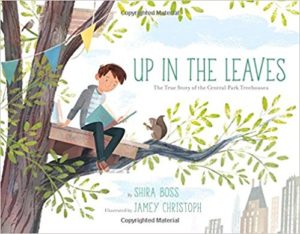 Up in the Leaves: The True Story of the Central Park Treehouses by Shira Boss, illustrated by Jamey Christoph (Sterling Children's Books)
This charming picture book tells the true story of Bob Redman, a child growing up in New York City. Tired of the noise, the people, and the rushing around, Bob took shelter in the natural beauty of Central Park—where he covertly built a series of amazing treehouses, starting with a simple platform and growing more and more elaborate over time. He played cat-and-mouse with the park workers, who kept tearing down his houses, until he was finally caught. But his story ends with a happy surprise . . .
Note from Karina: I love most books about New York City, and this one was no exception. I never knew about this true story of the treehouse builder of Central Park, and I loved the idea of someone mysteriously putting up tree houses without using any nails to damage the trees.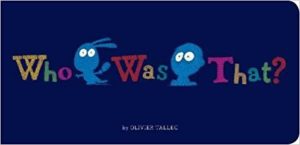 Who Was That? by Olivier Tallec (Chronicle Books)
This fresh, visually sophisticated follow-up to Who Done It? and Who What Where? tackles the topic of memory, as each page asks the reader to remember a detail about the characters featured on the page before. With die-cuts, clever folds, and imaginative illustrations, this book requires the sharpest readers' keen attention! The call to action on every page makes this a wonderful lap read or read-aloud, and kids of all ages will love the memory games.
Note from Karina: This book is clever, beautifully illustrated, and sure to keep the most astute readers on their toes. I loved it.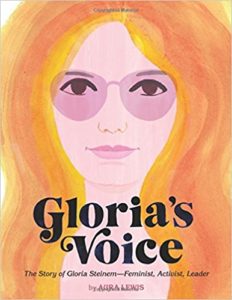 Gloria's Voice: The Story of Gloria Steinem – Feminist, Activist, Leader by Aura Lewis (Sterling Children's Books)
Using gorgeous watercolor illustrations, this biography of Gloria Steinem introduces young readers to the leader of the women's liberation movement. Following her from childhood through her political awakening and beyond, Gloria's Voice explains Steinem's motivations and beliefs, as well as the obstacles she faced in fighting for women's rights.
Note from Karina: The cover image does not do this book justice! The fun and colorful illustrations are a joy to look at and explore.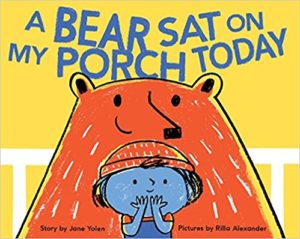 A Bear Sat On My Porch Today by Jane Yolen, illustrated by Rilla Alexander (Chronicle Books)
What to do if a rather insistent bear squats on your porch today? Followed in short order by a shaggy squirrel, a spraying skunk, a playful possum, and a bevy of forest critters large and small? This hilarious cumulative tale of reluctant hospitality and generous inclusivity will leave readers chanting, "OKAY. OKAY! YOU CAN STAY." But watch out! That porch is starting to sway…
Note from Karina: I thought this story was a timely message about hospitality and friendship. Jane Yolen's fun prose matched perfectly with Rilla Alexander's hip, bold illustrations.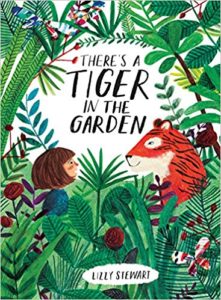 There's a Tiger in the Garden by Lizzy Stewart (HMH Books for Young Readers)
When Grandma says she's seen a tiger in the garden, Nora doesn't believe her. She's too old to play Grandma's silly games! Everyone knows that tigers live in jungles, not gardens. So even when Nora sees dragonflies as big as birds, and plants that try to eat her toy giraffe, and a polar bear that likes fishing, she knows there's absolutely, DEFINITELY no way there could be a tiger in the garden… could there?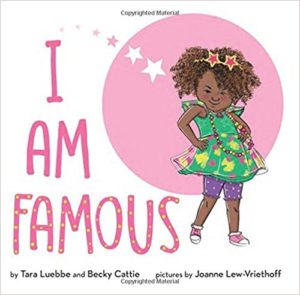 I Am Famous by Tara Luebbe and Becky Cattie, pictures by Joanne Lew-Vriethoff (Albert Whitman & Company)
Kiely knows she is famous! The paparazzi (her parents) follow her every move, documenting with cameras. It's exhausting being famous, but someone has to do it! She even gets to perform a big song at her grandfather's birthday. When she messes it up, she's worried she's lost her audience forever, but it turns out that no one is as loyal as her fans who love her.
Middle Grade New Releases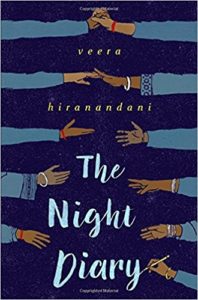 The Night Diary by Veera Hiranandani (Penguin Random House)
It's 1947, and India, newly independent of British rule, has been separated into two countries: Pakistan and India. The divide has created much tension between Hindus and Muslims, and hundreds of thousands are killed crossing borders. Half-Muslim, half-Hindu twelve-year-old Nisha doesn't know where she belongs, or what her country is anymore. When Papa decides it's too dangerous to stay in what is now Pakistan, Nisha and her family become refugees and embark first by train but later on foot to reach her new home. The journey is long, difficult, and dangerous, and after losing her mother as a baby, Nisha can't imagine losing her homeland, too. But even if her country has been ripped apart, Nisha still believes in the possibility of putting herself back together.
Note from Karina: Wow, this book. First of all, isn't that cover breathtaking? I was thrilled to see the hardcover had end papers with a gorgeous map of Nisha's journey from Pakistan to India. I learned a lot about India's partition, which was brought to life through twelve-year-old Nisha's journal entries. This story stayed with me long after I read it.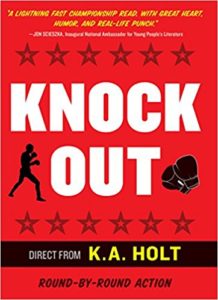 Knockout by K.A. Holt (Chronicle Books)
Levi just wants to be treated like a typical kid. As a baby, he had a serious disease that caused him respiratory issues. He's fine now, but his mom and overprotective brother still think of him as damaged, and his schoolmates see him as the same class clown he's always been. He feels stuck. So when his dad—divorced from his mom—suggests he take up boxing, he falls in love with the sport. And when he finds out about a school with a killer boxing team and a free-study curriculum, it feels like he's found a ticket to a new Levi. But how can he tell his mom about boxing? And how can he convince his family to set him free?
Note from Karina: This book was terrific. I enjoyed Levi's story and found this to be an excellent and compelling novel in verse. It made me want to read House Arrest, the book that tells Levi's older brother's story.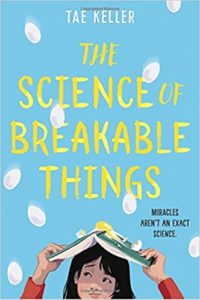 The Science of Breakable Things by Tae Keller (Random House Children's Books)
How do you grow a miracle?
For the record, this is not the question Mr. Neely is looking for when he says everyone in class must answer an important question using the scientific process. But Natalie's botanist mother is suffering from depression, so this is The Question that's important to Natalie. When Mr. Neely suggests that she enter an egg drop competition, Natalie has hope.
Eggs are breakable. Hope is not.
Natalie has a secret plan for the prize money. She's going to fly her mother to see the Cobalt Blue Orchids–flowers that survive against impossible odds. The magical flowers are sure to inspire her mother to love life again. As Natalie prepares for the competition, she will discover that talking about problems is like taking a plant out of a dark cupboard and giving it light.
Note from Karina: A lovely, heartbreaking book about a girl with a mother suffering from depression. We need more books like this.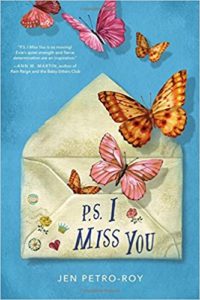 P.S. I Miss You by Jen Petro-Roy (Feiwel & Friends)
Evie is heartbroken when her strict Catholic parents send her pregnant sister, Cilla, away to stay with a distant great-aunt. All Evie wants is for her older sister to come back. Forbidden from speaking to Cilla, Evie secretly sends her letters. Evie writes about her family, torn apart and hurting. She writes about her life, empty without Cilla. And she writes about the new girl in school, June, who becomes her friend, and then maybe more than a friend. Evie could really use some advice from Cilla. But Cilla isn't writing back, and it's time for Evie to take matters into her own hands.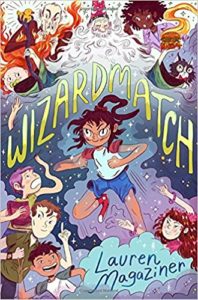 Wizardmatch by Lauren Magaziner (Dial Books for Young Readers)
Twelve-year-old Lennie Mercado loves magic. She practices her invisibility powers all the time (she can now stay invisible for fifteen seconds!), and she dreams of the day that she can visit her grandfather, the Prime Wizard de Pomporromp, at his magical estate. Now Lennie has her chance. Poppop has decided to retire, and his grandchildren are coming from all over to compete in Wizardmatch. The winner inherits his title, his castle, and every single one of his unlimited magical powers. The losers get nothing. Lennie is desperate to win, but when Poppop creates a new rule to quelch any sibling rivalry, her thoughts turn from winning Wizardmatch to sabotaging it…even if it means betraying her family.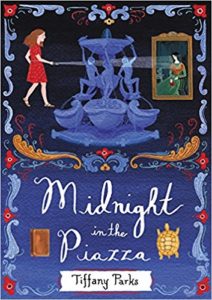 Midnight in the Piazza by Tiffany Parks (HarperCollins)
Beatrice Archer may love history, and Rome may be chock-full of it, but that doesn't mean she wants to move there! Too bad Beatrice's father got a job as the head of the history department at the American Academy in Rome—now, Beatrice has no choice but to get used to the idea. When she arrives in Rome she explores her new city as much as she can, but it isn't until she hears talk of a strange neighborhood legend that Beatrice perks up. A centuries-old unsolved mystery about the beautiful turtle fountain outside her window? Sounds like fun!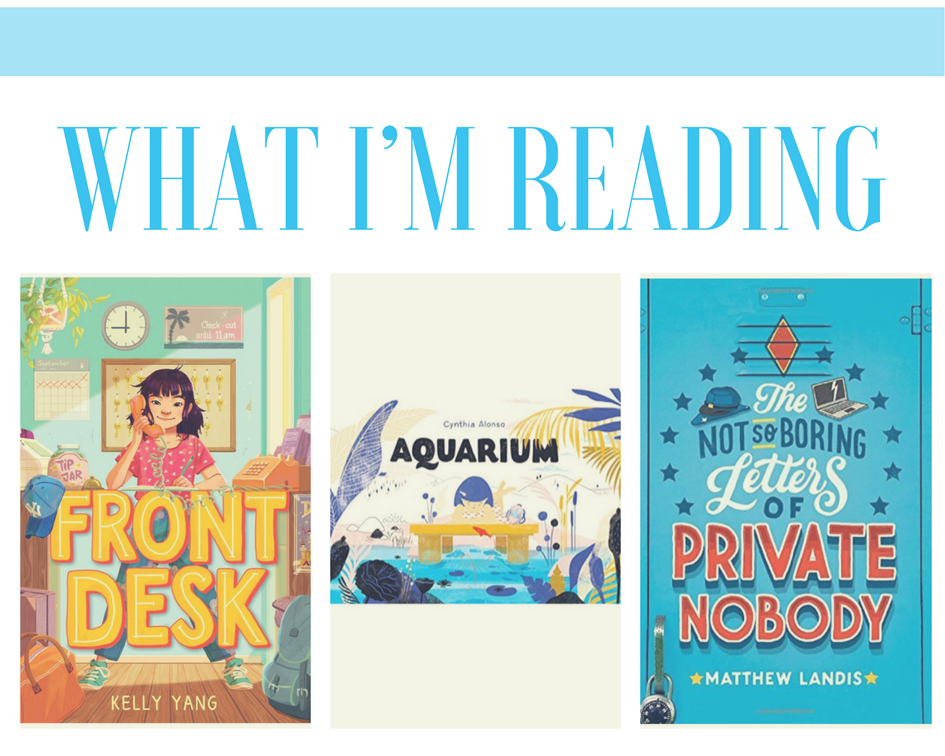 So many excellent books, so little time! Here are three I've really enjoyed this past week. Front Desk by Kelly Yang (Arthur A. Levine Books, 5/29) is a middle grade book inspired by the author's own childhood. Mia Tang's parents, immigrants from China, take the job as motel managers at the Calivista Motel, and the owner Mr. Yao is cruel and stingy. Mia works the front desk to help out her parents, and through a mix of humor, bravery, and intelligence, she sets out to help her family in every way she knows how. This one has already received two starred reviews, so keep an eye out for it!
Aquarium by Cynthia Alonso (Chronicle Books, 4/3) is a beautifully illustrated wordless book filled with magical ocean scenes. I loved every spread and look forward to taking more time with each illustration.
The Not-So-Boring Letters of Private Nobody by Matthew Landis had me laughing out loud in every chapter. Twelve-year-old Oliver Prichard is obsessed with the Civil War, so when the last assignment of seventh-grade history is a project on the Civil War, Oliver is over the moon–until he's partnered with Ella Berry, the slacker girl with the messy hair who does nothing but stare out the window. And when Oliver finds out they have to research a random soldier named Private Raymond Stone who didn't even fight in any battles before dying of some boring disease, Oliver knows he's doomed. I read this book in one sitting!
Around the web…
Check out the bestselling kids books from 2017 (via Publisher's Weekly)
Authors Mobilize Children's Book Community to March on March 24 (via Publisher's Weekly)
My Kid Has the Worst Taste in Literature (via Book Riot)
Finally, Book Riot has another awesome giveaway! Head over to our Instagram account to enter to win $500 of Penguin Clothbound classics! Contest ends March 13th.
I'd love to know what you are reading this week! Find me on Twitter at @KarinaYanGlaser, on Instagram at @KarinaIsReadingAndWriting, or email me at karina@bookriot.com.
Until next week,
Karina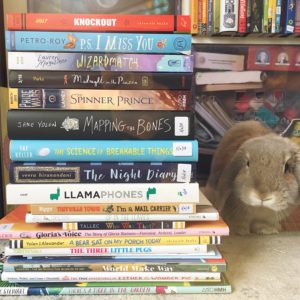 Izzy wants to show off the many new releases coming out this Tuesday!
*If this e-mail was forwarded to you, follow this link to subscribe to "The Kids Are All Right" newsletter and other fabulous Book Riot newsletters for your own customized e-mail delivery. Thank you!*