This edition of Today in Books is sponsored by Everything is Horrible and Wonderful by Stephanie Wittels Wachs.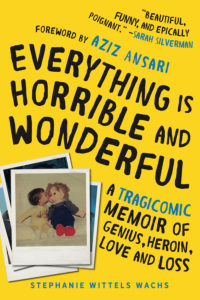 ---
Little Fires Everywhere TV Series
Celeste Ng's bestselling novel Little Fires Everywhere is getting a television series adaptation starring Reese Witherspoon and Kerry Washington. Witherspoon's company, Hello Sunshine, secured the rights to the book shortly after its publication, and the series is currently undergoing a bidding war among multiple premium cable and streaming networks. Ng will produce the adaptation of her story about the events surrounding the adoption of a Chinese baby, and that divide a wealthy suburb.
Barnes & Noble Will Open 5 Prototype Stores
After a disappointing third quarter in sales, B&N announced the opening of five smaller, book-focused prototype stores. With music and DVD offerings scaled back, the prototypes will be around 12,000 square feet smaller than their typical stores. The chain also plans to tie the physical stores closer to BN.com. Customers will be able to purchase books online, and pick up the title at their local store within an hour.
Ursula K. Le Guin's The Telling Will Get Big-Screen Adaptation
Le Guin was working on the adaptation with producers before she passed away in January. The Telling is a science fiction novel following Sutty Dass who learns more about herself and the old religion of an alien civilization after leaving war-torn earth. The film will be written and directed by Leena Pendharkar (20 Weeks, Raspberry Magic), and a theatrical release is planned for 2019.
And don't forget to head over to our Instagram account to enter to win $500 of Penguin Clothbound classics!