Hi Kid Lit friends,
There are so many children's books featuring plucky, outgoing protagonists that sometimes the introverts get lost in the shuffle. Here are some great children's book titles that feature introvert main characters.
---
Enter to win $500 of Penguin Clothbound classics over on our Instagram account. Click here, or on the image below to enter.
---
Picture Books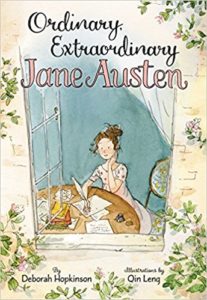 Ordinary, Extraordinary Jane Austen by Deborah Hopkinson, illustrated by Qin Leng
I feels like Jane Austen is the ultimate introvert, and I love learning about how quiet and shy she was. She was the ultimate observer and loved to read. She devoured everything in her father's massive library and before long, she began creating her own stories. In her time, the most popular books were grand adventures and romances, but Jane wanted to go her own way…and went on to invent an entirely new kind of novel.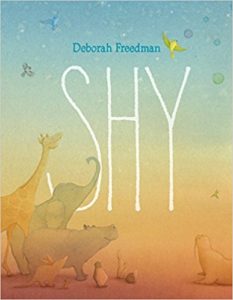 Shy by Deborah Freedman
Shy loves birds. He'd love to watch them fly and hear them sing, but he's only ever read about them in books. . .until a real bird comes along.  He's dying to meet her, but there's just one problem:  Shy is, well, shy–so shy, in fact, that he's afraid to leave the gutter of the book.  Can Shy overcome his fears and venture out onto the page?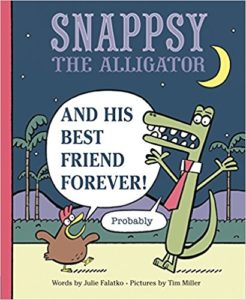 Snappsy the Alligator and His Best Friend Forever (Probably) by Julie Falatko, illustrated by Tim Miller
There is something so endearing about Snappsy the alligator, a guy who wants nothing more than a quiet evening to himself. But when a pesky chicken who insists he's Snappsy's best friend won't leave him alone, Snappsy puts his foot down. He doesn't want friendship bracelets, matching shirts, or sleepovers! Or does he?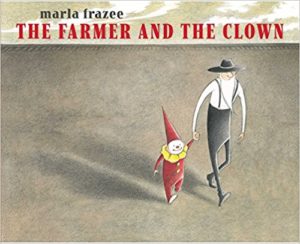 The Farmer and the Clown by Marla Frazee
Marla Frazee is one of my all-time favorite illustrators. This book has two unlikely protagonists: a baby clown and a lonely farmer. When the baby clown falls off the train that is carrying his circus, he is picked up by a reluctant, lonely farmer. Over the course of one day together, the two of them make some surprising discoveries about themselves—and about life!
Middle Grade Books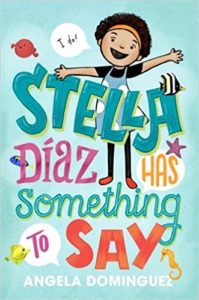 Stella Diaz Has Something to Say! by Angela Dominguez
Stella loves spending time with her mom and brother and her best friend Jenny, but when Jenny is placed in a different class from her this year, Stella feels very lonely and finds it hard to make new friends. When a new boy arrives in Stella's class, she really wants to be his friend, but sometimes Stella accidentally speaks Spanish instead of English and pronounces words wrong, which makes her turn roja. This is a lovely story about finding your voice and being brave enough to use it.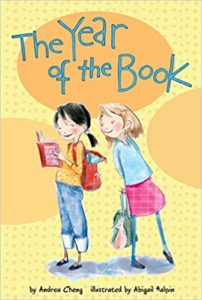 The Year of the Book by Andrea Cheng, illustrated by Abigail Halpin
When Anna needs company, she turns to her books. Whether traveling through A Wrinkle in Time, or peering over My Side of the Mountain, books provide what real life cannot—constant companionship and insight into her changing world. Books, however, can't tell Anna how to find a true friend. She'll have to discover that on her own. In the tradition of classics like Maud Hart Lovelace's Betsy-Tacy books and Eleanor Estes' One Hundred Dresses, this novel subtly explores what it takes to make friends and what it means to be one.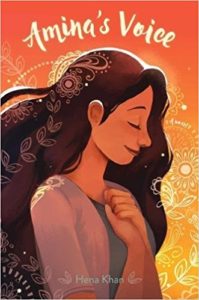 Amina's Voice by Hena Khan
Amina has never been comfortable in the spotlight. She is happy just hanging out with her best friend, Soojin. Except now that she's in middle school everything feels different. Soojin is suddenly hanging out with Emily, one of the "cool" girls in the class, and even talking about changing her name to something more "American." Does Amina need to start changing too? Or hiding who she is to fit in? While Amina grapples with these questions, she is devastated when her local mosque is vandalized.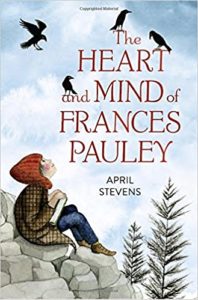 The Heart and Mind of Frances Pauley by April Stevens
Eleven-year-old Frances is an observer of both nature and people, just like her idol, the anthropologist Margaret Mead. She spends most of her time up on the rocks behind her house in her "rock world," as Alvin, her kindhearted and well-read school bus driver, calls it. It's the one place where Frances can truly be herself, and where she doesn't have to think about her older sister, Christinia, who is growing up and changing in ways that Frances can't understand. But when the unimaginable happens, Frances slowly discovers that perhaps the world outside her rugged, hidden paradise isn't so bad after all, and that maybe–just maybe–she can find connection and camaraderie with the people who have surrounded her all along.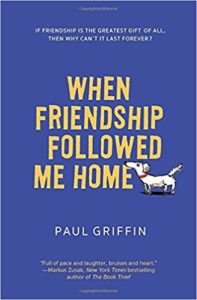 When Friendship Followed Me Home by Paul Griffin
Ben Coffin has never been one for making friends. As a former foster kid, he knows people can up and leave without so much as a goodbye. Ben prefers to spend his time with the characters in his favorite sci-fi books…until he rescues an abandoned mutt from the alley next-door to the Coney Island Library.
New Releases! 
All of these books release this Tuesday! The book descriptions are from Goodreads, but for some books I am going to add some commentary in italics and maybe a 
 if I particularly loved a title.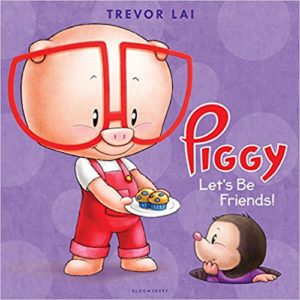 Piggy: Let's Be Friends by Trevor Lai (Bloomsbury)
Piggy loves reading books, having tea parties, and most of all, making new friends! One day he sees a little mole across his garden. Before Piggy can get to know him, the mole hides underground. Miles loves reading books and baking cakes, and he would love to have a friend! But th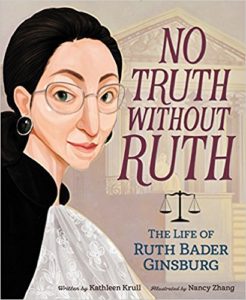 No Truth Without Ruth: The Life of Ruth Bader Ginsburg by Kathleen Krull, illustrated by Nancy Zhang (HarperCollins)
Ruth Bader Ginsburg may be one of the most respected women in the United States, but her recognition is nothing short of hard-won. For years before becoming a justice of the Supreme Court, Ruth had to fight the notion that being female meant that she was less smart, less qualified, and less worthy of attention than her male counterparts. Throughout college, law school, and her work life, she faced discrimination—because she was a woman. But it was in her fight for equality as a lawyer that she made an imprint on American history, by changing the way the law dealt with women's rights and by showing people that unfairness to women wasn't just a female problem—that it negatively affected men and children, too.
Note from Karina: I pretty much love any book written about Supreme Court justice Ruth Bader Ginsurg, and this one is no exception. What an inspiring person!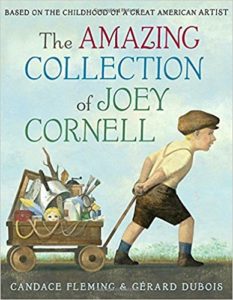 The Amazing Collection of Joey Cornell by Candace Fleming, illustrated by Eric Rohmann (Random House)
Joey Cornell collected everything — anything that sparked his imagination or delighted his eye. His collection grew and grew until he realized that certain pieces just looked right together. He assembled his doodads to create wonderful, magical creations out of once ordinary objects. Perfect for introducing art to kids, here's an imaginative and engaging book based on the childhood of great American artist Joseph Cornell.
Note from Karina: I thought this was a beautifully illustrated book with excellent information about the early life of Joseph Cornell.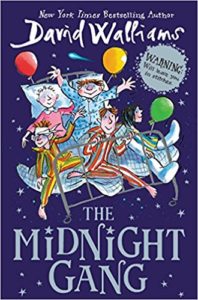 The Midnight Gang by David Walliams (HarperCollins)
Tom lands in the hospital with a nasty bump on the head after a gym class accident. And things only get worse when he meets the hospital staff, including the wicked matron of the children's ward. But luckily, Tom's time in the hospital will be anything but boring when he discovers that his fellow patients turn the awful ward into the most wondrous world after lights out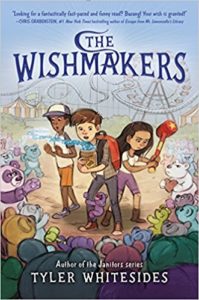 The Wishmakers by Tyler Whitesides (HarperCollins)
Twelve-year-old Ace's life is about to change in the most unexpected and magical ways—all because of a peanut butter jar. When he opens it, he inadvertently releases a genie named Ridge. Now a Wishmaker, Ace is given a week to complete a seemingly impossible quest, and if he fails the world will end in the most tragic (but cuddly) way imaginable. Luckily, Ridge can help by granting Ace an unlimited number of wishes…as long as Ace is willing to accept the consequences. The bigger the wish, the greater the consequence. So, if Ace wants to avoid having pogo sticks for legs or his clothes turn invisible, he'll have to be careful what he wishes for and get a little creative.
Around the web…
17 Books That Kids Say Have Helped Them Find Their Own Voice, via Brightly (link)
Wild Thing: How Maurice Sendak Helped Me Understand My Son, via Book Riot (link)
2018 ABA and CBC Art Auction to Honor Ashley Bryan, via Publisher's Weekly (link)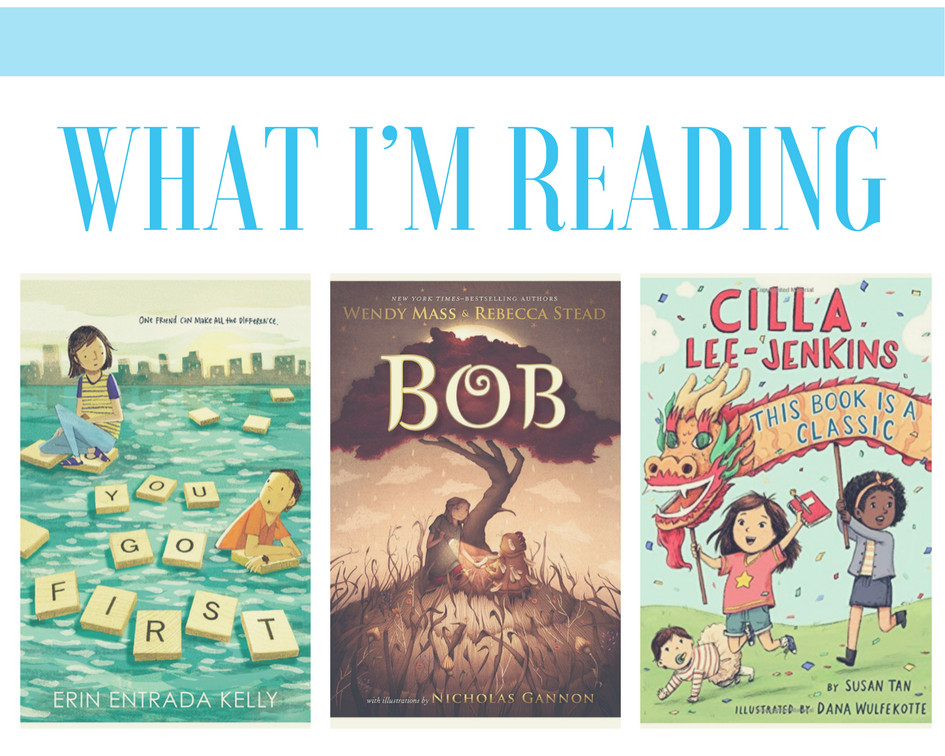 This week has been filled with middle grade reading. You Go First (Greenwillow Books, 4/10) is Erin Entrada Kelly's new book after winning the Newbery Medal for Hello, Universe. Told in two perspectives, two quiet kids living in very different parts of America are going through difficult family situations. They are connected through their online games of Scrabble, and their lives with interweave within the same week in unexpected ways.
Bob (Feiwel & Friends, 5/1) by Wendy Mass and Newbery Medalist Rebecca Stead is also told in alternating perspectives… only one of those perspectives is told by an undefined creature wearing a chicken costume. This book had me teary from the synopsis, and the book is fabulous. I cannot wait for this one to hit the shelves.
I'm very excited about the continuation of Susan Tan's Cilla Lee-Jenkins series! In this second book, called Cilla Lee-Jenkins: This Book is a Classic! (Roaring Brook Press, 3/27), Cilla's aunt is getting married, and Cilla is determined to write the next great classic novel.
I'd love to know what you are reading this week! Find me on Twitter at @KarinaYanGlaser, on Instagram at @KarinaIsReadingAndWriting, or email me at karina@bookriot.com.
Until next week,
Karina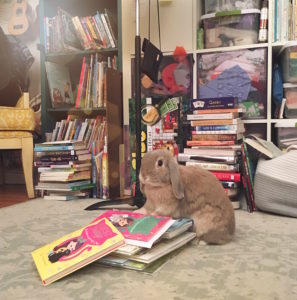 Izzy does a great job organizing my books each week for this newsletter!
*If this e-mail was forwarded to you, follow this link to subscribe to "The Kids Are All Right" newsletter and other fabulous Book Riot newsletters for your own customized e-mail delivery. Thank you!*