Happy Monday! It's time for another round of "Oooooooo, that's exciting!" I have a few great things to tell you about today. I hope everything in your world is marvelous and you have something wonderful to read. Enjoy your upcoming week, and be excellent to each other. – xoxo, Liberty
---
Enter to win $500 of Penguin Clothbound classics over on our Instagram account. Click here, or on the image below to enter.
---
Deals, Reals, and Squeals!
Lupita Nyong'o is going to play Trevor Noah's mom in Born A Crime!
Stranger Things' Noah Schnapp and Anjelica Huston To Star In WWII Drama Waiting For Anya.
Yara Shahidi in talks to star in The Sun Is Also a Star.
And Jessica Chastain is in talks to star in It sequel.
Kite Runner author Khaled Hosseini's next book will tackle the refugee crisis.
Amazon developing Consider Phlebas as fantasy drama series.
Saladin Ahmed is writing a new Quicksilver series.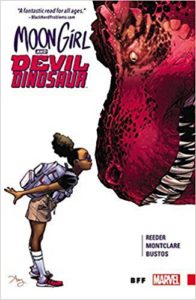 Marvel's Moon Girl And Devil Dinosaur is set to become an animated series.
Tahereh Mafi has another new book on the way.
And this week in "Every Stephen King Work is Being Adapted" news: The Bone Church is being developed as a series.
Cover Reveals
Here's the first glimpse of Mirage, the upcoming debut novel from author Somaiya Daud. (Flatiron Books, August 28)
Here's the first-ever Buffy the Vampire Slayer picture book! (Quirk Books, September 4)
If you loved The Last Magician by Lisa Maxwell, you're going to be doubly excited to see the cover of the sequel The Devil's Thief! (Simon Pulse, October 9)
Sneak Peeks
Here's the trailer for the Yardie, my boyfriend Idris Elba's directorial debut, based on the 1992 novel by Victor Headley.
Book Riot Recommends 
At Book Riot, I work on the New Books! email, the All the Books! podcast about new releases, and the Book Riot Insiders New Release Index. I am very fortunate to get to read a lot of upcoming titles, and I'm delighted to share a couple with you each week!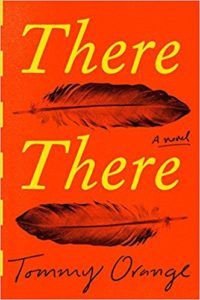 There There by Tommy Orange (Knopf, June 5)
Get ready to start hearing about this book everywhere. It's a powerful, contemporary, multi-generational portrait of Native Americans in the United States, revolving around several people coming together at a powwow. There are people hoping to repair rifts, defeat addiction, participate in culture, and also cause grief. It's a devastating and sad novel, but also filled to the brim with beauty and hope. This one will stay with you for a long time.
Gods, Monsters, and the Lucky Peach by Kelly Robson (Tor.com, March 13)
I am beginning to think that Tor.com publishes books just for me, because I love every single one! This is a fantastic, weird future Earth story, about a future people (some of whom now have tentacles for legs) who travel back in time to learn about the devastation caused by climate change. In observing the floods, they hope to correct things in the future. But there is also politics, red tape, and banking issues to contend with. And even more stuff that I am doing a bad job describing. Just trust me: This book is hella fun.
And this is funny.
Here is Noelle Stevenson's adorable cat.