This edition of Today in Books is sponsored by A Horse Walks into a Bar by David Grossman, new in paperback from Vintage Books.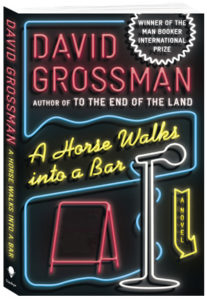 ---
A New Generation Of Native American Writers
BuzzFeed profiled a new wave of indigenous writers trained in the first indigenous-centered MFA program in the US, the Institute of American Indian Arts. Among those featured is Terese Marie Mailhot, who recently published her memoir, Heart Berries. The piece explores the standards of white academia, particularly MFA programs, and what it means to have a program designed around the indigenous experience. Learn more about the history of the IAIA and its up-and-coming writers here.
Watch The Trailer For Idris Elba's Adaptation Yardie
Idris Elba has taken to the world of book adaptations with his directorial debut, Yardie. The film is adapted from Victor Headley's novel of the same name about a young Jamaican man in the music industry, caught in a life of crime, and on a quest to avenge his brother's murderer. Watch the teaser trailer for the film, which premiered at Sundance, here.
Bodleian Libraries' Tolkien Exhibit And Collection
Bodleian Libraries is not only putting on a J.R.R. Tolkien exhibit; they're publishing "the largest collection of original Tolkien material ever assembled in a single volume." According to the Bodleian's Twitter post, the volume will be 416 pages put together by the exhibit's curator Catherine McIlwaine and the entire team at Bodleian Publishing.
And don't forget to head over to our Instagram account to enter to win $500 of Penguin Clothbound classics!