Hello fellow mystery fans! Kristen Bell and Anna Chlumsky have a new dark comedy murder mystery series podcast, Deadly Manners, and I'm going to drop everything and go listen. Er–I mean first newsletter, then listen!
---
Sponsored by GANGSTER NATION by Tod Goldberg, published by Counterpoint Press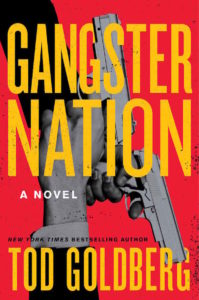 It's been two years since the events of Gangsterland, when legendary Chicago hitman Sal Cupertine disappeared into the guise of Las Vegas Rabbi David Cohen. Now, in September of 2001, Sal wants out. He's almost made enough money to slip away and start fresh, but when his cousin falls into the hands of a former FBI agent, he's suddenly trapped in Las Vegas, with the law, society, and the post-9/11 world closing in around him. With the wit and gritty glamour that defines his writing, Goldberg traces how the things we most value in our lives have been built on the enterprises of criminals.
---
Interesting "Past and Present" Mystery:
The Last Day of Emily Lindsey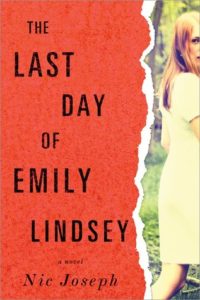 by Nic Joseph: This was a page-turner for me for two reasons: Even though it isn't fabulism, it felt like it could be; the detective character was unique and intriguing. Detective Steven Paul was raised in foster care before being adopted by a loving couple and he's spent his life with night terrors that no one can figure out, but that have taken a toll on his life. His wife divorced him and is making it difficult for him to see her son (who he'd raised with her), and an incident at work has his partner and boss doubting his ability and stability. Then he gets the case of a woman covered in blood and holding a knife who draws a symbol from his terrors–what is happening?! In between the current chapters of Paul trying to solve the case while keeping his life from crumbling any further are chapters with another storyline about a group of kids who are communally parented and are trying to solve a mystery of their own. Good read especially for fans of "then and now" and novels that mix adult and child POV.
Links Worth a Click:

On Book Riot: Inclusive Mystery/Thrillers From September and October (Some of the year's best mysteries are on the list.)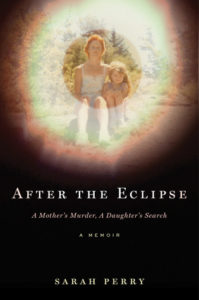 Over on Bust: Rioter Jaime R. Herndon interviewed Sarah Perry: How "After The Eclipse" Author Sarah Perry Wrote A Memoir About Her Mother's Murder
Rincey and Katie talk Miss Fisher's Kickstarter and books, plus the mysteries they've recently finished and just picked up on Read or Dead.
Whoopsie: Los Angeles County Sheriff's Department sought an apology when the Who Shot Biggie & Tupac? documentary aired the wrong police photo.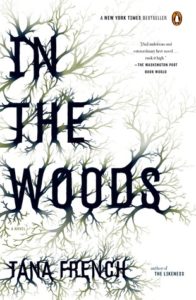 Sarah Phelps is adapting Tana French's 1st two novels in the Dublin Murder Squad (In the Woods ; The Likeness) for the BBC.
In true crime news: Thanks to DNA advances there's finally been an arrest in a nearly 30 year cold case of a killer dressed as a clown having fatally shot Marlene Warren.
For fans of Dick Wolf (Law & Order creator): CBS ordered a 13-episode procedural for the 2018-19 season tentatively titled F.B.I.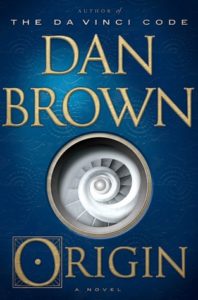 Never a fan of authors talking about not being readers in what they write, but here's an interview with Dan Brown on Origin, his 5th book in the Robert Langdon series. (And the book is officially released out into the wild so you can finally read it!)
Students Conquering Cold Cases: "At the University of Pittsburgh, there's a student club devoted to solving crimes, one that's taken seriously by law enforcement. And it's run by young women."
The Behind Her Eyes Author is Back with a YA Mean Girls Mystery:
13 Minutes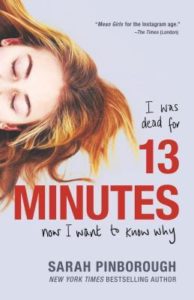 by Sarah Pinborough: 13 minutes is the amount of time Natasha was dead before being pulled from the river. She has no memory of how she ended up there or why she escaped from her bedroom window in the middle of the night. But her brush with death now has everyone wondering if she accidentally fell in, or if someone had tried to murder her? As the popular girl in school, her surviving has thrown the social order at school into chaos now that she's back and reviving an old friendship with Becca, an outcast. But really how dangerous could a potential murderer be when you have to compete with mean girls?
Suspense With a Bite (Trigger Warning: Domestic Abuse):
White Bodies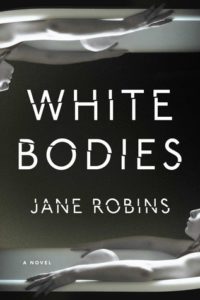 by Jane Robins: Callie is worried about her sister Tilda: She thinks Tilda's boyfriend Felix is abusing her. There have been moments that she witnessed that don't feel right and now her sister's arms always seem to have bruises. But Tilda doesn't want help, she's in love and Felix is quickly becoming her everything. Callie, needing to do something, joins an online support group in hopes of getting advice on how to save her sister. After befriending two other members Callie finds herself in the unwanted position of being offered a trade: Felix will be murdered if Callie will murder another abusive spouse. What will Callie do?
Kindle Monthly Deal:
Good Behavior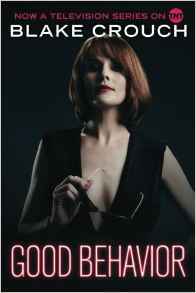 by Blake Crouch is $1.99 (Con artist crime novel that has been adapted into a TNT series. You can stream the 1st season on Hulu and season 2 returns Sunday, Oct. 15 at 9/8c on TNT.)
I Have To Go Shopping Now: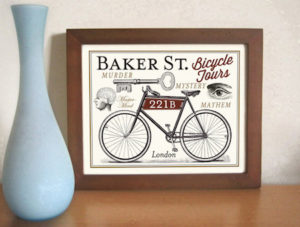 I am Sherlocked Geekery Bicycle Art Print by DexMex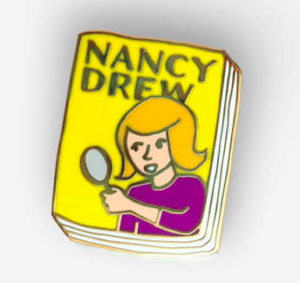 Nancy Drew Book Pin by JaneMount
Browse all the books recommended in Unusual Suspects previous newsletters on this shelf. And if you like to put a pin in things here's an Unusual Suspects board.
Until next time, keep investigating! And in the meantime come talk books with me on Twitter, Instagram, and Litsy–you can find me under Jamie Canaves.