Happy Friday, explorers and ectoplasms! Today we're talking about An Unkindness of Ghosts and the Riddle-Master trilogy, upcoming books for your list, short stories, space swag, and more.
---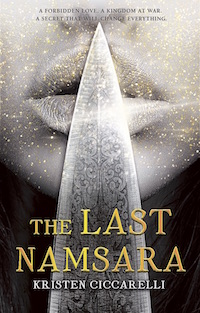 This newsletter is sponsored by The Last Namsara by Kristen Ciccarelli.
Kristen Ciccarelli's debut fantasy explores an intricately woven world that fantasy fans won't be able to resist!
Asha, daughter of the king of Firgaard, is the fiercest, most feared dragon slayer in the land. But no kill can free her from the shackles that await her at home: her betrothal to the cruel commandant. When she's offered the chance to gain her freedom in exchange for the life of the most powerful dragon in Firgaard, she finds that there may be more truth to the ancient legends of the past than she ever could have expected.
---
Charles Yu has been a favorite author of mine since I read How to Live Safely in a Science Fictional Universe, so I'm delighted he's editing this year's Best American Science Fiction and Fantasy anthology. Wired interviewed him and John Joseph Adams, and there are some gems in here about the writing process, Westworld, and more.
Curious about what's coming in October and should be on your list? Here's a round-up of some highly recommended and inclusive sf/f, including today's reviewed book An Unkindness of Ghosts!
Do you love short stories? Thea James of The Book Smugglers (and this sf/f-themed episode of Get Booked) has a list of six that you definitely need to read if you haven't already.
Scientists unearthed 3.95-billion year-old evidence of life, and primordial life is definitely something that I now want science fiction about. Here is my question, though: is "historical" science fiction possible? (And I don't mean steampunk or time travel.)
I know you love space-related swag because you're getting this email. Here are 30 non-book things you might want to own or gift; sorry not sorry.
And now for some cheap e-books! Fledgling by Octavia Butler (a formative book for me) is only $3.99 right now on Kindle. And if you're interested in Golden Age sci-fi, The Day of The Triffids is only $3.49 and is a weird and interesting read.
Today in reviews, we have a very timely and innovative sci-fi debut, and an immersive high fantasy series to get lost in.
An Unkindness of Ghosts by Rivers Solomon
Trigger warnings for physical and sexual violence.
I love a generation-ship premise, so it's no surprise that I was eager to read An Unkindness of Ghosts. What I wasn't expecting was how Solomon takes a classic trope in a new direction, and does it with skill and verve.
Aster, the primary narrator, is a self-taught healer onboard the enormous spaceship Matilda, which has been traveling through space in search of a new home planet for many generations. Instead of creating a new society and culture, humanity has fallen back on its worst history. The upper decks are landscaped, lush, beautiful, and populated entirely by white people, while the lower decks arepopulated by the darker-skinned inhabitants of the ship: enslaved, rationed, and patrolled and abused by armed guards. Ruthless violence keeps them working for the upper-deckers, and a religious dictatorship enforces class and race order across levels.
Aster, a lower-decker, doesn't have any plans to be a revolutionary. She says more than once that if she knew how to kill the Sovereign and blow up the ship, she would; in the meantime she takes solace in science and medicine. But when her friend Giselle points out a coded message in Aster's dead mother's diaries, everything begins to shift.
Aster is a neurodiverse character, who sees clearly enough the world around her but can't always communicate like she wants or like others want her too. The web of relationships, fraught and tender, that Solomon has built around her are beautifully rendered and layered. The world-building is detailed, thoroughly envisioned, and all too familiar. I'm still processing my feelings about the ending. An Unkindness of Ghosts is the debut of a powerful new voice in science fiction, and a must-read for fans of Ursula Le Guin, NK Jemisin, Octavia Butler, and Margaret Atwood.
The Riddle-Master trilogy: The Riddle-Master of Hed, Heir of Sea and Fire, and Harpist in the Wind by Patricia McKillip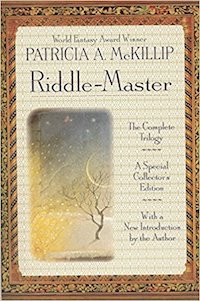 I grew up reading Patricia McKillip — never very systematically, it always felt like I was discovering her by chance each time. I first found the Riddle-Master books whilst digging through the fantasy section in a used bookstore, and definitely bought them because of this cover. I started rereading them last week, and two decades later they're even better than I remember.
The Riddle-Master of Hed is a classic high fantasy hero's journey. Morgon of Hed has inherited the rulership after his parents' sudden death, and he's still learning to be kingly. Meaning, the book opens with him and his brother Eliard getting in a fist-fight in the rose bushes, at which point his sister Tristan empties a jug of milk on them. Morgon also won a crown in a riddle contest with a ghost, and the "prize" is the hand of Raederle of An, the second most beautiful woman in the realm. (Eyeroll, I know. BUT WAIT.) As he heads out on a journey to her court, he discovers that the three stars on his brow have marked him for a mysterious destiny, and shapechangers hidden for centuries are coming back to prevent him from fulfilling it. Classic, right? Where it gets interesting is in the sidelong humor (witness the rosebush fight) and depth of character that McKillip roots the story in.
And then things get even better in Heir of Sea and Fire. Morgon has gone missing, and Raederle is tired of waiting around to see what's going to happen next. So she steals a ship with the help of Morgon's sister Tristan and ultimate bad-ass Lyra of Herun and heads off on her own quest to find him. In the process, she finds out that her own history is far from what she thought, and that she has powers no one could have expected.
I am not, obviously, going to tell you anything about Harpist in the Wind.
Morgon and Raederle both fight their destinies every step of the way, regardless of the forces pushing them forward. The way they choose their battles; the choices they make when all the options are terrible; the way that they come to own themselves, even as they become unrecognizable to those around them; these are what makes The Riddle-Master series stand the test of time, and give me all The Feels to boot.
And that's a wrap! If you're interested in more science fiction and fantasy talk, you can catch me and my co-host Sharifah on the SFF Yeah! podcast. For many many more book recommendations you can find me on the Get Booked podcast with the inimitable Amanda.
So long and thanks for all the fish,
Jenn