Welcome back to In The Club, a newsletter of resources to keep your book group well-met and well-read. Let's dive in.
---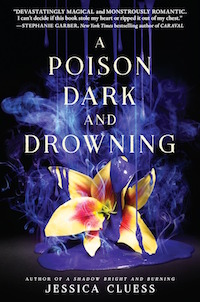 This newsletter is sponsored by A Poison Dark and Drowning by Jessica Cluess.
Henrietta Howel doesn't need a prophecy to know that she's in danger. She came to London to be named the chosen one, the first female sorcerer in centuries, the one who would defeat the Ancients. Instead, she discovered a city ruled by secrets. And the biggest secret of all: Henrietta is not the chosen one. In the seductive and explosive second book in the Kingdom on Fire series, Jessica Cluess delivers her signature mix of magic, passion, and teen warriors fighting for survival.
---
The Book Riot contributors got inspired by "fall"s of many different kinds, leading to this list which includes everything from Reichenbach Falls to falls from grace to Things Fall Apart. Enjoy!
5 Under 35 is an award that goes to (you guessed it) 5 debut authors, all under the age of 35, and this year's list is very very good. If your group is interested in contemporary fiction, buzzy books, and doesn't mind hardcover, all of these would be excellent choices.
'Bees' might not be the first theme you think of for your next discussion, but maybe it should be! Here's a list of five books about bees (including poetry, fiction, AND nonfiction) that might give you some starting points.
What does membership in 10 book clubs look like? Pretty great, actually, if you believe Laura (and I do). The most I've ever done at once was seven, so I salute her! There are also great ideas for different styles of book club — themed, classic, two-person. For the record, I too want to join her mother's book club.
Does your book club need a soundtrack? Well here you go: seven songs with literary references embedded in their lyrics.
For those feeling ambitious about their fall reading, one Rioter put together a Back To School reading list for grown-ups. It's full of classics across genres that you might have missed in your school days (or might want to revisit).
Is your group into audiobooks? Here are 11 places to find free (and legal) ones!
Read it before it's on-air: Eligible by Curtis Sittenfeld (which is a contemporary retelling of Pride and Prejudice) is getting a "soapy" adaptation from AMC, with a team that includes an executive producer from Pretty Little Liars. I can't decide if Jane Austen would be delighted or horrified??
And that's a wrap: Happy discussing! If you're interested in more science fiction and fantasy talk, you can catch me and my co-host Sharifah on the SFF Yeah! podcast. For many many more book recommendations (including the occasional book club question!) you can find me on the Get Booked podcast with the inimitable Amanda.
Your fellow booknerd,
Jenn
More Resources: 
– Our Book Group In A Box guide
– List your group on the Book Group Resources page