Hello, book lovers! I don't know about where you are, but here in my secret volcano lair in Maine it is SO HOT again. (It has nothing to do with it being in a volcano, I swear.) I hope you're having a cooler September with lots of good things to read. Speaking of great things to read – segue achievement unlocked! – I have a few for you below and you can hear about several more great books on this week's episode of the All the Books! Rebecca and I talked about a few amazing books we loved, including After the Eclipse, Five-Carat Soul, and Starfish.
---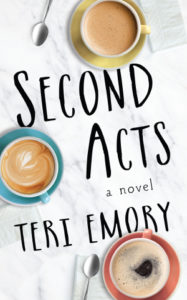 Sponsored by Seconds Acts by Teri Emory
An unshakeable rapport among three women takes root in a college dorm in the 1960s. At midlife, they find themselves re-examining choices and compromises they have made over the years. Sustained by their abiding friendship, the three women move to relinquish past regrets and make peace with present circumstances in order to flourish in the second acts of their lives.
---
P.S. – Have you checked out our newest podcast, Recommended? Each episode features two really interesting people talking about a book that they love! Check out Samantha Irby and Robin Sloan in Episode 1. Because who doesn't need more book recommendations???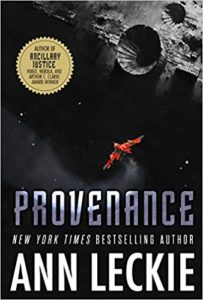 Provenance by Ann Leckie
Eeeeeeeee! Leckie has followed up her record-breaking Imperial Radch series with a fun, fast novel of power and birthright! A young woman must regain status and power to save her world, but she needs the help of a thief to do it. INSERT CAPERS HERE. There's a prison planet, priceless artifacts, political turmoil, heists, and interstellar conflict. It has all the ingredients needed to make this an amazing book! Not that you needed me to tell you Ann Leckie is amazing. Run, don't walk, to pick it up!
Backlist bump: Ancillary Justice by Ann Leckie
Passage by Khary Lazarre-White
Set in NYC in 1993, Passage is the story of Warrior, a teen trying to navigate the world and the hurdles and dangers he encounters as a young black man. Haunted by the spirits of his ancestors and the demons of oppression, it will take more than the loving support of his family to help him exist in an unfair, yet supposedly post-racial, society. This is a powerful novel that shows just how far America hasn't come with regards to racism.
Backlist bump: The Liminal People by Ayize Jama-Everett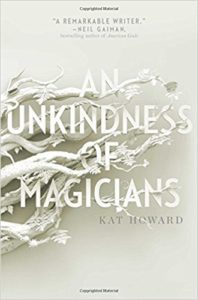 An Unkindness of Magicians by Kat Howard
Magic + New York City + Kat Howard = HEART EYES. Something is happening to the magic in NYC. No one understands it, except Sydney, a young magician with more power than has been seen in the city in decades. But Sydney doesn't want to restore the city's power – she wants to destroy it. This is a fun dark fantasy with a strong protagonist and lots of imagination.
Backlist bump: A City Dreaming by Daniel Polansky
That's it for me today – time to get back to reading! If you want to learn more about books new and old (and see lots of pictures of my cats, Millay and Steinbeck), or tell me about books you're reading, or books you think I should read (I HEART RECOMMENDATIONS!), you can find me on Twitter at MissLiberty, on Instagram at FranzenComesAlive, or Litsy under 'Liberty'!
Stay rad,
Liberty