Welcome to another week in nonfiction releases, news and other stuff that I think is interesting. My favorite bit of news has to do with one of my favorite true crime books — read on for more!
---
Sponsored by The Crime Book, the newest title in DK's award-winning "Big Ideas Simply Explained" series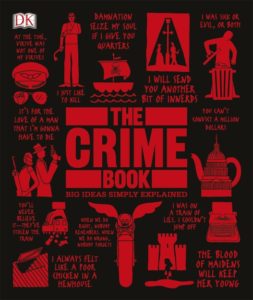 The Crime Book is a complete compendium for crime aficionados to add to their collection. From Jack the Ripper to Jeffrey Dahmer, it is a full study of international true crime history that unpacks the science, psychology, and sociology of criminal behavior with infographics and in-depth research.
Foreword writer and consultant Cathy Scott is a Los Angeles Times best-selling author and investigative journalist best known for her books The Killing of Tupac Shakur and The Murder of Biggie Smalls.
---
New Releases On My Radar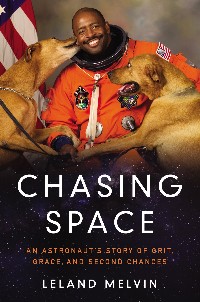 Chasing Space: An Astronaut's Story of Grit, Grace, and Second Chances by Leland Melvin (May 23 from Amistad) – Here's a fun fact from the book jacket: former astronaut and wide receiver Leland Melvin is the only person to have ever caught a pass in the NFL and in space. In this book, Melvin recounts his personal journey as an athlete, engineer, and space traveler. I love that the cover of the book is his official NASA portrait.
Bonus Read: This Q&A between Swapna Krishna and Melvin at Paste Magazine is a delight to read.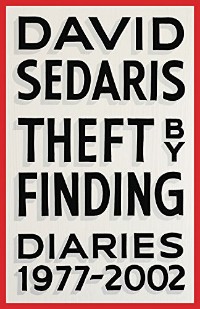 Theft by Finding: Diaries (1977-2002) by David Sedaris (May 30 from Little, Brown and Company) – Truthfully, I'm not sure how I feel about this trend of publishing notebooks and diaries from famous writers. But, anything new from David Sedaris is worth noting. This book includes the "overheard comments, salacious gossip, soap opera plot twists, secrets confided by total strangers" that have become the source of many of his most famous essays.
Bonus Read: The New Yorker published an excerpt of the book last month, a series of entries from 1983 to 1990 while Sedaris was at the Art Institute of Chicago and the International House of Pancakes.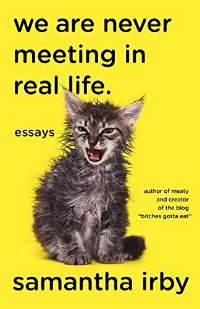 We Are Never Meeting in Real Life by Samantha Irby (May 30 from Vintage) – Blogger and comedian Samantha Irby's collection of comic essays looks to be very funny, something I think we could all use right now. Rioter Aisling Twomey said the book is "moody, vulgar, gross and so much goddamn unapologetic fun" and a must read for "any woman who's tired of giving a damn and just wants to live life her way."
Bonus Read: Check out Irby's excellent blog, bitches gotta eat.
The 'Devil in the White City' to be exhumed
Experts in Chicago are preparing to exhume the remains of H.H. Holmes, the Chicago serial killer of Erik Larson's 2003 book The Devil in the White City. The exhumation request was made by one of Holmes' descendants, apparently to find out once and for all if he faked his own death. Before he was executed, Holmes confessed to more than 27 killings, many single women killed in his "Murder Castle." Grisly!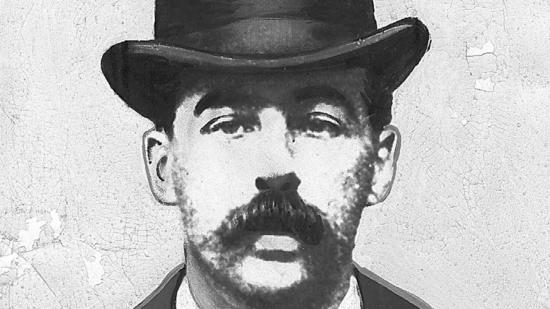 Chicago Tribune photo
If you're looking for more true crime, over at Book Riot, Charley Macorn shared five true crime comics that will keep you up at night. Creepy!
The Year of Living Biblically picked up by CBS
A comedy based on A.J. Jacobs best-selling book The Year of Living Biblically has been given a series order by CBS. The show, re-titled By The Book, "centers on a modern day man at a crossroads in his life who decides to live according to the Bible. It stars Jay R. Ferguson, now free and clear after his ABC series The Real O'Neals was canceled, Lindsey Kraft, Ian Gomez, David Krumholtz, Tony Rock and Camryn Manheim."
On My Nightstand
I decided to dig into a backlist title this week, Isaac's Storm by Erik Larson (yep, same one), the story of the deadliest natural disaster in American history – a 1900 hurricane that killed more than 6,000 people in Galveston, Texas. The central "character" of the story is Isaac Cline, resident meteorologist for the U.S. Weather Bureau. Larson chronicles the day using telegrams, letters, and stories from survivors. I'm just a few chapters in, but I'm definitely intrigued.
As always, feedback and comments are always welcome. You can catch me on Twitter @kimthedork, Instagram @kimthedork, or via email at kim@riotnewmedia.com. Happy reading!