Happy Friday, fellow dreamers! Let's get fictional.
We're starting out with the adaptations corner today…
– … Because I want to talk about King Arthur! Tor.com ranked a bunch of adaptations including the Guy Ritchie's Legend of the Sword and I have some feelings about it! While Emily and Leah are correct that the film is intent on murdering a lot of women and that there is a distinctly fratty feel to the end of the movie, they haven't mentioned that the film not only has characters of color (who have names and plot-points), but none of them die. I'd also point out that the one visible magic user in the movie is a woman, without whom the story couldn't happen. These facts doesn't erase the film's problems with women, but it's hugely refreshing to see this kind of inclusion in a historical action film about a very blonde king. It's also a ton of fun to watch; if you're willing to put up with its failings and its complete disregard for mythological accuracy (Vortigern is Uther's brother? Mordred is older than Vortigern??), I do recommend it.
P.S. re: this article, I extremely cosign "Lance-not" in regards to Richard Gere.
P.P.S. Tor.com are hardly the only ones to pan it; apparently I disagree with almost everyone on this.
– In VERY EXCITING WOULD WATCH news, Snowpiercer is getting a TV treatment with Hamilton's Daveed Diggs as the star. I enjoyed but am not particularly attached to the film, and I'm curious to see how an episodic format changes the narrative.
For my fellow word-nerds: David Peterson dives into the do's and don't's of fantasy naming conventions and creating your own, and I found it absolutely fascinating. It's not a short piece, but if you're contemplating your own world-building and/or have been wanting someone to think critically about the politics of naming, add this to your reading list immediately.
Pottermore is getting a book club! Kind of. I'll be very curious to see if this isn't just a free-for-all of competing theories and ships and minutiae debates on Twitter (which is where they're encouraging people to post). But that's also what the Harry Potter area of Twitter is like on a regular day, so who knows!
In this piece contemplating empire and space opera, Liz Bourke hits on why Ann Leckie and Yoon Ha Lee's books are some of my favorite in science fiction.
Do you need a Wonder Woman tutu? Or bow-tie? Or hoodie? Or other swag, or all of the above? Jamie has the links you are looking for.
Today's reviews are accidentally themed around: power(s) gone haywire! Good job, subconscious.
Lightless by C.A. Higgins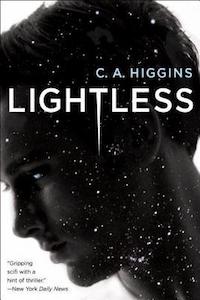 There are differing opinions about this book amongst the fellow readers I've chatted with, but I'm here to tell you that I loved it and am hooked — just in time for the third book in the trilogy, Radiate (preceded by Supernova) to come out!
Before I picked it up I kept trying to figure out what it might be comparable to. Firefly? Becky Chambers' Wayfarers? Wise voices told me "Definitely not," and they were correct. While Lightless does feature a mechanic, takes place entirely on a spaceship, and is to a certain extent about outsiders and found families, it's also a dark and twisted look at AI, the use and misuse of power, and the violent ends to which people will go to ensure their freedom.
The story opens with Althea, mechanic aboard the Ananke, a top-secret ship that is (purportedly) doing top-secret scientific experiments. She and her two crewmates — Domitian, the captain, and Gagnon, a scientist — are alone in the black and just fine with it. Until, of course, some space-thieves come out of nowhere, trick the ship into letting them on board, and get in a firefight with the crew. Turns out they're just not any vagabonds but Leontios Ivanov and Matthew Gale, wanted criminals. Ivanov is taken into custody and Ida Stays, an investigator who has been hunting them for suspected terrorist associations, is dispatched to the ship to interrogate him. In the meantime, Gale did … something… to the computer during his escape attempt and now everything is going haywire all the time.
The novel alternates between the interrogation (which ain't pretty, as you might suspect) and Althea's fruitless attempts to find out what is wrong with her beloved Ananke. No matter which storyline, everything is tense and no one is behaving themselves. Add to that the terrorist attacks spreading across the interplanetary System, and you've got a recipe for certain disaster — which Higgins delivers on. I came for the characters and ultimately stayed for them, but the blood and guts involved in the plot (sometimes literally) are no joke. Is "space noir" a thing? Because Lightless is very space noir. So if you're ready for a dark tale of troubled people behaving badly in space, this is your book.
Turbulence and Resistance by Samit Basu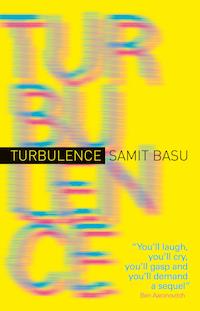 Not interested in noir-ish intrigue but still want some action and a little comedy? Samit Basu is here for you! Turbulence and Resistance are two of my favorite "What if you suddenly had powers?" books, and I'm delighted to introduce them to you.
Turbulence starts, as you might guess from the title, on a plane. Everyone on Flight 142 left London as perfectly normal humans and arrived in Delhi with superpowers. They didn't know it at the time, and don't know why or how it happened, but they sure as heck figured it out (some of them faster than others). And their powers aren't the same — each received a power related to their deepest wish, which works out much better for some than for others. While they're trying to figure out what to do about it, someone starts hunting them.
The book follows Aman Sen, a young man who becomes a communications technology demigod, who is trying to put together his own league of heroes, and those who join or oppose him. Basically imagine an X-Men movie but set internationally with a focus on India, and you're on the right track.
Resistance picks up 11 years later, when someone is once again hunting down powered folks. The players from Turbulence have grown and changed, alliances have shifted, and there are new players added to the mix. Resistance includes giant lobsters, mecha warriors, and a whole lot of property damage (naturally), and satisfied both my itch to see where my favorites were at and my need for a whole new adventure to savor.
TL;DR: Surprise super powers! Some people use them for evil! Every villain is the hero of their own story! Hijinks ensue! Delightful!
---
This newsletter is sponsored by The Traitor's Kiss by Erin Beaty.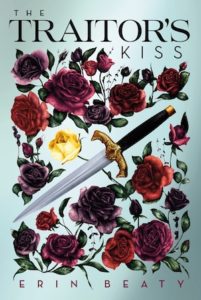 An obstinate girl who will not be married.
A soldier desperate to prove himself.
A kingdom on the brink of war.
With a sharp tongue and an unruly temper, Sage Fowler is not what they'd call a proper lady—which is perfectly fine with her. Deemed unfit for a suitable marriage, Sage is apprenticed to a matchmaker and tasked with wrangling other young ladies to be married off for political alliances. She spies on the girls—and on the soldiers escorting them.
As the girls' military escort senses a political uprising, Sage is recruited by a handsome soldier to infiltrate the enemy ranks. The more she discovers as a spy, the less certain she becomes about whom to trust—and Sage becomes caught in a dangerous balancing act that will determine the fate of her kingdom.
With secret identities and a tempestuous romance, Erin Beaty's The Traitor's Kiss is full of intrigue, espionage, and lies.