Happy end-of-May, YA fans!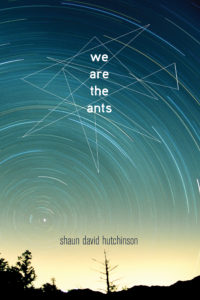 This week's "What's Up in YA?" is sponsored by We Are The Ants by Shaun David Hutchinson from Simon Pulse.
From the "author to watch" (Kirkus Reviews) of The Five Stages of Andrew Brawley comes a novel about a teenage boy who must decide whether the world is worth saving.
____________________
Is it me or has it felt like May has been the never-ending month? Let's take this US holiday for the opportunity to catch up on all of the YA happenings on Book Riot this last month.
Did you see the cover reveal for Whitney Gardner's sophomore novel,

Chaotic Good

? Because it's [insert fire emoji].
I do love YA sports novels, even for sports that aren't necessarily my personal favorites. There's something about the tension of athletics and adolescence that works really well for my reading tastes. Perhaps that's why as soon as I finished

A Season of Daring Greatly

, about a girl who is the first draft pick to the major league for baseball, I needed to put together

a list of books featuring girls who love playing baseball

.
Before signing off, let's take a moment to dig into the past. A few links from Mays gone by at Book Riot with a YA focus.
A couple of weeks ago, I asked at the very end of a newsletter for readers to share their dream politician-author pairing (in honor of the Bill Clinton-James Patterson novel). There were a few responses, but these two were probably my favorites. The first needs no explanation; the second explanation only makes the pairing even stronger.
Harvey Milk & Bill Konigsberg.
President Theodore Roosevelt hook up with Leigh Bardugo: President Roosevelt likes adventure.  His adventures in the Amazon and Africa are well known. According to his biographer, Theodore Roosevelt read countless number of books in one sitting.
Thanks for hanging this week, YA Rioters. We'll see you again next Monday, when we'll finally be able to sing the famed Carousel jingle.
— Kelly Jensen, @veronikellymars, currently reading & loving Aftercare Instructions by Bonnie Pipkin