Hello all, Swapna here! Welcome to the first issue of Book Radar, Book Riot's newsletter focusing on all things pre-publication. Wondering what awesome book deals or book-to-movie news has just been announced? Want to know what upcoming books you should be excited about? Then you're in the right place.
If you need even more Book Riot in your life than just this newsletter, we've launched a new subscription program called Insiders. You can have access to exclusive content such as behind-the-scenes newsletters, a dedicated Read Harder podcast, and much more, depending on your subscription level. Check out the Insiders site for more details, price points (it starts at just $3/month!) and to sign up!
All the Book News You Can Use
Is Margaret Atwood writing a sequel to The Handmaid's Tale?
Knopf is publishing the fifth book in Stieg Larsson's Millennium series, called The Girl Who Takes an Eye for an Eye.
Laila Lalami has announced two forthcoming books. The Other Americans, from Pantheon Books, is about the death of a Moroccan immigrant in a California town. It will be followed by The Colonial Citizens, a nonfiction book about America's relationship with its Muslim denizens.
Celebrity book deal alert! Grand Central will be publishing The CW's Crazy Ex Girlfriend star Rachel Bloom's memoir.
6 Questions for Sandhya Menon
If you haven't heard of Sandhya Menon's upcoming novel When Dimple Met Rishi (Simon Pulse, May 30), you're missing out on one of the most buzzed-about releases of the year (and definitely one of 2017's best covers). We sat down with Menon and asked her a few questions for our inaugural newsletter.
Tell us just one thing you want readers to know about your book.
WHEN DIMPLE MET RISHI is for anyone who's ever felt like an outsider. See, we do get happy endings!
What's your Hogwarts house?
When I took the test I got Gryffindor. But knowing myself, I'd say I'm more like a Gryffilpuff.
Has a book ever changed your life? If so, which book?
I have to say Sophie Kinsella's books. It was when I read her Shopaholic series and then watched an interview with her that I began to consider I could write lighthearted, funny romance, let alone a novel-length work.
What's the story you wish someone else would write, so you could read it?
A really good psychological thriller set in a boarding school and featuring ethnic minority protagonists. I'm a sucker for boarding schools and ethnic diversity!
What genre have you never written in, but want to?
I think I'd make a good horror writer! I grew up on Stephen King and Shirley Jackson, so it'd be fun to see if I could pull it off.
What do you want the first line of your obituary to be?
Nevertheless, she persisted.
Book Riot Recommends
I've read quite a few books that release this summer, and I've already been stunned and heartbroken, thrilled and devastated by the books we're lucky enough to have coming out. Here are just two that I highly recommend.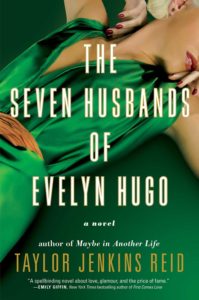 The Seven Husbands of Evelyn Hugo – Taylor Jenkins Reid (Atria Books, June 13)
Reid has been getting better and better with every novel, and her latest might just be her best yet. Monique is working at a magazine, a low woman on the totem pole, when she receives startling news: Reclusive Hollywood legend Evelyn Hugo is willing to do a print feature for the magazine, but only if Monique is the reporter on the story. Monique is baffled, but more than willing to sit down with Evelyn. But it turns out that the starlet has something entirely different in mind, and Monique struggles to figure out exactly what Evelyn wants from her. Reading this book, it's difficult to believe that the Cuban American bombshell actress is fictional; Reid excels at creating complicated imperfect characters, and none is so stunning as Evelyn Hugo herself.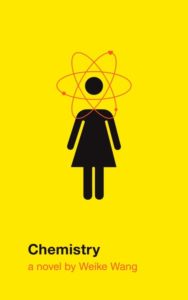 Chemistry – Weike Wang (Knopf, May 23)
The narrator of Chemistry may be unnamed, but that doesn't make her life any less complicated. She's been on autopilot her entire life, pursuing a Ph.D. in chemistry at Boston University, but she isn't sure that's what she wants anymore. The narrator chafes under the demands and expectation of her Chinese parents, and for the first time, she's ready to ask, "What do I want?" The stream-of-consciousness narrative style isn't for everybody, but it allows the reader to get to know the main character on intimate terms and celebrate as she makes choices for herself, rather than everyone around her.
---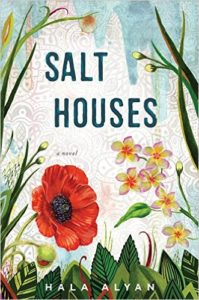 This newsletter is sponsored by Salt Houses by Hala Alyan.
"In her debut novel, Alyan tells the story of a Palestinian family that is uprooted by the Six-Day War of 1967 and Saddam Hussein's invasion of Kuwait in 1990. This heartbreaking and important story examines displacement, belonging, and family in a lyrical style."  —The Millions, "Most Anticipated: The Great 2017 Book Preview"
"Reading Salt Houses is like having your coffee grounds read: cosmic, foreboding and titillating all at once." —Aline Ohanesian, author of Orhan's Inheritance
"Salt Houses illuminates the heartache and permanent unsettledness experienced by refugees all over the world." —Bustle, "15 New Authors You're Going To Be Obsessed With This Year"