2016's Most Banned Books
The American Library Association releases a top ten list every year of the previous year's most challenged and banned books. Over half the list from 2016 consists of books challenged for having LBGTQ characters (that bigots feel comfortable calling for books to be banned is unsurprising, but still frustrating), but one stand-out from the year is the Little Bill series of children's books written by Bill Cosby. The reasons cited for the challenges are the criminal allegations of rape and sexual assault against the author. Yet another chapter in the age-old debate of whether or not books written by objectively awful people deserve space in the public conversation.
Unseen Sylvia Plath Letters Reveal Domestic Abuse
Previously unseen letters from Sylvia Plath to her therapist written a week before her suicide reveal her husband, the poet Ted Hughes, beat her two days before her miscarriage and was also verbally abusive. Their marriage was already known to be tempestuous (and Hughes was a known adulterer), and readers' fascination with their relationship has continued well past the death of both writers. These new facts will likely fuel that fire for years to come.
The Good News Corner!
And now for the happy news! Margot Lee Shetterly, author of the hugely successful Hidden Figures, has a new book deal for two books that tell the stories of "extraordinary ordinary African-Americans whose contributions to American history have, for one reason or another, been untold, unseen, or overlooked." The first will focus on the prominent African-American families of Baltimore, along with racist community policies those families faced and continue to face in the city.
Angela Maria Spring, a former manager of Politics and Prose bookstore in D.C., is opening a new bookstore staffed by people of color and focusing on diverse stories. The publishing industry, including bookstores, is notoriously white, which creates a cycle of white stories being published and hand-sold. A direct initiative to combat that, which Spring says is part of her resistance in the current political climate, is welcome and needed.
---
Thanks to The Widow of Wall Street by Randy Susan Meyers for sponsoring this week's newsletter.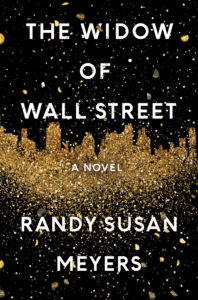 A provocative new novel by bestselling author Randy Susan Meyers about the seemingly blind love of a wife for her husband as he conquers Wall Street, and her extraordinary, perhaps foolish, loyalty during his precipitous fall.

When Phoebe learns her husband's triumph and vast reach rests on an elaborate Ponzi scheme her world unravels. Her children refuse to see her if she remains at their father's side, but abandoning him feels cruel and impossible.

From penthouse to prison, Randy Susan Meyers's latest novel exposes a woman struggling to survive and then redefine her life as her world crumbles.