Helllloooooo Insiders!
I'm writing this, our first Behind-the-Scenes newsletter, from my mother's sofa. My twin boys are on Spring Break and I couldn't handle them, pets, and working, all by myself. I'm a single mom and it can be a lot to juggle. When I get to feelin' like it's all a little much, I retreat to my mom's house in rural Virginia and let her make me food and let my kids run around outside in some fields while I sit inside and talk about Toni Morrison on the internet. It's not the worst.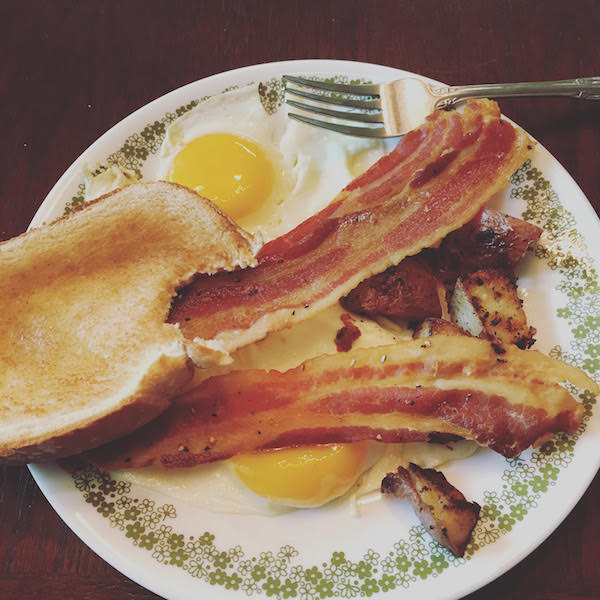 Mom food. Ain't no bacon like bacon you didn't have to make yourself, amirite?
I did a lot of noodling about what to talk about in this first newsletter. Was initially leaning toward my Book Riot origin story, but I've already done a video about that for our YouTube channel and didn't want to retread that ground, so I thought maybe just introducing you to my brood would be a good first step.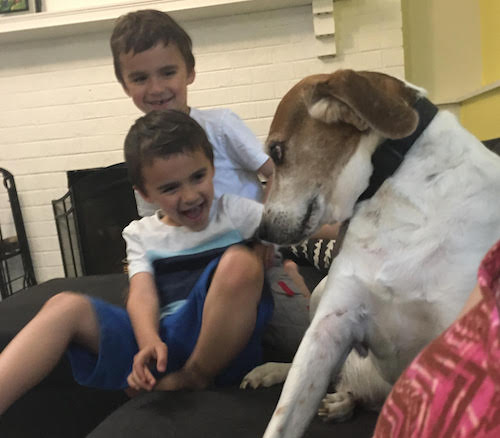 So awkward. Much side-eye. Wow.
My twins are Rhett and Atticus. Yes, those are their real names and not cutesy fake names I use for them on the internet. I didn't even think of that option until it was too late, so whatever. The hound is Othello — so named by the SPCA because he had o's spray-painted on his sides (a common hunter's method for keeping track of their dogs, which obviously didn't work with this guy). He is very un-smart and lazy and I imagine the hunter who owned him isn't sad at having lost him, as the only thing this guy hunts is naps.
There's also a pitbull called Lola (Tagalog for "grandmother," so named because this dog loves kids and would pinch cheeks if she had opposable thumbs). Add in some pimento cheese, probably some whisky, and a bit of yelling about Minecraft that I 100% do not understand, and you've got what's happening behind the scenes of any given work day for the Managing Editor of Book Riot.
Oh, there's also books. Probably one of the biggest misconceptions about working where I do is that I get paid to read all day — I get paid $0 to read. I spend 10ish hours a day scheduling social media, scheduling content, wrangling 150+ contributors, managing a few staff members, recording podcasts, writing newsletters, moderating comments, writing posts, etc. So how do I find time to read? Here's my secret: I start my work day at 6am. That's it. It allows me to stop at 3:30 to pick up my kids from school, then read for an hour or so while they play. I make dinner, hang with them, put them to bed, read for another hour. Work for another hour. I know that's not what people want to hear, that to fit in reading I have to start working before most people are awake, but that's the truth.
That's it for our first edition of Behind the Scenes! I'm @imamandanelson on Twitter if you have questions/concerns/comments, and of course I'm around on the Insiders Forum. Talk to y'all later!
–Amanda
---
Save 30% off one purchase in the Book Riot store with code INSIDERS30!