Greetings, nerd-friends and geek-fellows!
This week's newsletter is sponsored by us!
No need to mince words here: we are giving one lucky Book Riot reader $250 to blow at Amazon. Overstuff those stockings or get a jump on your New Year reading pile–up to you. Go here to enter.

There's a lot of geeky movie/TV news in the offing, but before we dive into that I invite you to explode your to-read lists along with me thanks to this piece from The Guardian on 2016's best SF/F. Obviously big fan of Jemisin and Chiang over here, and I adored Zen Cho's book. There are several titles mentioned in that piece I've had on my TBR for ages (time to bump 'em up) plus a few I hadn't heard of at all — always a delightful moment!
And now, to the screens.
– Anyone seen Arrival yet? There are linguists at USCD and Gizmodo who have thoughts. (If you haven't seen it, their general thoughts about the role of linguistics vs. their very spoilery thoughts about plot are clearly marked, so you're safe!)
– Anne Rice is planning a Game of Thrones-level TV adaptation of The Vampire Chronicles. While I have many qualms about her personally, I can't help but think that if it actually happens this could make for some really good (or so-bad-it's-good) binge-watching.
– In further Tolkien news, J.R.R. himself is getting a movie! A biopic, to be precise. Here I thought I knew a lot about the man (I once memorably won an argument with my 6th grade teacher about whether or not "philologist" was an actual word), but I learned four new things about him from this announcement alone, so I'm on board.
– Apparently Lin-Manuel Miranda of Hamilton fame is a huge Patrick Rothfuss fan!? And is going to be the creative producer for both a Kingkiller Chronicles feature film and a TV series?! And maybe even a stage play!!? Is this the real life?!? (I can't tell if this is better or worse for my dream that someone will someday adapt Jacqueline Carey's Kushiel's Legacy series for the screen.)
– I was going to save Michelle Yeoh's Star Trek: Discovery casting news as "best for last," but then I saw that while she is playing a captain she is not playing the captain. I have big love for the Kelvin-verse movie franchise (well, at least the first and third installments), but I haven't watched Star Trek on TV since Voyager. I'm psyched that Yeoh will have some role, but until we get some actual news about the major players, I will remain skeptical.
– Parker Posey to is going to play Dr. Smith in Netflix's Lost In Space remake, LET'S TALK ABOUT THIS. Because I come from a long line of nerds whose only compatible interests are nerd-things, we went to see the 1998 Gary Oldman/Matt LeBlanc remake in the theaters. (Yes, there were other people in that movie. No, I don't remember anything about their performances.) In both the original TV series and the movie remake, Smith is a saboteur stuck in outer space with a sometimes obnoxiously good-natured family of scientists and a robot that shouts DANGER! The original concept is already a remake of the Swiss Family Robinson concept (another childhood favorite). So what I am saying is, I was already here for this. And now we've got a female saboteur with stellar comic timing, which leads me to believe that Netflix intends for this to retain at least some of the light-heartedness of the original. Put me down officially as "REALLY EXCITED."
It's almost like I planned a "space" theme; let's not waste this segue and go to our first recommendation.
Radiance by Catherynne Valente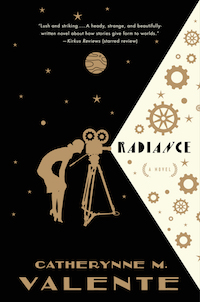 Recently out in paperback, Valente's latest is an intergalactic opus and a love letter to cinema. Set in an alternate universe in which the Solar System was colonized via space cannon starting in the late 1800s (think A Journey to the Moon) and silent film retained a hold on the film industry well into the 20th century, it's both incredibly elaborate and very simple.
The plot is the simple part: a young woman named Severin Unck, daughter of a famous filmmaker and documentarian in her own right, goes to shoot a vanished town on Venus. She disappears, is presumed dead. The elaborate part is the prose and structure of the novel. The book talks to you the reader and/or you the viewer, interweaves transcripts and script excerpts and diary entries and monologues. It is profoundly performative, and not what I would call an "easy" read. You have to pay attention to follow the many characters and viewpoints, the jumps back and forth in time and space (literally). It's a book that teaches you how to read it as you go along; it winks at you, elbows you in the ribs, then spins you around to face in a new direction. You can get a little dizzy in the process, but I enjoyed every twist and turn.
Last Call at the Nightshade Lounge by Ben Krueger

Bailey Chen is whip-smart and has the college degree, the steel-trap mind, and the ambition to prove it. What she doesn't have is a job. Or rather, a "real" job — currently, she's the barback at her high school friend's bar, living with her parents, and failing at networking her way into a better gig. This is her biggest concern until the day she discovers that not only are monsters real, but that an elite cadre of bartenders fights them with magical booze.
There's no time like the holidays for a page-turning adventure story about cocktails, am I right? Krueger's got a sometimes wry, sometimes slapstick sense of humor and a knack for creating entertaining characters who eat clichés for breakfast. Indeed, every time I expected the plot to go one way it turned another. Recipes are interspersed between chapters, so one can add it to the mixology shelf as well as fiction. Fun, rompy, and a great book to have in your pocket for the boozehounds on your gift list.
Speaking of gifts, the next installment of Swords and Spaceships will skip news so that there's more room for a Gift Guide for Nerd Pals. See you then!