Welcome to Check Your Shelf. This is my last full work week before I go on vacation for a week and a half, and as always, I find myself astonished at how quickly that snuck up on me. Send lots of productive thoughts for me!
During the month of September, all new free subscribers to The Deep Dive will be entered to win Parable of the Sower by Octavia Butler plus 5 mystery books from The Deep Dive. To enter, simply start a free subscription to The Deep Dive. No payment method required!
Collection Development Corner
Publishing News
Books about Biden's presidency are not selling well, mainly because his term has not been marked by nearly the same chaos as Trump's. (And quite frankly, I don't think that's a bad thing)
Amazon issues new AI guidance for its Kindle Direct Publishing platform.
Another follow-up post to the oft-debunked claim that most books sell less than 12 copies.
The New York Times writes about how Utah has become an unexpected hotbed of YA authors.
"A plague on the industry": book publishing's broken blurb system.
New & Upcoming Titles
Ada Limón is editing an anthology of nature poems, and working on an initiative with the National Park Service and the Poetry Society of America.
Matt Haig announces a new book: The Life Impossible. It comes out August 2024.
14 new books by Latinx authors to read for Latinx Heritage Month.
8 big new fiction titles from small presses.
Weekly book picks from Crime Reads, LitHub, New York Times.
September picks from Amazon, The Guardian (thrillers), Shondaland, Tor.com (fantasy, science fiction, SFF crossovers).
Fall picks from Crime Reads, LitHub, New York Times (fiction & nonfiction).
What Your Patrons Are Hearing About
The Vaster Wilds – Lauren Groff (LA Times, New York Times, Washington Post)
Holly – Stephen King (NPR, USA Today)
Glossy: Ambition, Beauty, and the Inside Story of Emily Weiss's Glossier – Marisa Meltzer (New York Times, Washington Post)
RA/Genre Resources
13 mystery authors who are transforming the genre.
Why John le Carré's The Spy Who Came In From the Cold is the ultimate spy novel.
How to read all 23 Dune books in order.
On the Riot
The best weekly releases to TBR.
September picks for mysteries/thrillers/true crime, romance, SFF, horror, nonfiction, children's, YA.
8 upcoming nonfiction books to get you excited for fall.
Must-have new poetry for Fall 2023.
5 authors who coined their own subgenres.
Why do authors use different pen names for different genres?
Book Riot has podcasts to keep your ears listening for days! Check them out and subscribe.
All Things Comics
Celebrity chef ​​José Andrés has written a graphic novel: Feeding Dangerously: On the Ground with José Andrés and World Central Kitchen.
10 of the best detective-based anime.
On the Riot
September picks for comics/graphic novels and manga.
20 trailblazing comic strips that changed the game.
Retro comic rewind: weird horrors.
Audiophilia
The September 2023 Earphones Award winners have been announced.
Three new memorable memoirs on audio.
Book Lists, Book Lists, Book Lists
Children/Teens
23 books like the Three Dark Crowns series.
17 Mercury retrograde-worthy YA books with miscommunication tropes.
Adults
8 books about the dark history of banana plantations in Latin America.
Thrillers about mother-in-laws from hell.
5 books with devilishly dangerous fairy tales.
Books with pick-me-up power.
5 thrillers with island settings.
The 25 best cookbooks from Great British Baking Show contestants.
10 books that show the lives of school teachers.
20 mystery books to read for your inner sleuth.
8 social thrillers with hard-hitting themes.
6 jaw-dropping thrillers recommended by Gillian Flynn.
Mysteries and thrillers set in the wellness industry.
Thrillers where best friends are the biggest threat.
We have great expectations for these books inspired by Charles Dickens.
On the Riot
Books for Bluey fans of all ages.
Recent YA releases set in the 1990's.
8 YA book club books to spark great discussions.
9 thought-provoking books like Yellowface.
Quirky new takes on the multiverse.
Mulder, it's 30: 8 great books for the 30th anniversary of The X-Files.
20 marvelous modern poets.
Short, snacky fantasy for busy readers.
Level Up (Library Reads)
Do you take part in Library Reads, the monthly list of best books selected by librarians only? We've made it easy for you to find eligible diverse titles to nominate. Kelly Jensen has a guide to discovering upcoming diverse books, and Nora Rawlins of Early Word has created a database of upcoming diverse titles to nominate as well that includes information about series, vendors, and publisher buzz.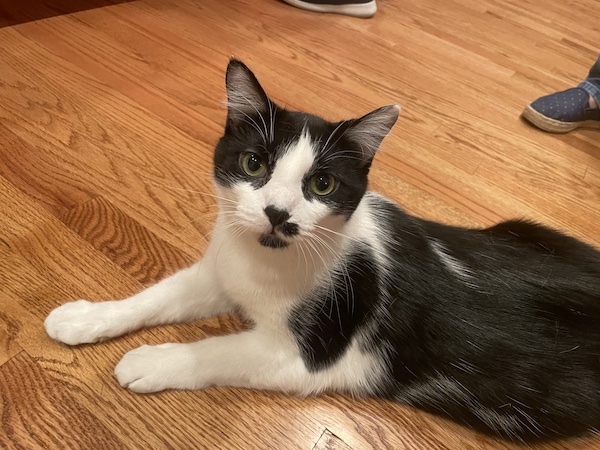 A guest appearance by my parents' cat, Groucho! You may remember Groucho from about 6 months ago, when he was a shy kitten hiding under the bed. Well, I visited my parents' house over the weekend for the first time in a while, and not only has Groucho tripled in size, but he was out the entire time! He loved being in the middle of everything, and LOVED getting pets from everyone! What a sweet, brave boy!
All right friends, that's it for me. I'll check in again on Friday.
—Katie McLain Horner, @kt_librarylady on Twitter.