A quick reminder: today's links will take you to Libby, a free app where you can borrow ebooks, digital audiobooks, and magazines from your public library. Many of you already know and love Libby, and now you can borrow August's most exciting new releases (or put them on hold) right from this newsletter. Happy reading (and borrowing)!
Hello, my friends! It's time for another round of "Make your TBR beg for mercy!" I hope you have all been well and have found lots of wonderful things to read recently. I never get tired of hearing about what people are reading, or helping people find things to read! For you this week, I have a massive Booker-longlisted family drama, a graphic novel of a girl who sees ghosts, and a powerful YA debut about loss and forgiveness that is next on my TBR. Yay, books!
At the top of my list of today's books I want to pick up are Holly Horror by Michelle Jabès Corpora, Althea: The Life of Tennis Champion Althea Gibson by Sally H. Jacobs, and Thin Skin: Essays by Jenn Shapland. You can hear about more of the fabulous books coming out today on this week's episode of All the Books! Tirzah and I talked about some of the books we're excited about this week, including Vampires of El Norte, Two Tribes, and Thornhedge!
Delighting velocireaders since 2017, Book Riot's New Release Index will keep you in the know about all the latest books. New books for days. Subscribe today — you won't be able to read them all, but it's fun to try!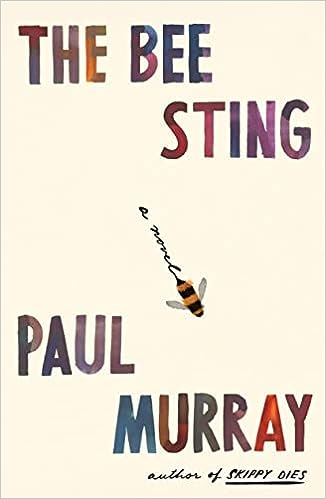 This is the 2023 Booker-longlisted story of the Barnes family, a once prominent and wealthy family whose luck all seems to be changing. The father might be responsible for their failing car dealerships which is causing financial hardship for the whole town; the smart and responsible daughter is suddenly a party girl in danger of failing her college exams; the son is being terrorized by a bully; and the mother, who came from poverty and abuse, is furious and lashing out about the possibility of losing everything. It's a darkly funny and devastating look at ripple effects, small moments that change everything, and the failures of others, and a sad, beautiful search for where it all stops. It's heart-achingly fantastic. A couple of notes: There are sections in the book written without any punctuation marks — that's intentional. And there are a lot of content warnings in this one, including murder, suicide, body shaming, racism, antisemitism, emotional abuse, physical abuse, child harm and death, sexism, sexual assault, infertility, substance abuse, homophobia and homophobic language, stalking, ableist slurs, animal killing, and loss of a loved one.
Backlist bump: Skippy Dies by Paul Murray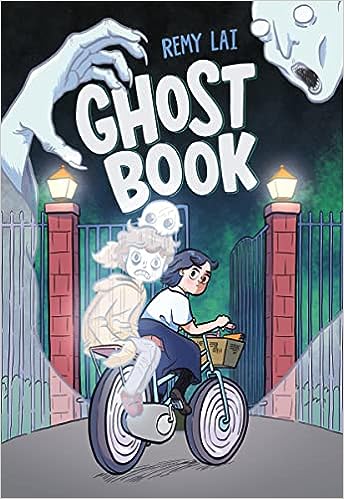 And from the author of the delightful Pie in the Sky comes another great middle grade graphic novel inspired by Chinese mythology. But this time, it's a sometimes-scary book about friendship! July Chen has lived her whole life ignoring the ghosts she sees. After all, her father says they're not real, so maybe she's imagining them? But when the doors to the underworld let out all kinds of spirits for Hungry Ghost month, July meets a young boy ghost named William and they become friends. William needs help getting his soul back to his body, but helping him means July is putting her own soul at risk, as the scary spirits close in on them. It's a cute and spooky story of a brave young girl and her quest to make the best use of her rare talent.
Backlist bump: Sheets by Brenna Thummler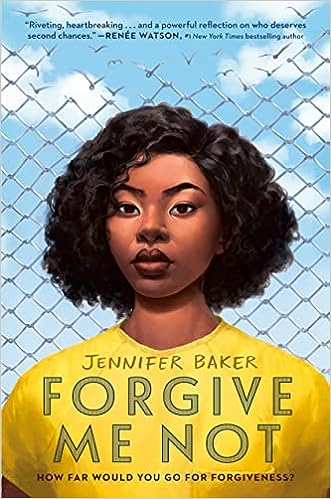 And last but not least, I wanted to shout out this book because I have been very excited to read it! I can't wait to get my hands on it. I have been following Jennifer Baker on social media for many years, and she has been a really important name in the publishing world, so I am excited to read her first novel! Forgive Me Not is the story of a broken juvenile justice system, in which a young woman who has made a tragic mistake must now make an impossible decision. When 15-year-old Violetta gets behind the wheel of a car while drunk, she ends up killing her sister. Now she awaits her fate in a detention center. Will she spend her next several years behind locked doors as punishment, or can she convince her family to find it in their hearts to forgive her, which would lessen her sentence? This sounds incredibly powerful and sad, and I am going to pick it up today!
Backlist bump: Allegedly by Tiffany D. Jackson
Join Rebecca & Jeff in the First Edition podcast to consider the 10 finalists for the "It Book" of August and pick a winner.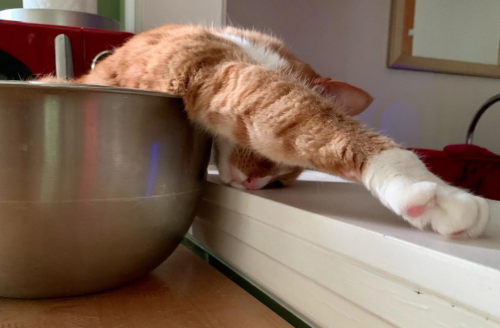 This week, I am reading Opinions: A Decade of Arguments, Criticism, and Minding Other People's Business by Roxane Gay and Swim Home to the Vanished by Brendan Shay Basham. In non-book things, I finished rewatching Brooklyn Nine-Nine and now my husband and I have finally started watching The Bear. The song stuck in my head this week is "Dizz Knee Land" by Dada. And here is your weekly cat picture: Can you believe this ridiculous cat?? This is Farrokh, AKA Freddie Purrcury, fast asleep with his face planted on the half wall in our kitchen. Related: He has the biggest feet of any cat I've met and he isn't even double-pawed!
Thank you, as always, for joining me each Tuesday as I rave about books! I am wishing you all a wonderful rest of your week, whatever situation you find yourself in now. And yay, books! See you next week. – XO, Liberty