Welcome to Read This Book, a newsletter where I recommend one book that I think you absolutely must read. The books will vary across genre and age category to include new releases, backlist titles, and classics. If you're ready to explode your TBR, buckle up!
Delighting velocireaders since 2017, Book Riot's New Release Index will keep you in the know about all the latest books. New books for days. Subscribe today — you won't be able to read them all, but it's fun to try!
Today's pick is a horror novel that even a weenie like me enjoyed, because it was horrifying and humorous, which I appreciate! It's also a backlist title by an author I love, so win-win! Content warning for body horror and infidelity.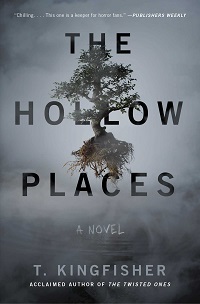 Kara has just separated from her husband, she's broke, and she has nowhere to go. Rather than crash with her mom, she accepts her uncle Earl's invitation to come live and work at his museum of odd and weird things in a small, southern town. She's grateful for the place to land and her work helping catalog the museum, even if it's deeply weird. When Uncle Earl needs surgery and leaves Kara in charge, she thinks it'll be an easy few days. Instead, a hole appears in the wall in an exhibit. And when she investigates this rather large hole with Simon, the barista next door, she discovers a portal to an alternate dimension where unseen beings stalk them, and a mysterious message — pray they are hungry — haunts them. This was not on Kara's BINGO card.
I love the humor in this book, and I love how the characters never take themselves too seriously. Kara and Simon are great friends and have an awesome dynamic, and while they don't want to believe that there is a portal to a different dimension in the wall of the museum, they get on board pretty quickly. And they go exploring, like you do — even though they know it's maybe not the best idea. And when they get lost in the otherworld with danger around every corner, well. Whoops. Despite the seriousness of their predicament, I do love that they keep a good sense of humor about the whole thing. Call it a coping mechanism, but the humor balances the tension really nicely. There are also so many odd and weird details about this other world, and about the museum, and about the mystery of how and why the portal opened, that I was kept on the edge of my seat. Never in a hundred years could I have come up with a world like Kingfisher describes, and it's so understatedly creepy that I know it'll haunt my brain for years to come. Kara's first-person narration also feels really chatty and intimate, and I was completely drawn in by her voice and her story.
Kingfisher is a prolific author — she writes for kids, teens, and adults and writes horror as well as fantasy, and this is one of her more folksy horror novels. If you enjoyed her book The Twisted Ones, you'd definitely like this one. But really, don't sleep on any of her quirky (and sometimes creepy) books! I listened to the audiobook, narrated by Hillary Huber, and it was excellent.
Join Rebecca & Jeff in the First Edition podcast to consider the 10 finalists for the "It Book" of August and pick a winner.
Happy reading!
Tirzah
---
Find me on Book Riot, Hey YA, All the Books, and Instagram. If someone forwarded this newsletter to you, click here to subscribe.