Welcome to Read this Book, a newsletter where I recommend one book that needs to jump onto your TBR pile! This week, I'm recommending one of my most anticipated novels of 2023.
Delighting velocireaders since 2017, Book Riot's New Release Index will keep you in the know about all the latest books. New books for days. Subscribe today — you won't be able to read them all, but it's fun to try!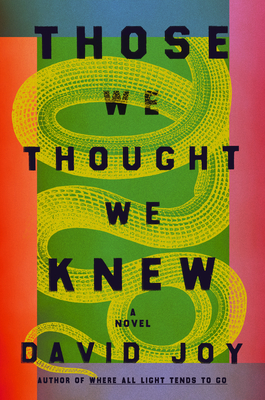 Toya, a young Black artist from Atlanta, returns to her ancestral home in North Carolina to finish her MFA. As she's working on an art installation that honors the generations of Black women in her family, she begins thinking about the Confederate monument in town and starts calling for its removal. At the same time, a young deputy comes across a list of influential men who are all part of the Klan. Unsure of what to do with this information, he takes it to the sheriff.
Those We Thought We Knew looks at a community with far too many unspoken truths. Toya, determined to confront the county's history of racism head-on, joins a local Black church in their plans to hold a protest calling for the statue's removal. As the day of the protest approaches, the town begins to boil over.
David Joy's stories are often described as crime novels, but their strong literary bent makes them somewhere in between. The crime happens almost halfway through the book. And I have to admit, it was completely unexpected. The sheriff and the young deputy travel around the county, interviewing a series of shady characters. I didn't see the end coming and gasped out loud during one of the last scenes. This book is a wild read, but it asks a lot of important questions of its readers.
Joy has a special way of capturing the communities in the mountains of North Carolina. He was recently featured on PBS's Southern Storytellers series. Other authors in the series include Jesmyn Ward and Jericho Brown. The American South is a complex place, full of many different communities and cultures, and Joy has dedicated his career to writing stories about the working-class people he grew up with and the North Carolina community that he's still part of today.
Join Rebecca & Jeff in the First Edition podcast to consider the 10 finalists for the "It Book" of August and pick a winner.
---
That's it for this week! You can find me over on my substack Winchester Ave, over on Instagram @kdwinchester, or on my podcast Read Appalachia. As always, feel free to drop me a line at kendra.d.winchester@gmail.com. For even MORE bookish content, you can find my articles over on Book Riot.
Happy reading, Friends!
~ Kendra