Hi mystery fans! I'm finally watching season two of Only Murders in the Building (Hulu), and I'm watching season 3 of The Righteous Gemstones (HBO Max) — the actors playing the child versions (and whoever cast them) of Judy, Kelvin, and Jesse need all the awards.
Are you a velocireaders? If so Book Riot's New Release Index will keep you in the know about all the latest books. New books for days. Subscribe today — you won't be able to read them all, but it's fun to try! 
Bookish Goods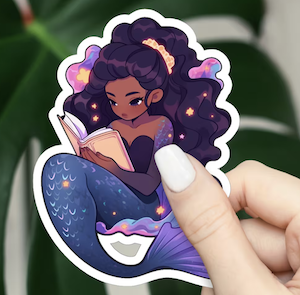 Perfect sticker for bookish fans of mermaids! Why yes, I am still waiting for my tail to come in. ($3)
New Releases
For fans of protagonists returning home, past mystery colliding with current mystery, and island settings!
Twenty years ago Coco Weber survived a home invasion on Catalina Island and she was the only survivor. Now an obituary writer, she's returning home to the island to be with her aunt and leave her partner. But as the obit writer, she realizes something is wrong with the deaths of the elderly island residents. Then she receives her own obituary as a threat. As the past and present collide, will Weber be able to survive this time?…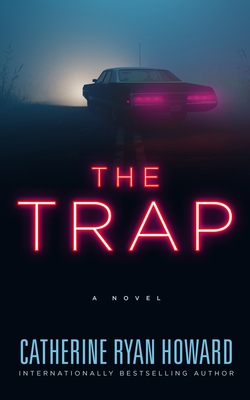 The Trap by Catherine Ryan Howard
For fans of fictional serial killers, books set in Ireland, multiple points of view, and twisty thrillers!
If you don't sleep with the lights on, I recommend not reading the opening of this one right before bed!
Nicki disappeared a year ago while out with friends. Her sister Lucy is still very much struggling and channeling her grief into finding out who is responsible. More women have disappeared — one even appears to have escaped, but while running for help she's hit by a car and is now in a coma.
Angela really wants to be a detective for the Irish police but failed one component of the test so she's currently answering hotline tips and working as a civilian in the Missing Persons Unit. Certain that she's found a clue, she's determined to help the assigned Detective, Denise Pope, or go it alone!
A man is driving his car with a woman captive, telling her his story of how he came to be a serial killer — including his opinions on all the true crime his wife watches beside him while he pretends to read.
Catherine Ryan Howard has become a consistent thriller writer for me who always delivers a hook that grabs me and a book I have to rush to the end of. After scaring me with the opening, I flew through this one, totally invested in the women. If you need a good thriller, grab this one!
The audiobook has great dual narrators: John Keating, Alana Kerr Collins!
(TW mentions past eating disorder, self-harm/ mentions past domestic abuse, not graphic/ suicidal ideation)
For a more comprehensive list of new releases, check out our New Books newsletter.
Riot Recommendations
It's felt like ten billion years have passed since January of this year and the closer we get to the end of the year, I always wonder how many books from the start of the year get forgotten? There's just so much happening all the time, so I wanted to highlight two books from January that you should absolutely read.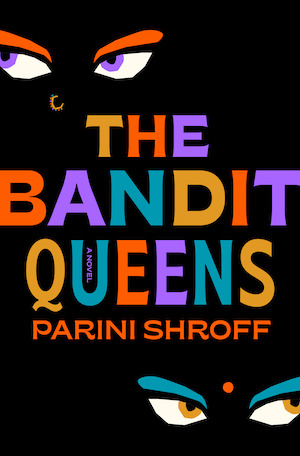 For fans of dark humor, crime novels, revenge tales, and My Sister the Serial Killer!
Geeta has been drowning in debt ever since her husband disappeared years ago. Everyone in her village thinks she murdered him, regardless of how many times she's said she doesn't know what happened to him. This is how she ends up being blackmailed into killing someone else's husband — surely if she already did it once, why not make her do it again? As you can imagine, things don't go well…
For audiobook readers: Soneela Nankani does an excellent narration.
(TW domestic violence/ mentions child abuse, no detail/ rape stories/ animal cruelty/ mentions past suicide, detail/ sexual assault/ infertility/ colorism/ fat shaming/ mentions past cancer death/ femicide/ pedophiles)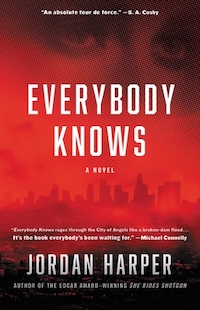 For fans of crime novels, seedy sides of businesses/industries, fixers, and morally gray characters.
Jordan Harper wrote one of my favorite crime novels, She Rides Shotgun, and followed it up with another five-star read!
Mae Pruett works for a firm as a fixer — basically ensuring powerful, terrible people have no consequences. Chris works in private security, is an ex-cop, and is an ex of Mae's. Now they're both in each other's lives after a carjacking leaves a co-worker who was going to reveal something to Mae dead. Teamed up, they'll be dragged into the underbelly of Hollywood, but more importantly, will be forced to question the lives they've been living…
(TW addiction/ mentions attempt to film sex without permission/ mentions partner abuse/ alludes to past suicidal thoughts/ mentions forced, induced miscarriage without knowledge or consent/ anxiety/ pregnant teen via rape/ predators of teens, not graphic/ brief mention eating disorders/ mentions suicide, detail)
News and Roundups
A Mystery Expert's Favorite Fictional Private Investigators
In 1970, a gay detective debuted in Fadeout. His creator's struggle lives on.
It's No Longer a Mystery — Here Are All of Daniel Silva's Books in Order
Only Murders In The Building Season 3 Trailer: More Murder, More Mystery, More Meryl
Mysteries: Three Novels of Domestic Suspense – WSJ
A Barbie House Was Inspired By The Greatest Thriller Movie Ever