Hey‌ ‌there‌ horror fans, ‌I'm‌ ‌Jessica‌ ‌Avery‌ ‌and‌ ‌I'll‌ ‌be‌ ‌delivering‌ ‌your‌ ‌weekly‌ ‌brief‌ ‌of‌ ‌all‌ ‌that's‌ ‌ghastly‌ ‌and‌ ‌grim‌ ‌in‌ ‌the‌ ‌world‌ ‌of‌ ‌Horror.‌ ‌Whether‌ ‌you're‌ ‌looking‌ ‌for‌ ‌a‌ ‌backlist‌ ‌book‌ ‌that‌ ‌will‌ ‌give‌‌ you‌ ‌the‌ ‌willies,‌ ‌a‌ ‌terrifying‌ ‌new‌ ‌release,‌ ‌or‌ ‌the‌ ‌latest‌ ‌in‌ ‌horror‌ ‌community‌ ‌news,‌ ‌you'll‌ ‌find‌ ‌it‌ ‌here‌ in‌ ‌The‌ ‌Fright‌ ‌Stuff.
I couldn't help myself. There are just so many great horror books featuring tentacles/tentacle monsters that I feel duty bound to provide you with a sampling of wiggly, squiggly terror. So welcome to tentacle week!
Nothing says "I love you" like tentacles? Right?
Now I'm not here to judge, so if you prefer your cosmic horror tentacle free, you can go check out this list from Nightfire. They've got your back. With hands! Not suckers. But here on the Fright Stuff we love all our friendly neighborhood tentacle monsters and I can't wait to introduce you to this week's picks!
Speaking of "ifs": If you're looking for a new bookish podcast to add to your life, be sure to check out First Edition where BookRiot.com co-founder Jeff O'Neal explores the wide bookish world. Subscribe to hear what's new and exciting in the world of books and publishing, and stay to hear Book Riot's editors pick the "it" book of the month.
Bookish Goods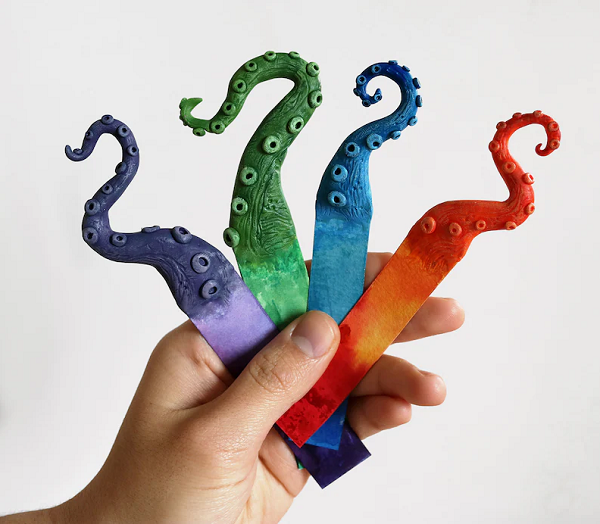 See, the thing I love about Etsy is that the question wasn't "can I find a tentacle bookmark", it was "how do I choose only ONE tentacle bookmark?" I was blessed with a wealth of choices! But when I saw these 3D tentacles crafted out of polymer clay and painted in eye-catching watercolors, I knew it just had to be this one. There are four different styles available, with variable prices, and you have your pick of all four colors for each style. May all your reading adventures be wiggly. $9+
New Releases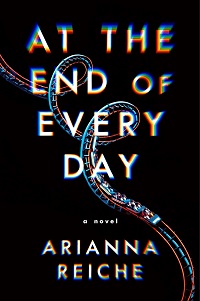 Who had creepy collapsing theme park on their July new release bingo? Anyone? You win! Set in an amusement park referred to only as The Park, At the End of Every Day is an intense psychological roller coaster of evil death cults and questionable realities. Delphi is a longtime employer of The Park, where she ended up after fleeing her traumatic childhood and landing in California. But when an upcoming starlet is found dead in The Park, the decision is made to shut it down, and Delphi ends up with the responsibility of closing up shop. But the starlet isn't the only one to die or disappear in The Park. There are a long string of employers who have vanished, never to be found. As Delphi goes about the process of shutting down The Park, she begins to unravel the dark mysteries at the heart of the once beloved theme park, and the question becomes not how will she leave The Park behind, but whether The Park will let her leave at all.
For a more comprehensive list, check out our New Books newsletter!
As always, you can catch me on twitter at @JtheBookworm, where I try to keep up on all that's new and frightening.