Welcome to Check Your Shelf. Over the weekend, I had the opportunity meet up with a bunch of co-workers from a previous job — many of whom I hadn't seen in over four years. COVID played a big part in that, but we had also gone through some very traumatic shared work experiences prior to 2020, and this get-together ended up being extremely cathartic. That being said, that was a lot of intense socializing over the course of an evening, and I think my introverted self is still recovering!
But before we do, here's your regular reminder about The Deep Dive, a biweekly newsletter to inform and inspire readers, delivered to your inbox! Your first read (The Power Reader's Guide to Reading Logs & Trackers) is on the house. Check out all the details and choose your membership level at bookriot.substack.com.
Collection Development Corner
Publishing News
Black women are being erased in publishing.
AI and media companies negotiate landmark deals over news content.
TikTok partners with Hello Sunshine to bring unique and underrepresented stories to life.
Why did several big New York publishers reject Richard North Patterson's new novel?
New & Upcoming Titles
Here's the cover reveal for BTS's upcoming book.
A previously unpublished Maurice Sendak book is being released in February.
12 new and emerging LGBTQ+ writers to read for Pride Month.
20 best LGBTQ+ books of 2023, so far.
Latinx horror and crime fiction to check out in 2023.
Weekly book picks from Crime Reads, LitHub, New York Times, USA Today.
June picks from Crime Reads (debuts).
July picks from Barnes & Noble (adults, teens, children).
What Your Patrons Are Hearing About
The Quiet Tenant – Clémence Michallon (Crime Reads, New York Times)
Holding Pattern – Jennie Xie (New York Times, NPR)
Built from the Fire: The Epic Story of Tulsa's Greenwood District, America's Black Wall Street – Victor Luckerson (Washington Post)
The Rachel Incident – Caroline O'Donoghue (Washington Post)
The Only One Left – Riley Sager (USA Today)
To Name the Bigger Lie: A Memoir in Two Stories – Sarah Viren (Washington Post)
RA/Genre Resources
Reframing the west: new fiction makes room for voices long denied.
How Cormac McCarthy used crime fiction tropes to write masterpieces.
On millennial aging and nostalgia in thrillers.
Fabio says men in modern romances are too "soft" and "woke," but readers disagree. (Okay, Fabio…)
On the Riot
15 of the best new cozy mysteries coming out in the second half of 2023.
The best new vacation reads to pack for your next trip.
The best new weekly releases to TBR.
9 great shows and films paired with equally great books.
Tok dirty to me: the best of #SmutTok.
What mystery novels get wrong about the courtroom.
All Things Comics
Marvel and Random House Worlds announce a "What If…?" adult novel series.
Here's the trailer for the Netflix adaptation of One Piece.
On the Riot
8 recently published political graphic nonfiction and memoirs.
Subscribe to First Edition for interviews, lists, rankings, recommendations, and much more, featuring people who know and love books.
Audiophilia
Listening to books is more passive than reading them. That might be a good thing.
10 nonfiction audiobooks for young listeners.
Book Lists, Book Lists, Book Lists
Children/Teens
6 LGBTQ+ kids' books we need now more than ever.
10 outstanding STEM picture books for kids.
12 YA retellings of Brothers Grimm stories that are bound to enchant.
Adults
12 books to read for Juneteenth.
All the way down: 5 of the best turtles and tortoises in fantasy.
50 of the greatest summer novels of all time.
20 of the sexiest books ever written.
15 Canadian books to read for World Refugee Day.
23 of the best books like Yellowstone.
9 books that will actually make you laugh.
10 essential short stories by trans authors.
5 thrillers that unravel in wooded isolation.
25 of the most influential works of postwar queer literature.
On the Riot
8 children's books about frogs.
A-Z queer YA recommendations for Pride.
Big d(addy) energy: 10 single dad romances.
10 horror novel series to keep you up at night.
15 fantastic feminist romance novels.
15 BDSM romance novels to keep you tied up.
10 books based on Queen's debut album.
11 queer books under 250 pages.
11 fantastical Beauty and the Beast retellings.
8 beautiful books of queer science and nature writing.
Near-future dystopias that will change your perspective.
Level Up (Library Reads)
Do you take part in Library Reads, the monthly list of best books selected by librarians only? We've made it easy for you to find eligible diverse titles to nominate. Kelly Jensen has a guide to discovering upcoming diverse books, and Nora Rawlins of Early Word has created a database of upcoming diverse titles to nominate as well that includes information about series, vendors, and publisher buzz.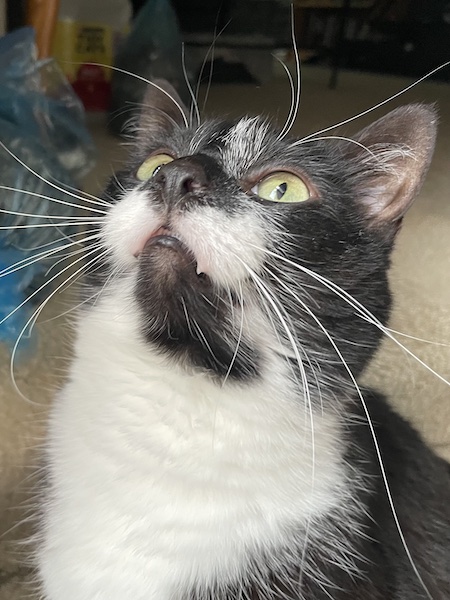 Okay, I know Dini has been in the newsletter for a few issues in a row now, but I just can't handle how adorable his little toofs are! This was taken as I was trying to go somewhere over the weekend, but he kept running downstairs and parking himself in front of the door so I couldn't leave. He's a very persistent little Doodle.
All right, friends. Let's meet back on Friday!
—Katie McLain Horner, @kt_librarylady on Twitter.