Welcome to Check Your Shelf. The weather here over the last few days has been absolutely glorious and if we weren't so perpetually short-staffed, I may have been tempted to pull a Ferris Bueller. I also desperately wish we had a better outdoor space for our apartment so I could sit outside with a glass of wine and enjoy the temperature. But our patio is covered in spiders and our lawn chairs are so weather beaten and grimy that I'm afraid to sit in them…maybe we can get those replaced before the end of summer this year.
Don't forget you can subscribe to The Deep Dive, a biweekly newsletter to inform and inspire readers, delivered to your inbox! Your first read (The Power Reader's Guide to Reading Logs & Trackers) is on the house. Check out all the details and choose your membership level at bookriot.substack.com.
Libraries & Librarians
News Updates
A San Francisco library has started turning off its WiFi after closing to prevent people without housing from using it.
Cool Library Updates
The Westport Public Library (CT) created, recorded, and released the first-ever entirely library-produced vinyl album!
Homebound services expand for growing families.
Book Adaptations in the News
The Her Majesty's Royal Coven series by Juno Dawson is getting a TV adaptation.
Mike Flanagan gives an update on the anticipated Dark Tower TV adaptation.
The upcoming Season 3 adaptation of The Witcher will be a "much more direct adaptation of the book."
First look at the adaptation of Red, White, and Royal Blue.
Everything we know so far about the adaptation of It Ends With Us by Colleen Hoover.
Here's the trailer for Netflix's adaptation of Nimona.
Censorship News
Librarians strike back against comic bans, and ALA has developed new initiatives to help with the fight.
As more schools target Maus, Art Spiegelman's fears are deepening.
How much have book bans impacted author visits?
The American Booksellers for Free Expression and the Texas Freedom Network have issued a statements against Greg Abbott signing HB900 into law.
The Llano County lawsuit has some lawyers and publishers concerned about existing legal precedents, and whether or not a federal appeals court could chip away at long-standing protections.
The authors of And Tango Makes Three, along with a group of students, have sued the Lake County School District (FL) for restricting access to the book, along with 40 other titles, in an attempt to comply with the "Don't Say Gay" law.
The Hernando County School Board (FL) heard comments from a resident complaining about Rupi Kaur's poetry collections, saying "We are not going to stop until all these books are removed, and our schools are safe for our children to go to the library again." But they're not banning books, right?
Paywalled: Sebastian River High School (FL) is imagining what the library will look like when the challenges filed by Moms for Liberty empty the shelves.
When do we start talking about the fact that banning the Bible is not an effective strategy for fighting book bans?
Maine will not be implementing book ratings on school library titles.
The parent who filed an official challenge and subsequent appeal against three LGBTQ+ titles in the Staples High School (MA) library has officially withdrawn the appeal. The books will remain on the shelves.
Ludlow Schools (MA) continue to debate a new book-banning policy that the board has justified because similar versions of the policy are already in place in certain Pennsylvania school districts. Yeah, keep reading below for reasons WHY we shouldn't be taking a leaf out of some of these Pennsylvania schools' playbooks.
A pro-book banning resident spoke at a recent Central York (PA) school board meeting, saying "It's un-American. These library resources promote diversity, equity, and inclusion for social and emotional indoctrination."
The Hempfield School Board (PA) has started laying the groundwork to review and potentially remove books deemed "sexually explicit or inappropriate," without any concrete definitions for these terms, of course.
Why this resident in the Pennridge School District (PA) is suing the schools: they have been quietly checking out all copies of contentious or challenged books for the ENTIRE year so that no students could access them.
The people who are complaining about Let's Talk About It being available at the Parkersburg-Wood County Public Library (WV) are also upset that it's available at the public library as well. But I thought it wasn't book banning because the books were still available at the public library??
This letter in response to a proposed book review policy for the Calvert County Board of Education (MD), saying that the policy is "a 'solution in search of a problem'."
Hanover County (VA) approves a new library policy giving the school board the sole discretion and authority to remove any books from a school library with a majority vote. They then unanimously voted to remove 19 books.
The Spotsylvania (VA) Smith Station Elementary School board is apparently in charge of determining whether or not to allow specific book donations. Also worth reminding folks that the board president advocated for burning books he doesn't agree with.
75% of the funding is being withheld from the Samuels Public Library (VA) because a book banning group has claimed that the library is distributing pornography.
A school board candidate for United 4 SCASD (PA) was caught on security camera entering the high school without permission to take photos of books in the school library.
A middle school teacher in Charlotte, North Carolina was fired for teaching Dear Martin in his honors 7th grade classroom.
Moms for Liberty filed 189 challenges in Wake County (NC) in a week. All of them were rejected.
Fontana Regional Library (NC) voted to move Let's Talk About It from the teen section to the adult section, essentially hiding the book from its intended audience.
PEN America issued a statement about the "outrageous government censorship" behind the removal of Between the World and Me from the AP Language test in South Carolina.
The Greenville County (SC) library committee has advanced a proposal to restrict access to transgender-themed materials. They also decided to make a series of proposed changes to the larger collection policy, which one of the trustees described as "seeking to solve a problem that doesn't really exist."
York County Public Library (SC) will not be relocating any of the books that residents were up in arms about.
Daviess County (KY) saw a small handful of protestors outside the building recently in opposition to the library's Pride-themed programming, but they were quickly met by a much larger group of library supporters.
"Ohio's proposed 'Parents' Bill of Rights' would require public schools to let parents know about sexuality content materials, give parents a chance to review them, and give parents the option to request alternative instruction." May we remind everyone that parents have always had the ability to request alternate assignments for their children, and these complaints are designed so that parents don't have to actually do the work to make that happen.
The Dayton Metro Library (OH) recently passed a resolution designating the library as a book sanctuary.
Ferndale Public Library in Michigan was hit by a "Hide the Pride" campaign.
Complaints continue at the Caro Public Library (MI) over age-appropriate sex-ed books. However, I appreciate this comment from the library director, "It's really not an issue of content. It's topics. And the topic is written for those age ranges."
School library workers in Indiana are struggling to do their jobs with the new "obscene" book banning law.
Trempealeau Middle School (WI) is debating whether or not to remove the nonfiction book Queer Ducks (And Other Animals).
(Paywalled) The Oak Creek (WI) schools are considering a ban on safe space signs. I give up.
Elmhurst Public Schools (IL) is being bombarded with angry comments from residents, including a failed school board candidate, which is a recurring theme in a lot of these stories.
After receiving threats over their drag queen programming last year, the Downers Grove Public Library (IL) is now hosting the traveling LGBTQ+ Legacy Wall exhibit.
Rochester Public Library (MN) adopted a resolution that condemns censorship and book banning in all forms, and specifically focuses on LGBTQ+ materials.
The Austin Public Library (MN) is hosting a repeat of a 2019 drag queen story time program, but only now is it getting community complaints.
Iowa school librarians await guidance from the Iowa Library Association over the new law that bans certain materials from schools.
PEN America is urging Missouri schools to keep Maus on the shelves.
Omaha Public Library (NE) removed several book lists geared towards the children's and teen's Summer Reading Challenge, after parents believed that the books were considered required reading for all summer reading participants. The book lists have since been restored, but it seems like this could have been solved by telling the confused patrons, "No, these are not required titles" without removing the lists at all…
I'm paywalled from this article, but apparently Gardner Edgerton schools (KS) removed a number of books, but when a student filed a challenge against the Bible, the Board denied the challenge without going through the review process.
A library trustee with the ImagineIF Library (MT) has been appointed to the Montana State Library Commission, which is noteworthy because prior to her appointment as a trustee, she filed an official challenge against Gender Queer.
The Campbell County Public Library Board (WY) just passed a new collection policy which puts the ultimate responsibility for selecting appropriate materials with the library director. The director said it best: "I do feel caught between the policy and the reality of the First Amendment." One of the trustees said, "today's culture is rewiring children's 'moral and spiritual character,' and that the new policy is designed to combat that." BUT THAT'S NOT THE POINT OF A PUBLIC LIBRARY.
Laramie County School District (WY) continues to hear complaints from parents, who are arguing that the district has not done enough "to prevent the 'sexualization' of children." Look, it's you all that are making this weird. I'M JUST SAYING.
The Greeley-Evans Schools (CO) will retain Extremely Loud and Incredibly Close and The Kite Runner.
Utah lawmakers are pushing back against the Davis School District's decision to retain The Freedom Writer's Diary — they say it violates "bright line" provisions of state law, which could make district officials "accessory to distribution of pornography to minors."
Related: "Utah Republicans defend book removal law while protesting the district that banned the Bible."
This article out of Rio Rancho (NM) casually tosses out that "others" have classified the conservative group MassResistance as a hate group, without mentioning that it was the highly-credible SPLC who issued that designation.
Sacramento Public Library (CA) has created a sanctuary library called the Lavender Library.
Superintendent Jodi McClay has been fired from the Temecula Valley Unified School District (CA) after people raised a stink over Harvey Milk being mentioned in a history lesson for elementary students.
In this week's issue of "Fake Outrage Over Fake Problems," a parent complained that the Monterey County Public Library's (CA) summer reading club logo has a rainbow-colored background. "The rainbow colors have predominantly been used recently as representing the LGBTQ community and their Pride flag…WHAT does that even have to do with summer reading, especially for the children?" I've got news for this parent…rainbow colors are everywhere, independent of the Pride flag, and it's going to get REAL tiring, REAL fast to be this upset over nothing. (Like, when they see an actual rainbow outside, do they write a strongly worded letter to the sky? I have questions.)
The Orem Public Library (UT) may be facing a lawsuit over their banning of Pride and heritage month book displays.
The parents' rights movement has taken over at the Greater Essex County District schools (ON).
Books & Authors in the News
Best-selling mystery author Carol Higgins Clark has died at 66.
Numbers & Trends
The best-selling books of the week.
Subscribe to First Edition for interviews, lists, rankings, recommendations, and much more, featuring people who know and love books.
Award News
Barbara Kingsolver wins the Women's Prize for Fiction for the second time with Demon Copperhead.
The Bram Stoker Awards have been announced!
On the Riot
Ways high school librarians can foster critical thinking.
The most-requested LGBTQ+ books in classroom libraries, and how to help on DonorsChoose.
How to focus on reading with ADHD.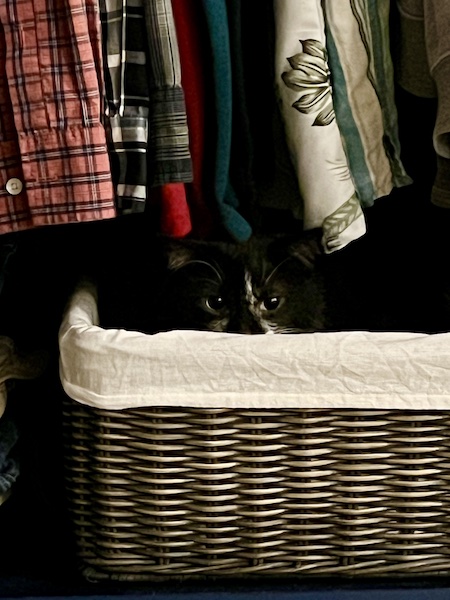 Here we have the elusive Houdini in one of his favorite hiding spots — my husband's T-shirt basket — where he can watch the world go by and remain unnoticed.
All right friends, I'm keeping my fingers crossed for continued nice weather this weekend. Maybe I'll even get to go outside and enjoy it! Catch you all on Tuesday!
—Katie McLain Horner, @kt_librarylady on Twitter.