Hi Book Friends!
Looking for fascinating stories, informed takes, useful advice, and more drawn from our collective experience as power readers, teachers, librarians, booksellers, and bookish professionals? Subscribe to The Deep Dive, a biweekly newsletter to inform and inspire readers, delivered to your inbox! Your first read (The Power Reader's Guide to Reading Logs & Trackers) is on the house. Check out all the details and choose your membership level at bookriot.substack.com.
How's it going? I guess I partied too hard in Portland because I lost my voice and have just been talking in ASMR voice for most of the week. It's very relaxing, probably, but not great for teaching fitness classes, which is what I do when I'm not reading or writing about reading. Anyway, since talking is out of the question at the moment, let's focus on books.
Book Deals and Reveals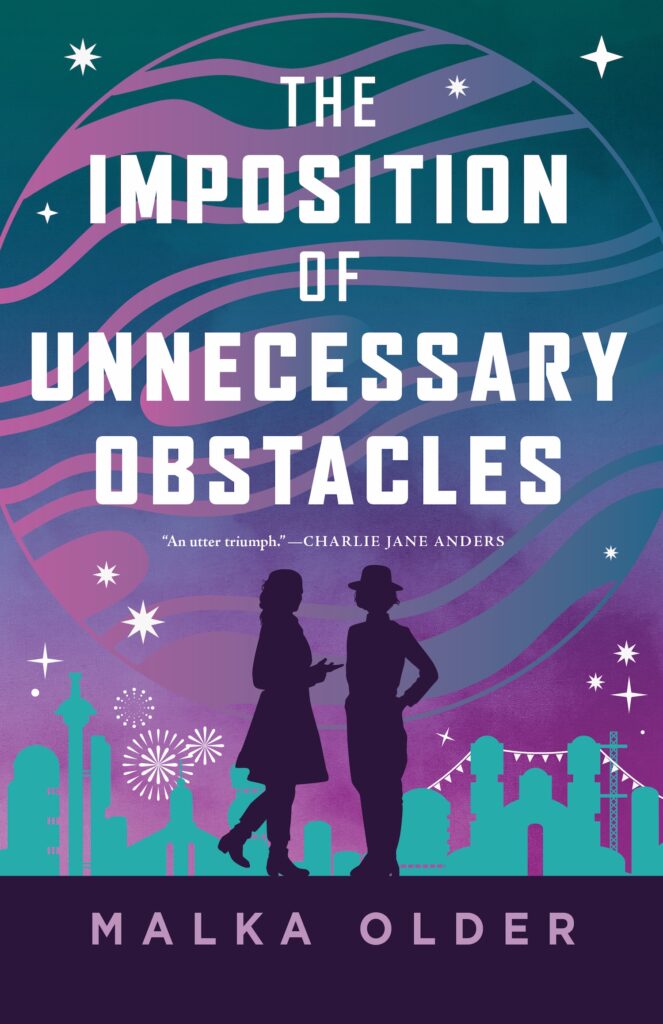 Tordotcom has shared the cover of Malka Older's The Imposition of Unnecessary Obstacles, the follow-up to the cozy space opera detective mystery The Mimicking of Known Successes. The cover art and design is by Christine Foltzer. The Imposition of Unnecessary Obstacles will be available February 13, 2024.
Author Shane Hawk has shared the cover of the upcoming Indigenous dark fiction anthology Never Whistle at Night.This collection of "wholly original and shiver-inducing tales" is out from Vintage on September 19.
Netflix has released the first official photos from Bridgerton Season 3, which follows the love story of Penelope Featherington and Colin Bridgerton. Season 3 is loosely based on Bridgerton author Julia Quinn's fourth book, Romancing Mister Bridgerton.
Netflix has also released a trailer for its live-action adaptation of One Piece, based on the best-selling manga series of the same name written by Eiichiro Oda. One Piece premieres on Netflix on August 31.
Cosmopolitan has shared an exclusive cover reveal of Holly Back's The Prisoner's Throne and an interview with the author. The book, which is the second part of Black's new Elfhame duology, is set to publish on March 5, 2024.
During a Q&A at the Tribeca Film Festival on Thursday, The Haunting of Hill House director Mike Flanagan gave an update on his proposed version of Stephen King's The Dark Tower series.
Bestselling author Leah Johnson has announced that she's opening a bookstore! The author of You Should See Me in a Crown set up a GoFundMe to support the project, and she has already reached her goal! Loudmouth Books will be opening soon in Indianapolis. In the meantime, you can buy books from their Bookshop page.
Lashana Lynch will be starring opposite Eddie Redmayne in the Peacock and Sky series adaptation of Frederick Forsyth's The Day of the Jackal.
Six authors have been shortlisted for the 2023 Miles Franklin award, Australia's highest literary honor.
A new queer indie bookstore is splitting profits with LGBTQ authors and spreading queer joy and literacy with a rainbow book bus.
Here are the books 11 of the biggest and most interesting book clubs have chosen as their picks for June 2023, including Yellowface by R.F. Kuang.
Esquire has released a list of 20 of the best queer books out this year so far, and it's a diverse mix of genres and styles.
Book Riot Recommends
Hi, welcome to everyone's favorite segment of Book Radar called Book Riot Recommends. This is where I'll talk to you about all the books I'm reading, the books I'm loving, and the books I can't wait to read and love in the near future. I think you're going to love them too!
Subscribe to First Edition for interviews, lists, rankings, recommendations, and much more, featuring people who know and love books.
Can't Wait for This One!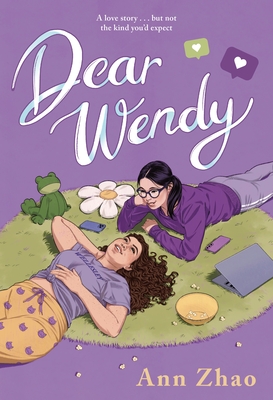 Dear Wendy by Ann Zhao (Feiwel and Friends, April 16, 2024)
We're keeping with the green and purple book covers for this round of Book Radar. Are you feeling it? Okay, but no, seriously, I didn't just pick this book because it's purple, even though that is my favorite color. I chose it because it's a new YA contemporary novel about two asexual, aromantic characters. And, yeah, it's exciting seeing more books with that kind of rep in them. Which is why I can't wait for this one (and its purple cover)!
Sophie and Jo are both asexual, aromantic students at Wellesley College. Despite knowing that she'll never fall in love, Sophie Chi runs an Instagram account, doling out relationship advice to all of her classmates. But nobody but her roommate knows that she's the true face behind the "Dear Wendy" account. Meanwhile, when Joanna "Jo" Ephron created "Sincerely Wanda," she didn't think it would take off and become as popular as "Dear Wendy." And yet here she is, a rival to the oh-so-popular Instagram account.
Tensions between the two accounts grow online, but in real life, Jo and Sophie find themselves bonding over their shared aroace identities. The two even join forces to set up a campus organization for other a-spec students. But will the two remain friends when they discover their true identities?
Words of Literary Wisdom
"It came down to that flexibility of a person's mind. An ability to withstand horrors and snap back, like a fresh elastic band. A flinty mind shattered. In this way, he was glad not to be an adult. A grown-up's mind…lacked that elasticity. The world had been robbed of all its mysteries, and with those mysteries went the horror.
Adults didn't believe in old wives' tales. You didn't see adults stepping over sidewalk cracks out of the fear that they might somehow, some way, break their mothers' backs. They didn't wish on stars; not with the squinty-eyed fierceness of kids, anyway. You'll never find an adult who believes that saying "Bloody Mary" three times in front of a mirror in a dark room will summon a dark, blood-hungry entity.
Adults were scared of different things: their jobs, their mortgages, whether they hung out with the "right people," whether they would die unloved. These were pallid compared to the fears of a child—leering clowns under the bed and slimy monsters capering beyond the basement's light and faceless sucking horrors from beyond the stars. There's no 12-step or self-help group for dealing with those fears.
Or maybe there is: you just grow up. And when you do, you surrender the nimbleness of mind required to believe in such things—but also to cope with them. And so when adults find themselves in a situation where that nimbleness is needed…they can't summon it. So they fall to pieces: go insane, panic, suffer heart attacks and aneurysms brought on by fright. Why? They simply don't believe it could be happening. That's what's different about kids: they believe everything can happen, and fully expect it to."
— The Troop by Nick Cutter
What I'm Watching This Weekend
I started watching the new season of Black Mirror a few days ago and it is so good! Excited to have the show back after what seems like 1,000 years!
And Here's A Cat Picture!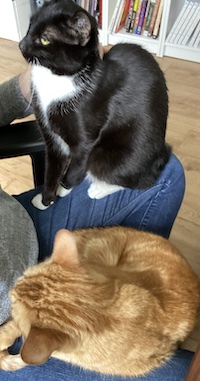 The cats are trying to help me heal by sitting in my lap, staring at me, and just being like, "Hey Mom, talk! You can do it!" Cats truly are the best nurses.
And that's a wrap on Thursday's Book Radar, friends! I hope you have a wonderful weekend, and I'm excited to see you next week. Take care!