Happy Thursday, Book Friends, and greetings from Portland!
Looking for fascinating stories, informed takes, useful advice, and more drawn from our collective experience as power readers, teachers, librarians, booksellers, and bookish professionals? Subscribe to The Deep Dive, a biweekly newsletter to inform and inspire readers, delivered to your inbox! Your first read (The Power Reader's Guide to Reading Logs & Trackers) is on the house. Check out all the details and choose your membership level at bookriot.substack.com.
Have you ever taken three books with you for a two-day trip? Well…I do often. Because you just never know when you might finish all the books and need a back up (or two). Especially when you're taking the train. Anyway, I know you're book people, so you probably understand this. Why bring one book when you can bring three, am I right? Okay, let's chat books.
Book Deals and Reveals
David Sedaris is publishing his first children's book, Pretty Ugly, a collaboration with Olivia creator Ian Falconer. It will be published on February 27, 2024, from Toon Books, an imprint of Astra Publishing House. You can preorder here.
Amazon's Prime Video has released the first images from its adaptation of Casey McQuiston's novel Red, White & Royal Blue.
Following backlash after her announcement of her novel The Snow Forest, author Elizabeth Gilbert announced she was pausing the project. Response to this announcement has been…mixed.
Juno Dawson's fantasy trilogy Her Majesty's Royal Coven has been optioned for TV by Left Blank Pictures, the producers of The Crown.
The first Sailor Moon Cosmos released in theaters earlier this month, and now the trailer has dropped for part 2 of two-part feature film series. Sailor Moon Cosmos: Part 2 is scheduled to hit theaters in Japan on June 30.
TikTok star Eli Rallo is releasing a new book, and Cosmopolitan has revealed the cover. I Didn't Know I Needed This will be out on December 12 from Harvest (an imprint of HarperCollins).
Book bans in the United States are at an all-time high, but so are LGBTQ+ book sales, according to a new study.
These are Libro.fm's most pre-ordered books of summer 2023. What are you eager to listen to?
Book Riot Recommends
Hi, welcome to everyone's favorite segment of Book Radar called Book Riot Recommends. This is where I'll talk to you about all the books I'm reading, the books I'm loving, and the books I can't wait to read and love in the near future. I think you're going to love them too!
Subscribe to First Edition for interviews, lists, rankings, recommendations, and much more, featuring people who know and love books.
Can't Wait for This One!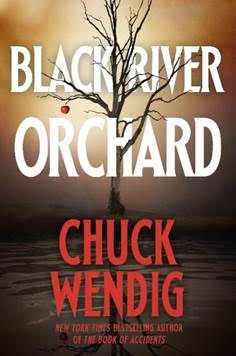 Black River Orchard by Chuck Wendig (Del Ray, September 26)
If you feel like you're in a rut with horror fiction and have read every kind of story there is to read, then clearly you haven't read Chuck Wendig yet. His horror novels are super weird in the best possible way. And I promise you that you've never read a story like Black River Orchard.
Something strange is happening in the town of Harrow. As the season changes to fall, trees in the town's orchard start to sprout strange new fruit: apples with deep red skin so dark they almost look black. The people of Harrow soon learn that taking a bite from these apples makes everything better. They make you stronger, happier, more confident, more powerful…and with every bite you only want to eat more. Soon, everyone in the town becomes obsessed with the new apples. But what they don't know is that the apples have a dark history. And then the leaves begin to fall…
If you want to find out all of the secrets of the orchard in Harrow, then you'll have to wait until this fall. But clearly, this is going to be the quintessential fall read. I mean, apples! Dark magic! Scary stuff! I can't wait. This one's out on September 26.
Words of Literary Wisdom
"Maybe it's impossible to live life without any regrets. Even when you know the future…you'll still mess up."
— Orange by Ichigo Takano
A Moment to Honor Cormac McCarthy
I wasn't quite sure how to work this into the newsletter, but I also felt like it needed to be acknowledged. We lots a literary legend earlier this week. Cormac McCarthy lived a long life and published some of the best books of American literature, books that will remain part of the literary canon long after we're all gone. Read more here about the Pulitzer Prize-winning author of The Road, No Country for Old Men, and Blood Meridian.
And Here's A Cat Picture!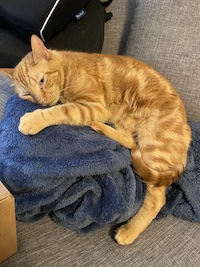 I don't have anything clever to say about this picture. I just saw Murray doing this and basically died because it's the cutest thing I've ever seen. I hope you enjoy the cute.
Alright! Time for me to finish all of these books so I can justify bringing them with me. I hope you're doing great. I hope you keep doing great over the weekend. See you next time!