Welcome to Read this Book, a newsletter where I recommend one book that needs to jump onto your TBR pile! This week, I'm recommending one of my favorite Appalachian novels.
Looking for fascinating stories, informed takes, useful advice, and more drawn from our collective experience as power readers, teachers, librarians, booksellers, and bookish professionals? Subscribe to The Deep Dive, a biweekly newsletter to inform and inspire readers, delivered to your inbox! Your first read (The Power Reader's Guide to Reading Logs & Trackers) is on the house. Check out all the details and choose your membership level at bookriot.substack.com.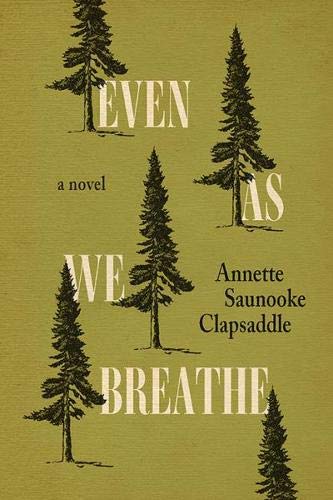 The author, Annette Saunooke Clapsaddle, is a member of the Eastern Band of Cherokee Indians, and Even As We Breathe is the first published novel by a member of the Eastern Band. Set during WWII, Even As We Breathe follows Cowney, a young Cherokee man who gets a summer job at the historic Grove Park Inn located in Asheville, North Carolina. Cowney was born with a twisted foot, which means that he is one of the only young men in the area that wasn't drafted during WWII. So in early summer, Cowney and Essie, a young woman from his reservation, make the journey to Asheville from their home in Cherokee, North Carolina.
Cowney arrives at the Grove Park Inn excited and nervous to start his new job. He can't help but be curious about the Axis diplomats and their families who are being held at the inn by the U.S. government. As he works around the grounds, he keeps looking for glimpses of the diplomats and their families. But the excitement soon dissipates as the white workers and military men begin making racist comments that echo in his mind throughout the day.
As he and Essie become better friends, he begins to wish she would see him as more than a friend. He catches himself thinking about their conversations as he works. But one day, a the daughter of a Japanese diplomat goes missing. Cowney is brought in for questioning, the military personnel racial profiling the only Native man employed at the inn.
Cowney is such a fascinating character. We learn about his dad, who died fighting in WWI, even before Indigenous people were recognized as citizens of the United States. Cowney is raised by his grandmother, and his dad's brother is a figure always around but never really there for Cowney. As Cowney's grandmother's health begins to decline, Cowney is forced to confront some of his family's messy history, and address relationships from the past that still impact his present.
Subscribe to First Edition for interviews, lists, rankings, recommendations, and much more, featuring people who know and love books.
---
That's it for this week! You can find me over on my substack Winchester Ave, over on Instagram @kdwinchester, or on my podcast Read Appalachia. As always, feel free to drop me a line at kendra.d.winchester@gmail.com. For even MORE bookish content, you can find my articles over on Book Riot.
Happy reading, Friends!
~ Kendra