Welcome to In Reading Color, a space where we focus on literature by and about people of color.
So, Lee Fang let us know on Twitter how Buzzfeed plans to have AI come up with quizzes and different things that will be marketed under their Black, Asian, and Latine identity labels. They say this will help brands sell with "authentic voice." I'm seeing more and more big companies using AI to save money despite just about no consumers being for it, and Buzzfeed seems to be the latest, if not the worst ("authentic voices?"). Them trying to replace BIPOC creators with AI is just woefully misguided (and morally wrong, because it's most likely these same creators who AI will take from to create content), which I hope they eventually realize.
It's obvious, though, that companies are set to use AI, but I wonder how long till there is enough backlash to deter them from doing so. If there will be enough.
Book Riot has a new podcast for you to check out if you're looking for more bookish content in your life. First Edition will include interviews, lists, rankings, retrospectives, recommendations, and much more, featuring people who know and love books. You can subscribe to First Edition on Spotify, Apple Podcasts, or your podcatcher of choice.
Bookish Goods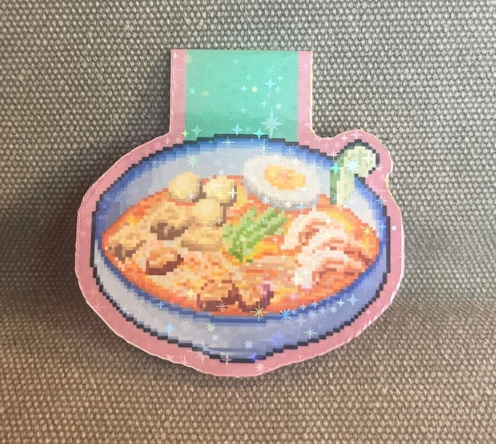 I've been loving the different retro nods to '80s and '90s video games I've been seeing recently, and this one of Singaporean laksa is super cute. $5.50
New Releases
This latest release from Taylor is a character study that gets into the nitty gritty of the lives of a few graduate students in Iowa. Their work and academic lives are juxtaposed with their messy personal lives as they hurtle towards (hopeful) self discovery. Poet Seamus hooks up with the son of a patient at the hospital he works at; couple Goran and Ivan argue about a lack of intimacy in their relationship (while Ivan dabbles in amateur pornography), and more. Common themes of discontent caused by class differences and sex are shared by these and the other characters throughout the novel.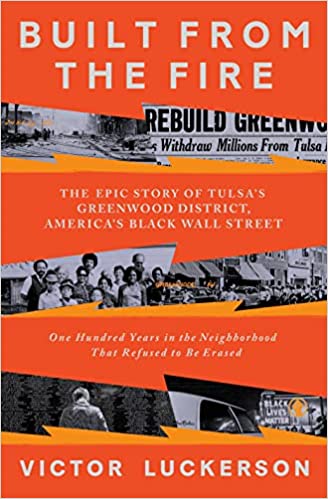 Built From the Fire expands on the history of the Tulsa Race Massacre, which is still not as widely taught as it should be, through the story of the Goodwin family and other community members. After the massacre killed an estimated 300 people, locals rebuilt the city into a Mecca. It housed a mix of Black people of differing socio-economic classes and occupations, and even attracted icons like W.E.B. Du Bois and Muhammad Ali. Ed, a son from the Goodwin family, ends up buying the newspaper The Oklahoma Eagle, where he tries to document the Greenwood neighborhood's progress despite white racism. This is a personalized account of Goodwin's family and a persevering community.
More New Releases
Rogue Justice by Stacey Abrams (Legal Thriller, Second in Series)
The Art of Ruth E. Carter: Costuming Black History and the Afrofuture, from Do the Right Thing to Black Panther by Ruth E. Carter (Nonfiction, Fashion History)
The Battle Drum by Saara El-Arifi (Fantasy, African and Arabic Lore, Second in Trilogy)
The Migrant Chef: The Life and Times of Lalo García by Laura Tillman (Culinary Biography)
Magic Has No Borders, edited by Samira Ahmed and Sona Charaipotra (Short Stories, South Asian Lore, Fantasy)
Hard Dough Homicide: A Spice Isle Bakery Mystery by Olivia Matthews (Cozy Mystery)
Forever Is Now by Mariama J. Lockington (YA, Queer, Novel-In-Verse)
How to Be a Rule-Breaking Letterer: A Guide to Making Perfectly Imperfect Art by Huyen Dinh (Nonfiction, Calligraphy)
Heroes of the Water Monster by Brian Young (Middle Grade, Indigenous Lore)
Shakti by SJ Sindu, illustrated by Nabi H. Ali (Middle Grade, Graphic Novel, Indian Lore/Fantasy)
For a more comprehensive list, check out our New Books newsletter.
Riot Recommendations
I love a good, spicy revenge story, so I'll be discussing a couple below.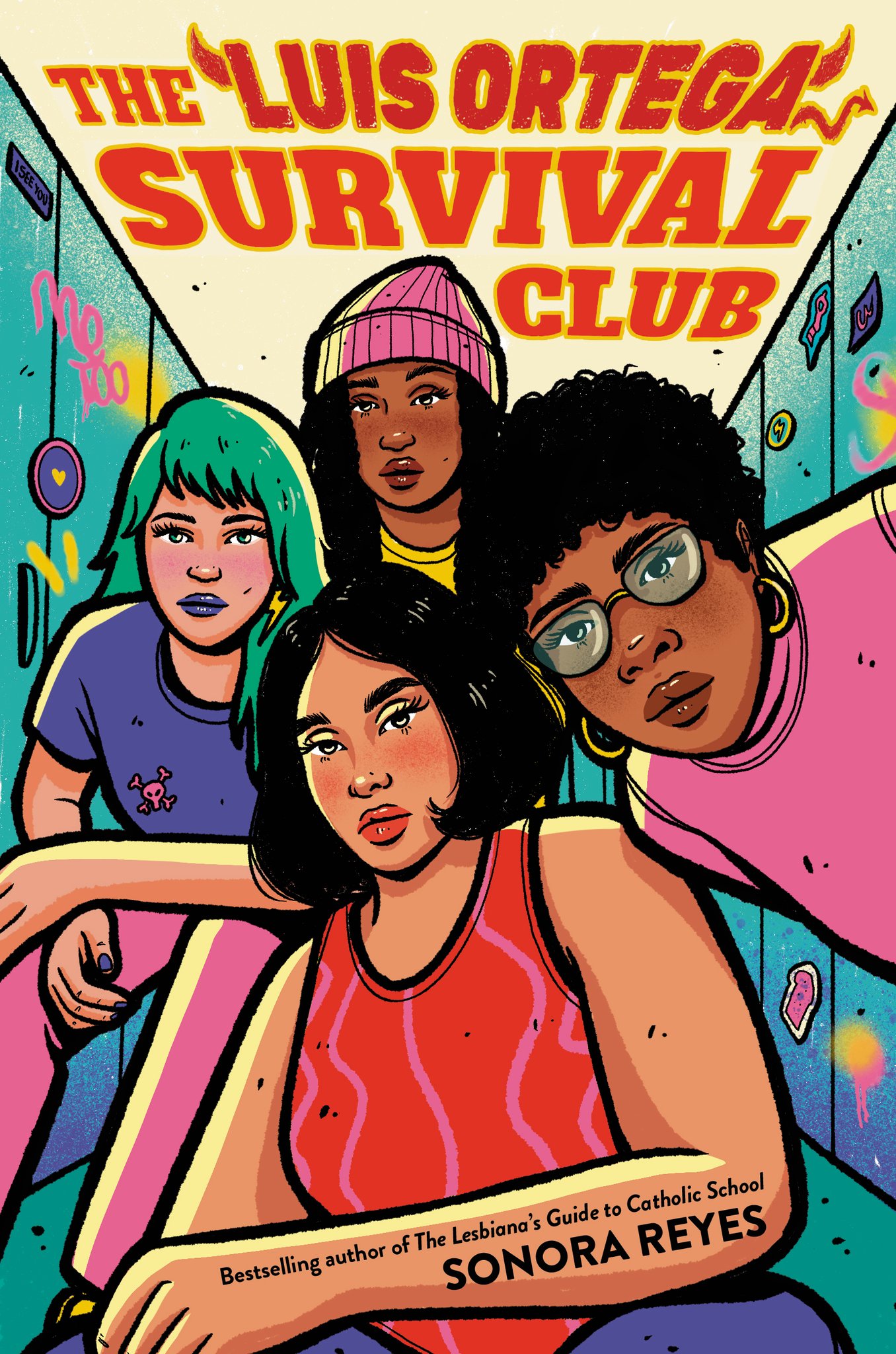 It was this book, out today, by award-winning Sonora Reyes, that made me think to speak a little on revenge-centered books. In this YA novel, an autistic teen with selective mutism, Ariana Ruiz, hopes to be noticed by her classmates in a positive way for her fire fashion choices. Instead, she gets noticed by the popular Luis Ortega, who takes advantage of her at a party. As she's still reeling from what happened, the gossipmongers among her classmates get hold of the "hookup" and the story spreads. Then a mysterious little note turns up in her locker that leads her to meeting other students who've had similar experiences with Luis. It's through this group that Ari finds friendship, romance, and a chance for the takedown of raggedy ass Luis.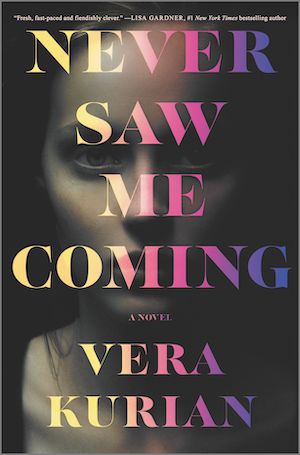 This revenge tale is more thriller and follows freshman Chloe, whose pastimes are yogalates and plotting out the murder of Will Bachman. You see, Chloe is a psychopath and Will wronged her back in the day. She's also part of a group of students — other psychopaths — who are in an experimental psychological study at a school in D.C. As part of the study, led by a well-known psychologist, she and the other students must wear watches that keep track of their moods. But then one of her fellow test subjects turns up dead, and Chloe has to sideline her murderous scheming to avoid being next.
A Little Sumn Extra:
The Diary of a Rikers Island Library Worker
New Jersey Proposes Anti-Book Ban Legislation
Thanks for reading; it's been cute! If you want to reach out and connect, email me at erica@riotnewmedia.com or tweet at me @erica_eze_. You can find me on the Hey YA podcast with the fab Tirzah Price, as well as in the In The Club newsletter.
Until next time,
Erica