Welcome to Check Your Shelf. I am thankful that the rain has mostly held off in Colorado Springs, although it's been really cloudy and Pikes Peak has been hidden from view more often than it's been visible. But we've made the best of it, and it's been a great trip. Still haven't seen a bear, but we've seen a TON of deer, and my husband is so bemused at how my mom and my sister and I all shout "OH HELLO FRIENDS!!" every time we drive past another group of deer.
Collection Development Corner
New & Upcoming Titles
The mystery book that a ton of Taylor Swift fans thought was a TS memoir is actually a memoir by BTS.
Former Washington Post editor Martin Baron has a book coming out called Collision of Power: Trump, Bezos, and the Washington Post.
A posthumous Loretta Lynn book has been announced.
Here's the cover reveal for Rachel Hawkins' next book.
10 of the most addictive books of 2023 so far.
Spring picks from Esquire.
Summer picks from Entertainment Weekly, LA Times.
Weekly book picks from Crime Reads, LitHub, USA Today.
May picks from Crime Reads (psychological thrillers), Town & Country.
RA/Genre Resources
10 books for first-time literary fiction readers.
On the Riot
10 of the best fantasy books for Summer 2023.
The best new weekly releases to TBR.
Why are algorithms still so bad at recommending books?
Reading pathway for Gigi Pandian.
A guide to Kazuo Ishiguro's books.
The benefits of romance book clubs.
Dark academia authors to lure you into the shadows.
All Things Comics
Marvel halts production on Blade due to the writer's strike.
New YA graphic novels coming in 2023.
On the Riot
10 new manga releases for May 2023.
8 comics and graphic novels to read if you need a lighthearted pick-me-up.
Cuddle up with these cozy fantasy graphic novels and comics.
Book Lists, Book Lists, Book Lists
Children/Teens
12 YA mysteries and thrillers to read this summer.
Adults
A reading list of terrible mothers in horror.
8 thrillers set over the course of three days or less.
Whodunnits with a killer twist.
Top 10 novels about motherhood.
7 books that will make you want to dust off your bike.
9 books illustrating Agatha Christie's enduring legacy.
Looking for fascinating stories, informed takes, useful advice, and more from experts in the world of books and reading? Subscribe to Book Riot's The Deep Dive to get exclusive content delivered to your inbox.
On the Riot
10 books about disability for kids and teens.
12 stellar YA novels about found families set in space.
YA books about Japanese American imprisonment.
35 must-read nonfiction books by AAPI authors.
11 terrifying works of horror by AAPI authors.
10 fantasy books where math is magic.
20 must-read dragon books.
The best F/F historical romance novels and novellas.
8 award-winning fantasy books you've probably never heard of.
8 books about characters with chronic pain.
25 must-read morbid nonfiction books.
8 summer mystery books to heat up your TBR.
Level Up (Library Reads)
Do you take part in Library Reads, the monthly list of best books selected by librarians only? We've made it easy for you to find eligible diverse titles to nominate. Kelly Jensen has a guide to discovering upcoming diverse books, and Nora Rawlins of Early Word has created a database of upcoming diverse titles to nominate as well that includes information about series, vendors, and publisher buzz.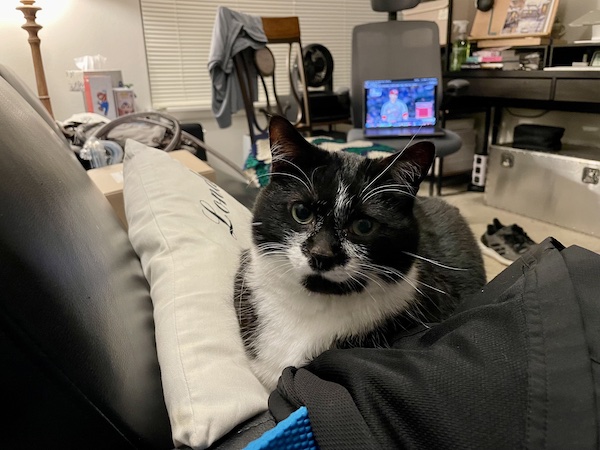 Here's a photo of Dini the day before we left for Colorado. He's sitting on some of Blaine's clothes, presumably in an attempt to keep us from leaving. I mean, how do you leave that adorable face?
Well, that's all I've got. I'll be back on Friday, at which point I will be back in boring Illinois again. (Ugh. I miss Colorado already.) Don't forget, Book Riot has a new podcast called First Edition, with bookish interviews, lists, rankings, retrospectives, recommendations, and much more! Subscribe to First Edition on Spotify, Apple Podcasts, or your podcatcher of choice.
—Katie McLain Horner, @kt_librarylady on Twitter.