Welcome to Check Your Shelf. I am very excited because next Friday, I get to go to my first library conference since 2020! This is also noteworthy because our previous professional development budget was so tiny that it hadn't been feasible for staff to attend any conferences without an outside grant, but our new director increased our budget line for the new fiscal year, and she plans to continue increasing it to give staff more opportunities. A reminder that budgets are a direct reflection of an organization's priorities.
Libraries & Librarians
News Updates
ALA has issued their 2023 State of America's Libraries Report.
NYC libraries stave off the most recent proposed budget cuts, but there are still $36 million in previously proposed cuts on the table.
The Indianapolis Library board has appointed Gregory Hill as the permanent CEO, even though he never applied to, or formally interviewed for, the position.
Rep. Pramila Jayapal (Washington) introduced a resolution expressing support for all library staff, "recognizing the need for funding commensurate with the broad scope of social services and community supports provided by libraries, preserving the right of all citizens to freely access information and resources in their communities, supporting a strong union voice for library workers, and defending the civil rights of library staff."
The House introduced new legislation under the Prison Libraries Act, which would "authorize $60,000,000 over six years for state prisons to build capacity amongst their populations by providing library services and resources."
Cool Library Updates
Dolly Parton has been awarded a lifetime honorary membership with ALA.
Worth Reading
Why don't library programs require a professional ethics course?
Why we need sensory storytimes.
Book Adaptations in the News
A Twilight TV series has been announced.
Lord of the Flies will be adapted for TV for the first time.
AMC is producing a new Anne Rice series.
Bret Easton Ellis' recent novel, The Shards, is being adapted for TV by HBO.
Kennedy Ryan's Before I Let Go is being adapted for TV by Peacock.
Casting update for It Ends With Us.
Alma Katsu announced that Red London has been optioned for a TV series! ​​
Dear Edward has been canceled at Apple+ after just one season.
First trailer for Lessons in Chemistry.
Trailer for City on Fire.
Censorship News
A look at the newest PEN America report on the state of book banning in the U.S. (Spoiler: it ain't good.)
Are literary agents seeing changes in publishing with an increase in book bans?
How parents can fight book bans at their kids' school libraries.
The Texas House approved House Bill 900, which is supposed to keep sexually explicit materials out of school libraries, but a lot of experts worry that the language is so vague that it could easily restrict books that are not inappropriate.
Ramona Blue will remain on library shelves in Conroe ISD (TX).
Arlington (TX) city manager defends the library director, as residents are upset that the library chose to retain three challenged graphic novels.
Flagler County Schools (FL) will retain Crank by Ellen Hopkins.
Manatee County (FL) Commissioner James Satcher suggested that the board should end the county library's affiliation with ALA, saying that the organization was too "woke."
"Volusia County (FL) council members have taken the first step toward what at least one of them hopes is giving the council power to monitor children's books in the public library system and remove or restrict controversial titles from the shelves."
Florida's expansion of "Don't Say Gay" could release a flood of book bans.
Florida education officials voted to ban classroom instruction on gender identity and sexual orientation in all public school grades.
Pinellas County (FL) returns The Bluest Eye to high school shelves.
Ouachita Parish Public Library Board (LA) quietly removed two books from the shelves and limited access to patrons 18 and older.
Forsyth County Schools (GA) voted to retain Endlessly Ever After.
Leavitt Area High School (ME) removed Let's Talk About It.
Attendees at a recent Board of Education meeting in Newton, Connecticut spoke in favor of retaining Flamer and From the Desk of Zoe Washington. "God forbid kids gain some empathy when they are allowed to read and discuss with their peers a fact of American society," one attendee was quoted as saying.
All Boys Aren't Blue is being challenged in Greenville Schools (NY).
Ballston Spa Central School District (NY) is anticipated to keep Gender Queer in the high school library.
Staples High School (CT) voted unanimously to retain Flamer, Gender Queer, and This Book is Gay.
Some Westborough Public Library (MA) users are pushing to have the library defunded over the presence of an age-appropriate, scientifically accurate book about vaginas geared towards middle schoolers.
Wake County School Board (NC) is considering a change to their policies that prohibits "pervasively vulgar" materials, but no one on the board can quite determine what that means, and the Board attorney Jonathan Blumberg "said no state law or case law that he knows of has defined 'pervasively vulgar.'" So that's not worrisome at all.
A right-wing Christian nationalist group in North Carolina is threatening to sue the Burke County School District if they don't remove a list of books that the group has deemed to be pornographic.
Heartstopper, Volume 2 was removed from a Scholastic Book Fair in Spartanburg County, South Carolina.
Anderson County (TN) mayor Terry Frank has gotten Sheriff Russell Barker involved in trying to remove Gender Queer and Let's Talk About It from the public library. Barker has said that the books don't meet the legal definition of obscenity, but that he plans to file challenges to the books himself because he considers them inappropriate for minors, even though the books aren't shelved in the children's section. He says that the library's restrictions are too weak, that the books should be removed or restricted, but that they also have to be careful about censorship. Pardon me, but my head is absolutely spinning with this nonsense.
"Arkansas' attorney general said on Friday that a law creating a new offense for "furnishing a harmful item to a minor" does not apply to e-books and audiobooks despite concerns from the head of the Central Arkansas Library system over whether thousands of items in digital libraries remain vulnerable to scrutiny under the rule." Yeah, I wouldn't trust the AG's word on any of this.
Republicans in Saline County (AR) join the book banning club. "Book banning is all the rage in Arkansas lately, and allowing kids to learn about people who are different from them is suddenly quite charged. Clutch your pearls, lest there be a book about worms getting married or a rainbow magnet visible on the fridge in a goofy book about cleaning."
Cumberland County Schools (AR) have removed Push.
Fayetteville School District (AR) has also banned Push, along with Sex is a Funny Word, and several other books are still under review.
This Prattville (AL) mother is convinced that no one in their town wants LGBTQ books in the children's section. Also, can we PLEASE, for the love of all that is good and decent, stop framing these debates as though book banners are community martyrs?? "A group of concerned moms in Prattville is struggling to get several LGBTQ+ books aimed at children removed from the toddler and children's section of the Prattville library."
How librarians fought back against a proposed ordinance in Cass County, Michigan that would have implemented criminal charges against library staff for distributing sexually explicit books to minors.
Caro Area Public Library (MI) will keep Gender Queer.
However, Gender Queer may be removed from Galesburg-Augusta School District (MI).
Students will need their parents' permission to borrow Looking for Alaska in the Belding School District library (MI).
Iowa City Schools have pulled This Book is Gay for review, following several other Iowa schools that removed the book after it was featured on the Libs of TikTok Twitter account.
Let's unpack the mental gymnastics around this definition of book banning from a Mason City (IA) resident, shall we? "This is not book banning. Book banning would mean adults can't read this book. This is talking about public schools and not having those books in the public school libraries, I mean if you want to have that book, go out and buy that book on amazon [sic] for your child."
Kalona Public Library (IA) is holding off on discussions about Gender Queer after receiving a flood of last-minute requests for its removal. Almost as if this was a coordinated attack…
Fremont Public Library (NE) board voted to move This Book is Gay from the teen section to the adult section.
"North Dakota's governor vetoed a bill Wednesday that would have required librarians under threat of criminal penalty to screen sexually explicit materials from children, but signed another barring explicit materials from the children's sections of local and school libraries."
Greeley Schools (CO) will retain The Absolutely True Diary of a Part Time Indian after a 22-person (!!!!!) committee recommended that it be retained. This is the first of 15 challenged books to be reviewed.
A group of bigots in Rio Rancho (NM) are pushing to have several LGBTQ books removed from the adult section, calling them predatory and inappropriate for children, because children aren't prohibited from accessing the books.
"The Ada Community Library board violated Idaho Open Meeting Law at its March board meeting when the trustees voted to remove six books from the library's collection without noting an action item on the agenda."
Public outcry doesn't change the Canby School District's (OR) decision to remove 36 books from library shelves.
The Placentia-Yorba Linda Unified School District Trustees (CA) want to decide which books get put into school libraries, despite having absolutely zero professional experience or education in that area.
"The Matanuska-Susitna Borough School District (AK) is in the midst of reevaluating books available at libraries and school book fairs including the removal of any volumes deemed "sexually explicit" under state statute."
A resident of Winkler, Manitoba says that the public library is distributing "child pornography" and should be defunded.
A third of UK librarians report that they have been asked to censor or remove books.
60 years ago, a Florida man asked the state legislature to ban The Three Little Pigs…the more things change, the more things stay the same.
America's book bans have already come for prisons.
Books & Authors in the News
Award-winning author Lydia Davis refuses to sell her latest book on Amazon.
Penguin Random House is altering "unacceptable prose" in P.G. Wodehouse's Jeeves & Wooster books.
A fanfiction author wants credit for inventing the Tolkien spinoff, The Rings of Power.
Jessica Chastain explains why she's refusing to sign copies of The Seven Husbands of Evelyn Hugo.
Numbers & Trends
A new study indicates that children are reading more, but their enjoyment and comprehension are on the decline.
The best-selling books of the week.
Do you need help finding your next great read? Subscribe to Tailored Book Recommendations for really great reads year-round.
Pop Cultured
EGOT-winning actor, singer, and activist Harry Belafonte has died at 96.
Netflix is ending its DVD-by-mail service, although tbh I thought this had already been ended a LONG time ago.
Bookish Curiosities & Miscellaneous
A man who once modeled for romance novels is sentenced to prison for his role in the January 6th insurrection. WELL OKAY THEN.
Michelle Obama surprising fans at the bookstore is gloriously wholesome viewing.
On the Riot
Homeschoolers and libraries are a match made in heaven.
How school libraries can make the most out of ChatGPT.
The most memorable libraries in fiction.
A review of the Are You There, God? It's Me, Margaret adaptation.
The history of the Malleus Maleficarum.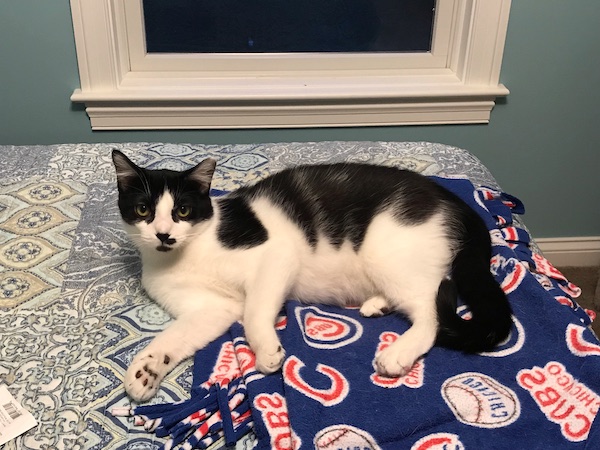 This newsletter, the kitty spotlight goes to my parents' newest cat, Groucho! Groucho is a shy little bean and has spent a lot of time hiding under the guest bed, but my parents say that he's gotten so brave over the last few weeks! He now roams the rest of the house on a regular basis, he plays and interacts with the other cats very well, and he's even taken to crawling into my parents' laps while they watch TV! And just look at that precious face!
All right, that's all I have in me for this week. Don't forget, you can check out Book Riot's newest newsletter, The Deep Dive, for fascinating stories, informed takes, and more from a variety of bookish experts! Choose your membership level today at bookriot.substack.com.
—Katie McLain Horner, @kt_librarylady on Twitter.