Welcome to Check Your Shelf. I should be getting geared up to go on vacation (we leave on May 10th for Colorado!), but April feels eternal and I have a feeling my to-do list is going to sneak up on me before I know it.
Collection Development Corner
New & Upcoming Titles
Memoir news and updates for Malala Yousafzai, Serena Williams, Britney Spears, Johnny Marr, and Liz Cheney.
105 new mysteries and thrillers by authors of color.
Weekly book picks from Crime Reads, LitHub, New York Times, USA Today.
April picks from Vulture.
What Your Patrons Are Hearing About
The Wager: A Tale of Shipwreck, Mutiny, and Murder – David Grann (LA Times, New York Times, Washington Post)
Greek Lesson – Han Kang (LA Times, NPR, Washington Post)
My Cousin Maria Schneider: A Memoir – Vanessa Schneider (New York Times, Shondaland, Washington Post)
The Last Animal – Ramona Ausubel (LA Times, NPR)
RA/Genre Resources
The real reason Judy Blume is still relevant today.
On the Riot
The best new weekly releases to TBR.
What the heck is biopunk?
Why escapist reads are more popular than ever.
All Things Comics
Disney+ is adding several Spider-Man movies to the streaming service.
First look at Colin Farrell in The Penguin spinoff series.
Sneak preview of My Favorite Thing Is Monsters, Part 2!
Manga's popularity continues to skyrocket.
On the Riot
The best-selling comics of all time.
Book Lists, Book Lists, Book Lists
Children/Teens
Teen books for fans of Percy Jackson.
12 YA cozy fantasy books with cottagecore vibes.
Adults
Reading recommendations for AAPI Heritage Month.
10 suspenseful Indigenous stories.
9 harrowing books about shipwrecks.
10 wistful books to fit your coastal aesthetic this summer.
96 mystery/thriller recommendations by mood and setting.
9 steamy novels featuring bisexual romances.
5 space books to send a chill down your spine.
Earth Day reads to inform and inspire action.
7 books about women fighting for survival.
13 powerful memoirs by Latina authors.
7 novels overgrown with plants.
Do you need help finding your next great read? Subscribe to Tailored Book Recommendations for really great reads year-round.
On the Riot
8 YA "lost heir" fantasy books.
10 books that bring together romance and cozy mysteries.
10 of the best scifi robots from books.
9 dystopian stories that are just too damn real.
9 nonfiction books about nature.
10 books that celebrate mundanity and the everyday.
20 dark academia romance novels to swoon over.
8 of the best LGBTQ-inclusive books about pregnancy and parenting.
8 popular science books about animals for the zoologically inclined.
Celebrate our national parks with these books.
10 satisfyingly sinister novels about secret societies.
Lighthearted post apocalyptic books to brighten up the end of the world.
8 disabled poets to add to your TBR.
Level Up (Library Reads)
Do you take part in Library Reads, the monthly list of best books selected by librarians only? We've made it easy for you to find eligible diverse titles to nominate. Kelly Jensen has a guide to discovering upcoming diverse books, and Nora Rawlins of Early Word has created a database of upcoming diverse titles to nominate as well that includes information about series, vendors, and publisher buzz.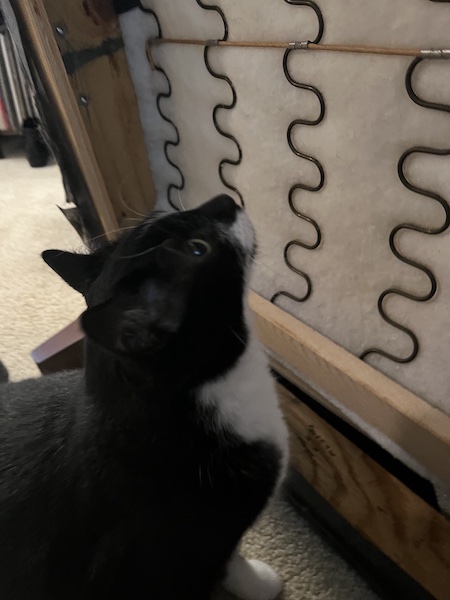 The cats have torn up the underside of our couch, resulting in a lot of long strings that Gilbert loves to chew on. Blaine decided to flip the couch over and trim the strings away, and Dini was right there to supervise!
All right friends. Let's meet back on Friday — same Bat Time, same Bat Channel. Don't forget, you can check out Book Riot's newest newsletter, The Deep Dive, for fascinating stories, informed takes, and more from a variety of bookish experts! Choose your membership level today at bookriot.substack.com
—Katie McLain Horner, @kt_librarylady on Twitter.