Welcome to Check Your Shelf. I'll make this intro brief because I have a cat sitting in my lap who is making it very hard to type. And no, moving the cat is not an option.
So let's do libraries.
Libraries & Librarians
News Updates
There was a fatal shooting at the Rudisill Regional Library on Tuesday in Tulsa, Oklahoma.
The Mamaroneck Public Library (NY) may be forced to close its doors in June after a probe into financial irregularities uncovered a $1.4 million shortfall due to embezzlement from the Library's long time business manager.
Tracie D. Hall, ALA's Executive Director, has been named one of Time's 100 Most Influential People of 2023.
Worth Reading
The ruling that threatens the future of libraries.
The future of libraries involves affordable housing.
Book Adaptations in the News
A writer's strike may grind Hollywood to a halt. What you need to know.
Don Cheadle's production company is adapting Lamar Giles' YA near-future thriller, The Getaway.
Billy Porter will play James Baldwin in an upcoming biopic.
Olivia Wilde will adapt Jennifer Egan's A Visit From the Goon Squad and The Candy House for TV.
Mona Awad's Rouge will get a film adaptation.
Netflix has a premiere date for All the Light We Cannot See.
Harvey Keitel joins the cast of The Tattooist of Auschwitz.
Casting update for the HBO Max It prequel series.
Trailers for Saint X, The Last Thing He Told Me, and The Sympathizer.
22 (more) adaptations better than the books they're based on.
Censorship News
How to get involved with your local library.
The people we need to reach are not online.
If at first you don't succeed, defund the public library.
Llano County (TX) library supporters declare victory as county officials decide to keep the library district open. (For now.)
The Texas Senate passes a school library bill meant to keep "harmful" materials off library shelves. Texas is also having a hard time filling school librarian positions. (Insert shocked Pikachu face)
A St. Lucie County (FL) resident has lost her appeal to have 16 books removed from school libraries. The woman in question is nearly 70 and apparently does not have any children in the district. Methinks she needs to find a less bigoted hobby.
Hernando County (FL) Republican Party Committeewoman Mary Mazzuco spoke at a recent school board meeting to complain about two "inappropriate" books still being on library shelves and said she would be taking both of the books to DeSantis. "If the governor has instructed us to remove certain books from the schools, why is it that I have two books?…I believe there is a $5000 fine for the media specialist who would have allowed those books to be there. Ultimately you all have had to make sure that these books are removed, and apparently, you're not doing that. I don't understand why these books are still in the schools." But DeSantis isn't banning books, amirite??
A Flagler County (FL) school board member thinks that the district libraries are too big and should be shrunk down to be used for other purposes.
Two Pinellas (FL) men are trying to challenge specific titles in the schools in order to prove a point about the slippery slope of book banning. But seriously, trying to expose the hypocrisy of book banners isn't an effective solution. The hypocrisy is either besides the point, or is the point entirely. We need direct action.
Brevard County (FL) Public Schools will not allow the media specialists to vote when books are challenged in the district because they're worried about bias. They're apparently not concerned about bias from any other people serving on the committee, but let's worry about bias from the experts.
Conservatives are trying to pull Assassination Classroom from Florida libraries because it talks about school shootings. Once again for the people in the back: IT'S NOT THE BOOKS THAT ARE ENDANGERING STUDENTS.
The MSAD 6 School Board (ME) have revised their book challenge policy to remove books from the shelves once a complaint has been filed. In other words, exactly the opposite of what schools should do with challenged books.
A recent board meeting at the Rockwell Falls Public Library (NY) was commandeered by opponents to an upcoming drag queen story time. "Seven people came in favor of the event. The rest were deeply opposed, saying it could lead their children to become gay or transgender and ruin their innocence by exposing them to sexuality."
Look, I'm getting really tired of the "both sides" types of headlines that subconsciously imply that book banners and people who don't want books banned are on level playing fields. This is in Brookfield, Connecticut where a group of bigots are trying to remove Fun Home and This Book is Gay from the school libraries.
Suffield (CT) First Selectman Colin Moll took it upon himself to remove the book What Are Your Words?: A Book About Pronouns from display at the Kent Memorial Library because he received one complaint.
This is absolutely deranged. A Pennsylvania Moms for Liberty leader allegedly hacked into a murder victim's Facebook page in order to harass people who oppose Moms for Liberty's agenda.
Central Bucks (PA) will not ban Lawn Boy.
The Montgomery County School District (MD) is halting its opt-out option for a list of LGBTQ+ centric titles, but a local member of Moms for Liberty says that forcing children to interact with books from this list goes against some people's family and religious values.
A Blount County (TN) school board member walked out of a meeting where a member of the public insisted on reading an explicit passage from The Bluest Eye.
The Tennessee House approved a bill that would target publishers for sending "sexually explicit" books to schools.
A Windsor C-1 School District (MO) parent complained about some students being assigned The Hate U Give, so district staff said students could read the book if their parents are okay with it.
The Missouri Senate has restored funding for public libraries to the state budget.
Farmington School Board (AR) is restricting access to Tricks and All Boys Aren't Blue for students 17 or older.
Macon County (NC) commissioners decided to stay in the Fontana Regional Library System, even though some people were upset that you could request inappropriate books via interlibrary loan.
Beaufort County Schools (SC) are implementing an opt-out system for parents who don't want their children to access particular books.
36 books were pulled from Canby Public Schools (OH) after two parents complained.
A Sheridan Public School Board (WV) trustee is of the opinion that books will start to make their way into elementary school libraries that will sexualize K-5th graders.
Residents in Algoma Township (MI) received flyers urging them to vote to withdraw from the Kent District Library, saying that their taxes were supporting drag queen story time. Except the library had never hosted a drag queen story time.
The news about the defunding of the Patmos Library in Jamestown Michigan is old news, but this quote at the end of the article is very indicative of how things are currently trending in the library world: "If they can't ban the book, will they burn the whole place down?" Call me a pessimist, but I'm very afraid it won't be long until we're going to see this play out very literally.
The Patmos Library is also considering giving parents and trustees more control over what information minors can access in the library.
A Deckerville Public Library (MI) patron suggested that someone should check out Gender Queer, pay for it, and then destroy it at home to keep it out of the library. Um…do they not realize that libraries often replace copies of lost or billed popular items?
Indiana's book ban bill fails to make it out of committee.
"A Wisconsin elementary school teacher has been placed on leave after she revealed on social media that administrators canceled a first-grade performance of Miley Cyrus and Dolly Parton's song 'Rainbowland' because the district considers rainbows 'controversial.'" Great look, Wisconsin.
Illinois librarians weigh in on the proposed state legislation that would withdraw funding from public and school libraries found to be in violation of ALA's censorship guidelines.
Sioux City (IA) schools removed This Book is Gay. The Board President said "It did not go through our normal review process when it was originally ordered and placed on the shelf. Our policy was violated at that time. We stand by our process and decisions," but the National Coalition Against Censorship said, "This response ignores our complaint that the district did not stand by their process."
Moms for Liberty in Johnson County, Kansas are sending mass text messages asking for assistance with removing "pornographic and sexual content from our schools!"
The Dickinson Area Public Library (ND) put up a display advocating for patrons to contact legislators to vote against the state's current proposed book ban bills, and residents are upset that a public library is advocating for books not to be banned.
Montrose Public Library (CO) will decide whether Flamer and Gender Queer should remain on shelves.
The Los Alamos Library (NM) confirmed that If You're a Drag Queen and You Know It was purchased appropriately and did not violate library policy. AKA the book will remain on library shelves.
Some of the LGBTQ+ students in the Alpine School District (UT) are pushing back against a recent ruling that removed all Pride flags from the schools.
The co-founder of Idaho Parents for Educational Choice wrote an op-ed calling for certain books to be removed from the Idaho Falls Public Library.
Pahrump Community Library trustees (NV) will develop a plan to relocate questionable titles (aka LGBTQ+ titles) in the children's department. This plan comes after one of the trustees got a single email criticizing the presence of LGBTQ+ titles in the children's collection.
Placentia-Yorba Linda (CA) trustees will decide if Persepolis should remain a part of the high school curriculum.
The Sunol Glen School Board (CA) now has a new policy on what trustees can say in meetings, thanks to a recent meeting where a trustee complained during a meeting about the depiction of anal sex in Gender Queer…except there isn't a passage that depicts anal sex in Gender Queer. We're living in a timeline where everything's made up and the points don't matter.
After soliciting input, Ketchikan Public Library (AK) will keep Let's Talk About It in the collection.
Amplification or suppression? Maggie Tokuda-Hall calls out edits proposed by Scholastic to her author's note, which referenced racism and the Japanese American internment camps during WWII. Scholastic, meanwhile, has offered a tepid apology.

Books & Authors in the News
Best-selling mystery author Anne Perry has died at 84.
Numbers & Trends
The best-selling books of the week according to all the lists.
Do you need help finding your next great read? Subscribe to Tailored Book Recommendations for really great reads year-round.
Award News
Kimberly Unger wins the 2023 Philip K. Dick Award for The Extractionist.
The 2023 International Booker Prize shortlist has been announced.
Pop Cultured
For anyone keeping up with Theranos/Bad Blood updates, Elizabeth Holmes will begin her 11-year prison sentence at the end of the month.
There are three new Star Wars movies currently in the works.
Plus, here's the first trailer for Ahsoka.
On the Riot
Why Roald Dahl does not deserve a second chance.
What will the bookstore of the future look like?
In search of bookish hangovers.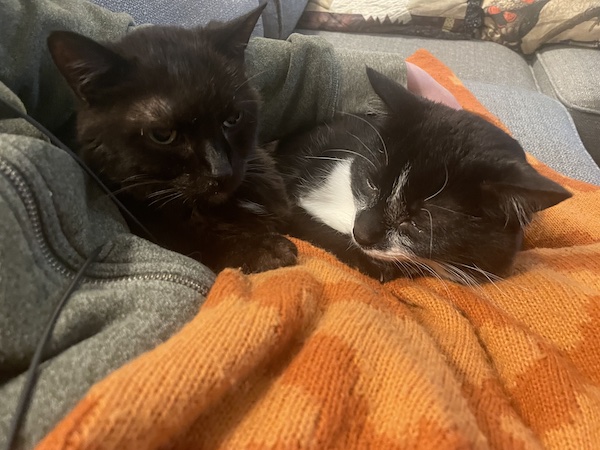 The boys don't often snuggle together on my lap, but when they do, it's just TOO PRECIOUS FOR WORDS. Seriously, if you haven't had more than one cat in your lap at a time, you haven't lived.
All right, that's all I have in me for this week. Don't forget, you can check out Book Riot's newest newsletter, The Deep Dive, for fascinating stories, informed takes, and more from a variety of bookish experts! Choose your membership level today at bookriot.substack.com.
—Katie McLain Horner, @kt_librarylady on Twitter.