Hey YA Readers!
Do you ever do the thing I do, where you pick up a book in a format and genre you forget you love, so when you finish it, it's all you want to read and talk about? I sometimes forget how incredible YA graphic memoirs are, so we'll talk about a couple of new ones you should pick up and pop onto your TBR this week.
Before we DIVE in, don't forget to check out Book Riot's latest newsletter, The Deep Dive. Interested in fascinating stories, informed takes, useful advice, and more from experts in the world of books and reading? Check it out to get exclusive content delivered to your inbox–and bonus, there is a free option if you don't want to commit! Choose your membership level today at bookriot.substack.com.
Bookish Goods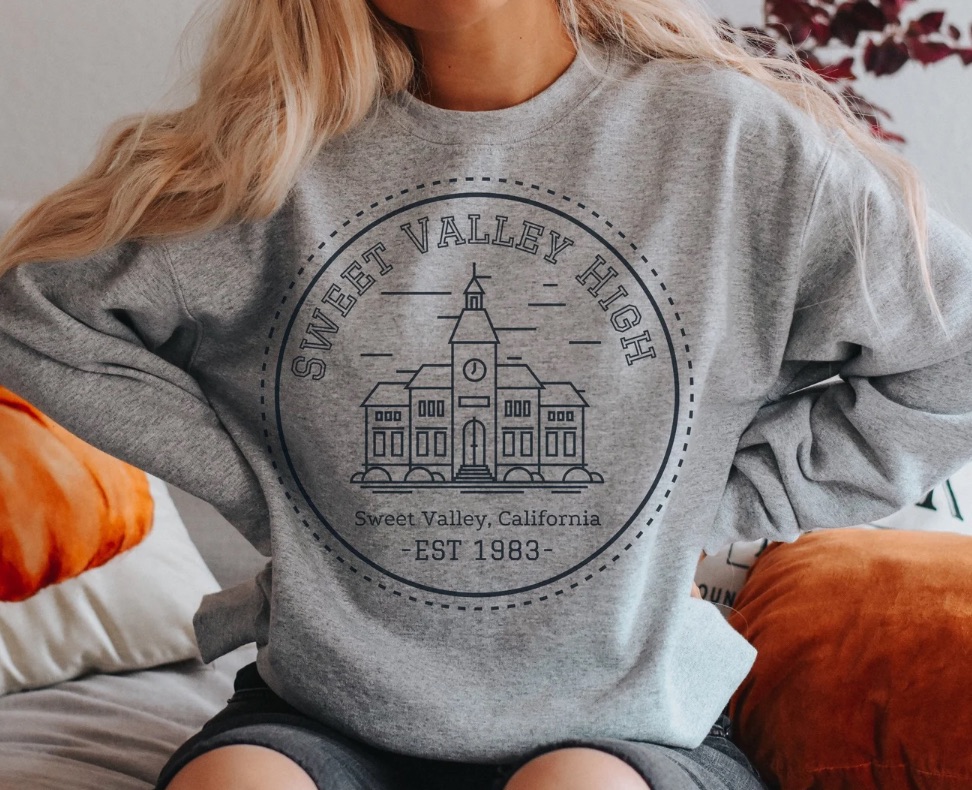 Take it old school with this fun and nostalgic Sweet Valley High sweatshirt. It's perfect for this weird in between seasons stuff, where it's always just chilly enough for a sweatshirt at some point in the day. $39, up to size 5XL, with a few color options.
New Releases
Let's dive into two excellent new releases hitting shelves this week in hardcover. And, since we've finally hit a new season, you can grab the latest roundup of all the YA books publishing over here. Spring looks incredible, y'all!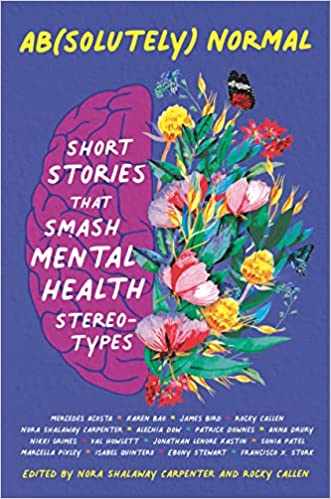 Ab(solutely) Normal edited by Nora Shalaway Carpenter and Rocky Callen
So there are actually two books focused on mental health hitting shelves this week for YA readers. The other one is Where To Start by Mental Health America and Gemma Correll and that work of nonfiction would pair so nicely with this anthology (and my own nonfiction anthology, (Don't) Call Me Crazy!).
Carpenter and Callen have pulled together a wide array of YA writers, all of whom are sharing fictional stories of people living with mental health challenges. The stories cross genres and experiences, offering everything from a vampire with social anxiety to a teen girl coming to understand her challenges with PMDD. There's hard stuff here, but there's also plenty of hope for those who will relate to these experiences.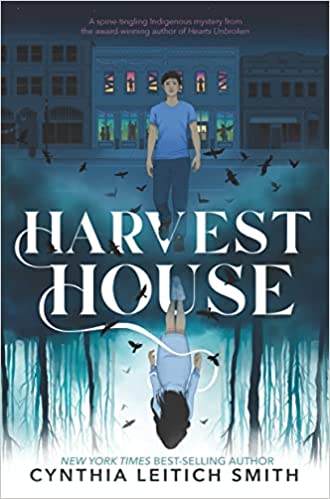 This book takes readers back into the world of Hearts Unbroken, though they can be read independently of one another.
Hughie is excited to be volunteering this Halloween season at Harvest House, a rural attraction for horror lovers. That is, he's excited until he learns that an actor playing the role of a vengeful "Indian maiden" will be the star of the show. It's a local legend to the Native community, and that, paired with a series of weird happenings around Harvest House, have Hughie wondering where or how he should speak up. Does he point out the problem of such a legend — one wrapped in problems — being used to sell an attraction? And how does he do that while also investigating the strange goings on?
This one is for readers who love horror and realism, with a cast of Native lead characters at its heart. I'm itching to read this one, as I loved Hearts Unbroken and bonus, for those who keep talking about a lack of YA with younger protagonists, here's a reminder you're sleeping on Cynthia Leitich Smith who does this masterfully.
For a more comprehensive list of new releases, check out our New Books newsletter.
Riot Recommendations
I forget my love for the YA graphic memoir until I'm reading one cover-to-cover in a single sitting. Here are a couple of recent YA graphic memoirs — comics that tell true stories of the lives of the creators — that hit shelves and should be in your reading hands ASAP.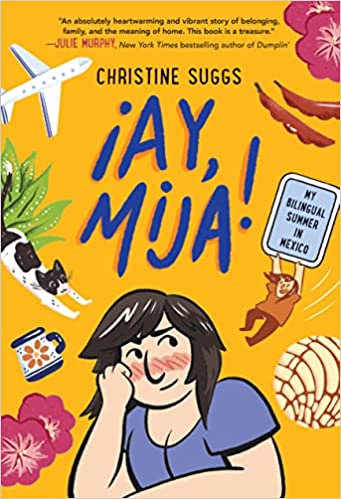 ¡Ay, Mija! (A Graphic Novel): My Bilingual Summer in Mexico by Christine Suggs
Christine's biracial, and they are spending their summer in Mexico to reconnect with that side of the family. The first week they're there, they'll be solo, then their mother will join.
It's an unforgettable summer of reconnecting with their family, with fumbling and practicing Spanish, with wrestling their gender and sexuality in light of religious beliefs, and more. It's both full of heart and full of challenge, and it is the kind of story so many biracial readers are going to connect with immediately.
There's a powerful storyline here, too, about the realities of documentation and how growing up, Christine did not understand why their aunt was unable to visit Mexico like they could.
The art is bright and engaging, reminiscent a bit of Raina Telgemeier. The author's note is a great read, too, with photos from Christine's visits to Mexico, many of which are referenced in the text (and the nopales were so much bigger than I even imagined!).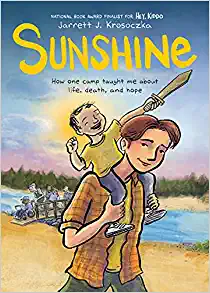 Sunshine by Jarrett J. Krosoczka
So you'll have to wait another week for this one to publish, but you can go ahead and put in your preorders and library holds. Krosoczka's Hey, Kiddo was an incredible read, and no doubt, his followup graphic memoir will be as memorable.
In high school, Krosoczka took part in a program called Camp Sunshine, where he was a counselor for the summer at a camp for kids struggling with severe illness. He worried it would be a sad place, given that so many of his campers had no idea what their future might look like. Instead, he discovered this experience to be magical, and it was where he formed some of his most important, life-changing relationships.
This is a graphic memoir about hope and resilience, and readers get to meet many of the people who forever impacted Krosoczka's life.
I shared this book in a newsletter in early March when it published, but it bears revisiting since it fits this theme. I've not gotten my hands on it quite yet, but you better believe I'm hitting up my library as soon as I finish writing this.
Jung-Jin Lee — Deborah's Korean name — has grown up in between cultures. She's in New Jersey but never fits in, and things only get harder in high school. Her mental health challenges her to the point where she attempts to die by suicide. In her recovery, Deb finds solace in art and self-care. Not only does it help her mental health but it also helps her understand her Korean heritage and who she truly is.
The art looks stunning and magical.
---
If you're looking to add a couple more YA graphic memoirs to your TBR for this year, pop on there Family Style by Thien Pham, out June 20, and Monstrous: A Transracial Adoption Story by Sarah Myer, out June 27.
As always, thanks for hanging out. We'll see you later this week with your YA paperback releases and YA book news.
Until then, happy reading!
— Kelly Jensen, currently reading Throwback by Maurene Goo