Welcome to Check Your Shelf. My concentration has been absolutely shot this last week for various reasons, except for when I sit down to play my robot dinosaur video game, and then I can't focus on anything else. So let's jump into the newsletter!
Libraries & Librarians
News Updates
"'Frankenstein' apartments and weak libraries: Is this New York's future?" Plus, NYC library supporters gathered to protest the proposed budget cuts.
Librarians and Connecticut lawmakers fight the high cost of eBooks.
Worth Reading
Behavior policies through a lens of equity and compassion.
Library workers and mental health advocacy.
Book Adaptations in the News
"Oscar Isaac will play a sexy Kurt Vonnegut in a new crime series." Hey, I'm just quoting the experts here!
Oscar Isaac will also be starring in Guillermo del Toro's adaptation of Frankenstein for Netflix, although no word on what his role will actually be.
Amazon has canceled Three Pines after just one season.
The Tattooist of Auschwitz has a director and a cast.
Amazon is adapting E. Lockhart's We Were Liars as a series.
Lucy Boynton has been cast as the lead in One Day in December.
Alisha Rai's Partners in Crime has been optioned for a TV series.
Michelle Yeoh and Ke Huy Quan reunite in the teaser trailer for American Born Chinese.
The Broadway production of Room has been postponed indefinitely due to a lack of funding and the withdrawal of the lead producer.
Banned & Challenged Books
What does ChatGPT have to say about book bans?
PEN America has a list of ways you can fight book bans and stay educated about what's happening.
A state-by-state guide to the coalitions and campaigns fighting legislation criminalizing librarians.
A new U.S. House "parental rights" resolution will further ignite book bans.
The drag show bans sweeping the country are a chilling attack on free speech.
Book sanctuary cities are a response to book bans and censorship.
The Texas Education Agency announces a takeover of the Houston Independent School District.
Midland County Library (TX) held a public hearing on proposed collection policy changes.
The battle to criminally charge Texas librarians has just begun.
The New York Times looks at how Florida is reviewing social studies textbooks for forbidden mentions of racial history.
Florida book bans are not a hoax.
DeSantis' effort to eliminate DEI efforts in universities passes in committee.
Florida teachers sue DeSantis' government over school library restrictions.
Flagler County Schools (FL) elected to keep Nowhere Girls by Amy Reed, but the person who made the initial challenge said that she was going to appeal the decision before the meeting even started because she knew which way the committee was going to vote.
A look at the mess happening at Clay County schools (FL) in regards to their book challenge process. Worth noting: "there have only been 11 parents who have regularly agreed to be a part of the District Curriculum Council and that they are approaching burnout, suggesting that without volunteers on the council, current challenged books may take even longer to reach a completed review." Not surprising that the people initiating the challenges are content to leave the actual work to others.
The increasing scrutiny of libraries in Arkansas is part of a national trend.
Arkansas House legislators pass a bill that would criminalize librarians who let kids see "harmful" content, and give local officials the power to decide what's appropriate.
The Crawford County Library Board (AR) moved The Last Leaves Falling from the YA section to the adult section.
Former Siloam Springs (AR) City Administrator Phillip Patterson was responsible for the removal of 11 books from the public library.
Saline County (AR) resident Angela Gray spoke to the Quorum Court about her concerns regarding the public library. She said she checked out a number of "offensive" books on her child's library card, saying "'I checked these out online, then picked them up in a locker,' Gray said, noting that no one supervised her retrieving the books or challenged her child's right to check out the books." Which I hardly need point out is EXACTLY how this process is supposed to work.
Best-selling authors are scheduled to speak at the first Mississippi Banned Books Festival.
An amendment to a Mississippi child protection bill could have major implications for libraries.
Henderson Public Library (TN) received a bomb threat in connection to a recent story hour event hosted by Kirk Cameron and the subsequent Fox News coverage. The library director has since been fired.
Missouri Republican House Budget Committee Chairman Cody Smith proposed a budget that would cut all state funding for libraries in retaliation to the recent lawsuit against the new sexually explicit materials bill in the state.
I'll just leave this first sentence here: "Backdropped by a crowd showing strong support for the LGBTQ+ community, a Concord man dressed as Julius Caesar was prevented from speaking at a Dover School Board [NH] meeting on Monday because he's not a city resident."
A Greenville (NY) mom has referred to All Boys Aren't Blue as "pornographic."
Guilford (CT) parents debate if LGBTQ+ books are appropriate for school libraries.
Old Rochester Regional School District (MA) voted to retain 10 challenged books.
Central York (PA) School District quietly removed Push by Sapphire, allegedly to avoid backlash.
Norwin Schools in Pennsylvania will keep Al Capone Does My Shirts in 5th grade classrooms.
Perkiomen Valley School Board (PA) president Jason Saylor attempted to circumvent regular board procedure and fast-track a policy that would restrict district library books and textbooks, but the attempt was stopped by a 4-4 vote.
Laurie Halse Anderson showed up to the Central Bucks (PA) school board meeting to talk about how book bans impact her work and violate the First Amendment rights of students.
Roanoke County Schools (VA) amended their media policy to no longer require that all new books be read and reviewed by a librarian or teacher before it could be added. However, a two week period of parent review is still required by the policy.
A North Carolina reverend was angry to learn that his third grade daughter read a book about Islam at school, and is targeting a bunch of other books too.
A Montgomery County (NC) parent is upset about Flamer being available in the school library.
South Carolina students are upset that books are being banned, particularly in Beaufort.
Nearly a dozen people spoke out against the Greenville County Library System board (SC) and several of their trustees' anti-LGBTQ+ rhetoric and proposals.
A group of Hilliard (OH) parents are pushing to remove 40 books from the school libraries, many of which deal with LGBTQ+ issues and gender identity.
The caption says it all: "Hate groups White Lives Matter of Ohio, Patriot Front, Proud Boys and neo-Nazi group Blood Tribe traveled to Wadsworth Memorial Park to protest at an event in which a drag queen read a book on humanism written by a 9-year-old girl." (There's a large photo of a swastika flag at the beginning of the article.)
Forest Hills Public Schools (MI) quietly removed several books from school libraries without knowledge or input from the staff who oversee the collections.
A petition is circulating to remove Hillsdale Community Library (MI) Councilman Joshua Paladino from the library board, for his attempts to restrict LGBTQ+ books at the library.
A Michigan county prosecutor has raised the possibility of criminal charges against Lapeer District Library director Amy Churchill if Gender Queer is not removed from library shelves, although experts doubt that she will be able to be charged.
Hundreds show up in response to a Drag Queen Storytime event held at Sidetrack Bookshop in Royal Oak, Michigan.
SB 12 in Indiana would open the door to secrecy, shame, and fear instead of creating a safe learning space for students.
Keene Memorial Library (NE) will not be removing This Book Is Gay, and they will not be moving forward with a proposal that would allow anyone in the community to demand a book to be relocated.
North Dakota's obscene materials bill is amended to only affect children's sections in libraries, which is still NOT GOOD.
Three board members at the Enid Public Library (OK) were selected as "library board advisors" in regards to collection purchases, displays, and programs. "The decision as to new materials, displays and programs will remain the library director's, but in the event of an appeal by an adviser, the material will not be purchased in the case of new or replacement materials; circulated in the case of donated material; scheduled in the case of library programs; or displayed in the case of library displays, but will be appealed before the library board."
A group of protesters showed up at St. Patrick Presbyterian Church to protest books being kept in Greeley-Evans schools (CO). Why, you may ask? Because the pastor at St. Patrick's is the president of the school district Board of Education.
Concerns rise over the politicization of school boards after the majority of the Elizabeth School Board (CO) resigns.
Campbell County Library (WY) hired Liberty Counsel, a right-wing nonprofit based in Florida, to propose changes to their collection development policy that would severely limit the books allowed in the children's and teen's sections, and quite possibly in the whole library. Worth noting that Liberty Counsel provides free representation and assistance to advance "religious freedom, the sanctity of life, and the family."
Arizona governor Katie Hobbs vetoes a bill that would ban critical race theory in schools.
Why some Idaho officials aren't concerned by anti-library bills and groups.
Davis Schools (UT) have removed 33 books from the library.
South Summit School District (UT) is now reviewing Brave New World after a single parent complained.
Ogden School District (OR) has received a challenge to three books earlier in March, the first in at least five years.
West Linn-Wilsonville Schools (OR) is keeping nine challenged titles on the shelves, although some will be restricted to high school access only.
The chair of the Crooks County Library Board (OR) was removed after she called for the resignation of another trustee who had called for the segregation of LGBTQ+ materials in the library and publicly named two patrons who had checked out LGBTQ books in a previous meeting. However, it was the board chair was removed because she behaved too "aggressively."
Two 5th grade teachers at Palos Verde Peninsula school district (CA) received pushback for reading Too Bright to See aloud to their classes, which is an age-appropriate book with a transgender protagonist. Thankfully when the time for public comment at the next board meeting came, the number of LGBTQ supporters in attendance far outweighed the number of critics.
A member of "Gays Against Groomers" is upset that Fallbrook Union High School (CA) elected to keep Beyond Magenta in school libraries.
Western Placer Unified School District (CA) declined to make a decision about the fate of The Hate U Give. Nearly 200 residents showed up to the meeting.
A Calgary preacher was arrested near a drag storytime event, as he had been arrested previously for "hate-motivated offences following a Feb. 25 altercation at a library storytime drag event. Reimer was ordered to stay away from LGBTQ2S+ community members and events."
The Cork City Council in Ireland say that they will not remove LGBTQ+ titles from the libraries after multiple staff members reported being targeted by a small group of harassers.
A Queensland, Australia resident got the police involved in trying to remove Gender Queer from the library.
PEN America has called on Hong Kong authorities to drop sedition charges against booksellers.
Conservatives are trying to ban books in your town. Librarians are fighting back.
Books & Authors in the News
Nobel Prize-winning author Kenzaburō Ōe has died at 88.
Rosalind Wiseman, author of the book Queen Bees and Wannabes which inspired the movie Mean Girls, is considering legal action against Tina Fey and Paramount for a lack of compensation.
Numbers & Trends
The best-selling books of the week.
Do you need help finding your next great read? Subscribe to Tailored Book Recommendations for really great reads year-round.
Award News
Barnes & Noble announces its Children's & YA Book Awards shortlist.
Pop Cultured
Peacock has ordered a Monk reunion film.
On the Riot
Stranger than fiction: real life crimes inside the library.
A brief history of Project Gutenberg.
What is "bionic reading" and does it actually work?
9 of the best documentaries about writers.
Some things that avid readers find annoying about the book world.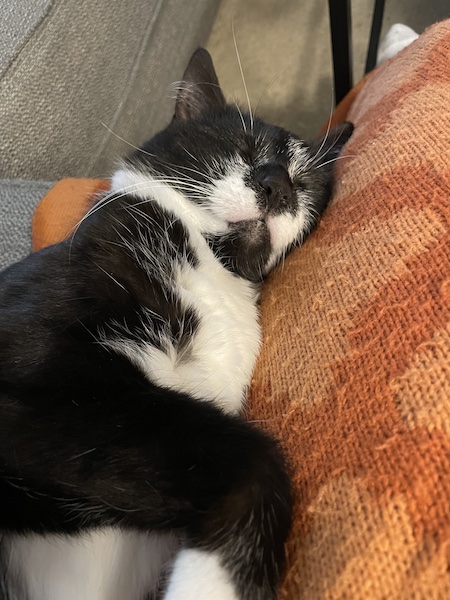 Dini continues his super cuddly streak — nearly every night now, he snuggles up to me while I play video games, and he makes biscuits on my legs. Look at how sleepy and smiley this boy is!
All right, that's all for now. I'll pop back into your inboxes next week! And don't forget to check out Book Riot's newest newsletter, The Deep Dive, full of informed takes, useful advice, and more from experts in the world of books and reading. Subscribe and choose your membership level today at bookriot.substack.com!
—Katie McLain Horner, @kt_librarylady on Twitter.