Hey‌ ‌there‌ horror fans, ‌I'm‌ ‌Jessica‌ ‌Avery‌ ‌and‌ ‌I'll‌ ‌be‌ ‌delivering‌ ‌your‌ ‌weekly‌ ‌brief‌ ‌of‌ ‌all‌ ‌that's‌ ‌ghastly‌ ‌and‌ ‌grim‌ ‌in‌ ‌the‌ ‌world‌ ‌of‌ ‌Horror.‌ ‌Whether‌ ‌you're‌ ‌looking‌ ‌for‌ ‌a‌ ‌backlist‌ ‌book‌ ‌that‌ ‌will‌ ‌give‌‌ you‌ ‌the‌ ‌willies,‌ ‌a‌ ‌terrifying‌ ‌new‌ ‌release,‌ ‌or‌ ‌the‌ ‌latest‌ ‌in‌ ‌horror‌ ‌community‌ ‌news,‌ ‌you'll‌ ‌find‌ ‌it‌ ‌here‌ in‌ ‌The‌ ‌Fright‌ ‌Stuff.
The sound I made, friends, when I realized that we've finally reached the blacklist year of one of my first, and to this day still favorite, horror collections. Joy. As you may have realized (as I have sadly realized) we are a only a few years away from running out of backlist years, but fear not! I am brainstorming some ideas for this newsletter, because A) I love plumbing the backlist for delights and B) backlist books deserve love too!
But in the meantime, while I ruminate on some ideas for the 2023 calendar, let's explore some of the excellent horror titles of 2017!
Before we jump in to this week's picks: Book Riot has a new subscription service for you to check out! If you are looking for fascinating stories, informed takes, useful advice, and more from experts in the world of books and reading, Book Riot's newest newsletter, The Deep Dive, is a way to get exclusive content delivered to your inbox. Subscribe and choose your membership level today at bookriot.substack.com.
Bookish Goods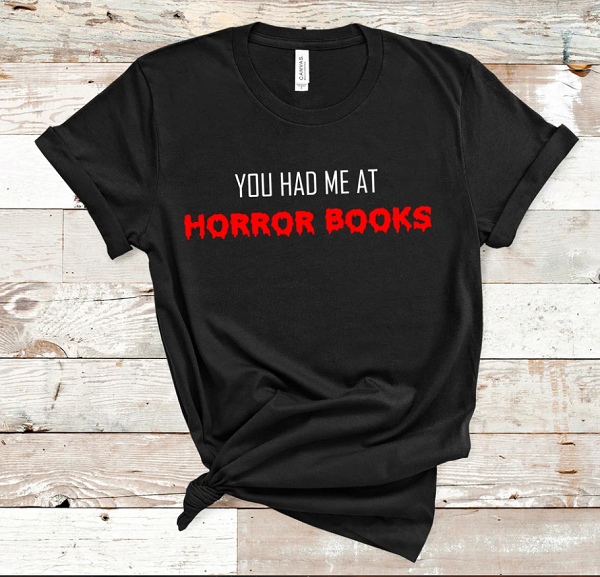 Truly a love story for the ages. Just a reader, standing in front of that pile of horror books they definitely intend to read, asking not to be judged as they add a few more books they just bought. (If that feels like an attack, please be assured it was, in fact, a self-own.) Profess your love for the horror genre and show potential friends or partners the way to your heart with this unisex t-shirt from InkandStories!
$25
New Releases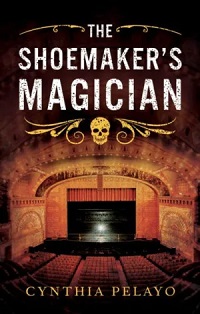 If you missed the first book in Pelayo's Chicago Saga, Children of Chicago, now is an excellent time to get caught up, because the second book in the series is out this week! The Shoemaker's Magician is about a series of grisly murders tied to a lost silent film with a tragic legacy, and a legendary horror host known as the Grand Vespertilio, who may be a far more sinister figure than he first appears. Paloma has been watching Grand's show for her entire life, and when bodies start dropping in locations related to the lost film, she knows that only Grand can help her find the killer. But there's something sinister lurking behind Grand's TV facade, and the more Paloma learns about him, the greater the danger around her grows.
If you are a fan of short fiction collections — and you know I am — I've got the perfect new release for you. Sabina Murray's new collection, Muckross Abbey and Other Stories, has drawn comparisons to Wharton, James, Stoker, and Shelley, and will certainly appeal to lovers of all things Gothic and macabre. The 10 stories in the collection span the globe, from Australia to Cape Cod, and Murray fills her varied settings with a multitude of fantastical and frightening figures.
For a more comprehensive list, check out our New Books newsletter!
Riot Recommendations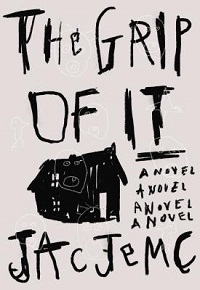 Haunted House books come in an array of "flavors," from the chillingly Gothic, to the gruesome and gory, to outright skin crawling terror. And when it comes to creepy and generally upsetting (complimentary), The Grip of It really delivers. With short chapters that drive up the tension, and a dual narrative split between our two leads, this book will leave you wishing you'd turned on an extra light before you started reading. In The Grip of It, Julie and James, who flee city life in an attempt to save their dysfunctional marriage, end up settling in a house in the country. But what was supposed to be a fresh start for the troubled couple soon turns into a nightmare. As the house seems to warp and decay before their eyes, Julie and James rush to discover its sinister history before they become trapped within its walls forever.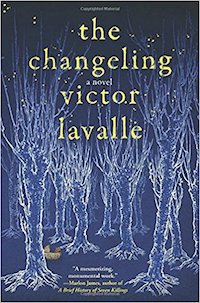 Victor LaValle's The Changeling — which is actually being adapted into a series by Apple TV+! — is already pretty well known to most of the horror community, I know. But it's an excellent, eerie book, and always worth revisiting. It's about a couple, Apollo and Emma, who have recently become parents. Apollo is settling into his role as a father, determined to be a better parent to his child than his own father was to him. Emma, on the other hand, has stopped showing any interest in their baby at all, and what first appeared to be post-partum depression soon devolves into something far more concerning. When Emma does something terrible, then disappears, Apollo has no choice but to follow, beginning a journey in a strange and frightening world of secrets and living legends.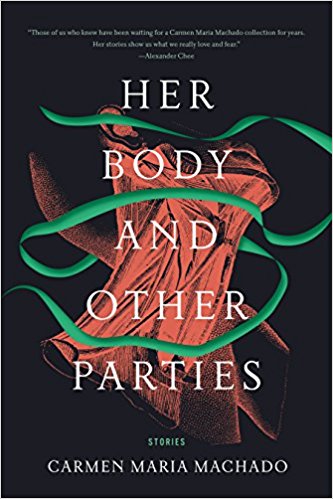 And last, but most certainly not least, on this week's list is one of my absolute, hands down favorite short story collections of all time. Machado's Her Body and Other Parties is made up of dark, beautiful, and fantastical stories that you won't soon forget. So if you haven't read it, yet I highly recommend adding it to your reading list. While some of the stories in the collection are more instantly recognizable as horror — like the infamous "The Husband Stitch" — others are more sad or sentimental, underlaid by the knowledge that something has gone terribly wrong. And they're all fantastic. My personal favorite is still the soft sorrow of "Inventory," in which the narrator makes an inventory of their lovers as the world around them collapses in the midst of a plague-driven apocalypse.
As always, you can catch me on twitter at @JtheBookworm, where I try to keep up on all that's new and frightening.