Welcome to Check Your Shelf. Once again, February is proving to be the longest shortest month of the year. I don't know how this happens, but February absolutely DRAGS for me. Maybe it's the predicted snow storm after a solid few days of 50+ degree weather. Maybe it's the fact that it's slowly getting lighter outside, but not significantly enough to ward off the seasonal affective disorder. Whatever the case, these 28 days always seem to take the longest.
Libraries & Librarians
News Updates
Colorado libraries contend with a series of methamphetamine contaminations.
An owl fell down the chimney chute at the McCain Library at Agnes Scott College (GA), causing the library to shut down for nearly a week. Best line ever: "They've since hired a professional falconer who left a door open and then tried to shoo the owl away with a really long stick. He even set up a special trap with a pigeon and a gerbil inside."
Cool Library Updates
Actor Michael Ian Black competed on Celebrity Name That Tune, and listed the Mark Twain Library in Connecticut as his selected charity.
Worth Reading
Exploring trauma-informed librarianship.
Google's AI chatbot makes a factual error in its first demo. "The mistake highlights the biggest problem of using AI chatbots to replace search engines — they make stuff up."
A love letter to libraries, long overdue.
Book Adaptations in the News
Is that an I Know What You Did Last Summer revival I sense?
NK Jemisin's The City We Became has been picked up for a series adaptation.
The Ripley series, based on Patricia Highsmith's books, is moving from Showtime to Netflix.
Banned & Challenged Books
This is important: Republicans are likely going to elevate parental rights as a top issue for the 2024 presidential election.
Related: write your legislators about banned books right now with this template.
The most-banned picture books from 2021-2022.
Politics and school libraries: what shapes students' access to controversial content.
Chicago-based publishing house Haymarket Books is offering free eBooks focused on Black history in response to DeSantis' ban on AP African American Studies courses.
"Call the 'woke-busters'": DeSantis sends a volunteer army to snatch books from students' hands.
A Florida librarian's frontline view of the state's "vetting" process for school books, and the titles being banned.
St. Johns County (FL) removes 23 books from library shelves after review.
Florida House Speaker Paul Renner wrote an official letter to the Hillsborough County School District after he submitted a challenge against This Book is Gay and the district elected to keep the book.
Sarasota County schools (FL) are keeping Stamped, but parental consent for middle schoolers will be required.
70 people showed up in the hopes of being appointed to the Flagler County District's book banning committees (FL).
Clay County (FL) schools have received 216 library book challenges, all of which have been removed from shelves until a review is complete.
A group of Florida college students are planning a walkout at the end of February in opposition to the attacks on academic freedom, DEI, and LGBTQ+ students.
Louisiana libraries don't need new state restrictions.
The RSU 24 (ME) school board will decide on the fate of Gender Queer and Queer: The Ultimate LGBTQ Guide for Teens in March.
An Old Rochester (MA) school board member has spoken out against sexually explicit books and bathroom access for transgender students.
Telford (PA) residents are debating library funding, primarily because the library has dared to offer LGBTQ books in their collection.
Selinsgrove Middle School (PA) will no longer use Staying Fat for Sarah Byrnes in the classroom after receiving a bunch of complaints.
Glen Ridge Public Library (NJ) votes to keep 6 LGBTQ+ books, including All Boys Aren't Blue. This is especially significant because George M. Johnson's mother and aunts spoke at the meeting in support of his book.
Book banning efforts in Madison County (VA) and elsewhere are a violation of parental rights.
Lynchburg City (VA) school board votes to keep an opt-out policy for "sexually explicit" books. While the existence of the policy isn't good, this decision at least puts the onus on the parents to opt their children out of accessing specific books instead of making teachers and librarians do the legwork.
17 books in Nottoway County (VA) schools allegedly fall under state "explicit content" laws, including titles by Martin Luther King, Jr. and Shakespeare.
Beaufort County (SC) schools return nine challenged books to shelves.
The Missouri Secretary of State's office revises its recently proposed library rule, and library directors say that although the rule is unnecessary, it does not propose the same changes that would have promoted and encouraged censorship.
Derrick Barnes receives overwhelming support after his author visits were canceled at three Alabama schools.
The Blount County Board of Education (TN) heard objections to multiple school library books from two women. "These are available in the public school libraries that we pay for with our tax dollars, and we want them out."
Wilson County (TN) is still debating whether or not to remove The Perks of Being a Wallflower.
A number of failed school board and state rep candidates have formed a chapter of Moms for Liberty in Campbell County, Kentucky.
The Big Walnut Board of Education (OH) elects to keep Looking for Alaska on library shelves.
The National Coalition Against Censorship is demanding that Forest Hills Public Schools (MI) investigate whether their superintendent secretly ordered the removal of books in violation of school policy. There's an audio recording of the superintendent instructing the assistant superintendent to "find where they are, pull 'em out, get rid of 'em."
Mothers call for more parental say in restricting books in Iowa schools. Please note: "Some of the parents who spoke at the committee meeting did not fully go through the process available to prevent their children from accessing these books. Some of the parents challenged books in classes their children were not enrolled in."
Iowa governor Kim Reynolds says that if one school removes a book, all schools should remove the book.
The South Dakota bill to remove "obscene" materials from libraries is officially dead in the water.
The Fremont (NE) city council has the power to override the public library's decisions, including the library's recent decision to retain Sex is a Funny Word.
The Colorado Civil Rights Division has determined that the High Plains Library District violated state anti-discrimination laws when they fired librarian Brooky Parks after she protested the cancellation of programs for BIPOC and LGBTQ youth.
Montrose Public Library (CO) patrons are upset that the library hosted a program for LGBTQ teens, and that they discussed the graphic novel, Flamer.
A Utah bill that would force all library employees to get background checks passes the state House committee.
Orange Unified School District (CA) has restored its digital library, which had suspended after parents complained about a select number of books available through the app.
LGBTQ books are being challenged in Oceanside (CA) schools.
Patrons in Dayton, Washington have challenged a Quebec author's children's book about sexual and gender diversity at the public library.
The Liberty Lake City Council (WA) is looking to limit the authority of the library board, primarily because the library decided to retain Gender Queer after a community challenge.
Trolls tried to disrupt a Drag Queen Story Hour at the Colchester Library in Essex County (UK), but hundreds of LGBTQ+ activists showed up in a fantastic counter protest.
Tanzania has banned Diary of a Wimpy Kid for being "immoral."
Book selections in Russian stores have narrowed due to Russia's anti-LGBTQ legislation and overall wartime restrictions.
Margaret Atwood says to "Go ahead" and ban The Handmaid's Tale, but this is not a helpful response! You know what schools and libraries need? Tangible assistance against a very organized movement to censor and terrorize BIPOC and LGBTQ people! A lot of children rely on libraries and schools to access books, and saying "Go ahead, kids will get the book anyway" only proves that you sorely misunderstand what is happening.
Books & Authors in the News
Self-help author Dave Hollis (and former husband of self-help author Rachel Hollis), has died at 47.
NASA is sending an Ada Limón poem into space.
Experts have determined that poet Pablo Neruda actually died from poisoning 50 years ago, and not complications from prostate cancer as had been previously reported.
Numbers & Trends
The bestselling books of the week, according to all the lists.
Award News
Walter Mosely has been awarded the 2023 CWA Diamond Dagger Award.
ALA's Rainbow Round Table has announced its Top 10 List for 2022.
The Southern Book Prize winners have been announced.
The Gotham Book Prize finalists have been announced.
The organizers of the Women's Prize for Fiction announce a new women-only nonfiction prize as a way "to end the "old-fashioned" male domination of nonfiction."
Bookish Curiosities & Miscellaneous
$55,000 in antiquarian books were stolen from a family bookstore in British Columbia.
On the Riot
How librarians can help teachers in ways you might not expect.
5 takes on a reading journal.
The risks and rewards of giving annotated books as gifts.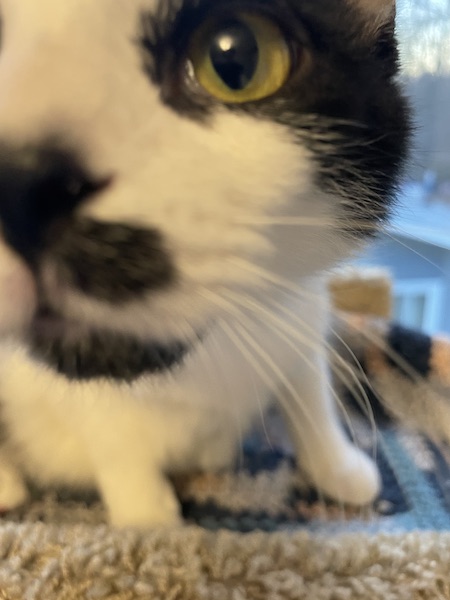 I finally got to meet my parents' new kitten, Groucho! He was a little wary, but he let me brush him and love on him for about ten minutes before he went back under the bed. As you can probably tell, I think he's going to be a curious little fella!
Well, that's all I've got for this week. Catch you all next Tuesday!
—Katie McLain Horner, @kt_librarylady on Twitter.